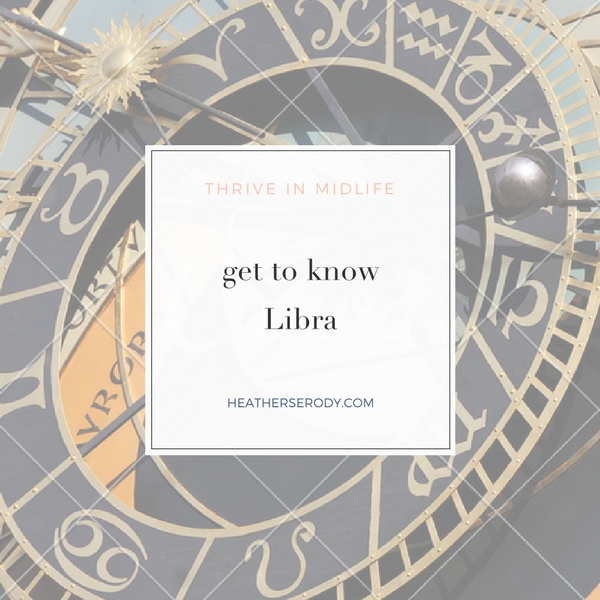 There is value in Astrology in that by doing some self-analyzation and reflection we hopefully begin the process of accepting who we are. Astrology helps us understand what behaviors and attitudes we exhibit when balanced or imbalanced. The more you understand your own proclivities and weirdness the more you understand how very different we are from one another. This fosters understanding and ultimate acceptance that we are all unique. Isn't that what we need more of in this world, to accept each other and ourselves for who we are?
Our sensibilities, motivations, attitudes, and essential natures are completely unique. Understanding your sun sign is just the beginning of getting to know who you are at your essence. For a deeper look at all of the astrological influences that make up who YOU are I recommend getting your free written birth chart reading from Michelle Knight, which is free. The link is at the bottom of this post.
Get to know Libra
In all aspects, Librans seek out and flourish in a harmonious environment free of undue negativity, stress, and conflict. Establishing a peaceful and loving primary relationship is what makes Librans happiest. Librans are notorious for indecision or ignoring issues. They often prefer to give in rather than insist on a course that they know to be best for the sake of preservation of peace. Above all, Libras do not like to hurt others.
Personality:
Libras are diplomatic, charming, and relate easily to others. Known for being social, charming, and often flirtatious, they have a penchant for making others feel comfortable and creating a fun and easy going vibe with those around them. They have a natural affinity for luxury and a comfortable lifestyle. A dislike of heavy or dirty work gives them a reputation for being self-indulgent or 'above it all'. As long as they find creative work that appeals to them though, they are anything but lazy.
Challenges:
Librans often will make sacrifices in order to keep harmony, making decisions based on what other people want, rather than what's best, and can lead to an underdeveloped ability to think for themselves. Libra parents should be vigilant not to make a habit of passing off parental decision-making to a spouse. Libras can resort to escapism rather than face harsh realities that present themselves throughout life. Tapping into their impressive creative talents during these trying times is what balances Libra.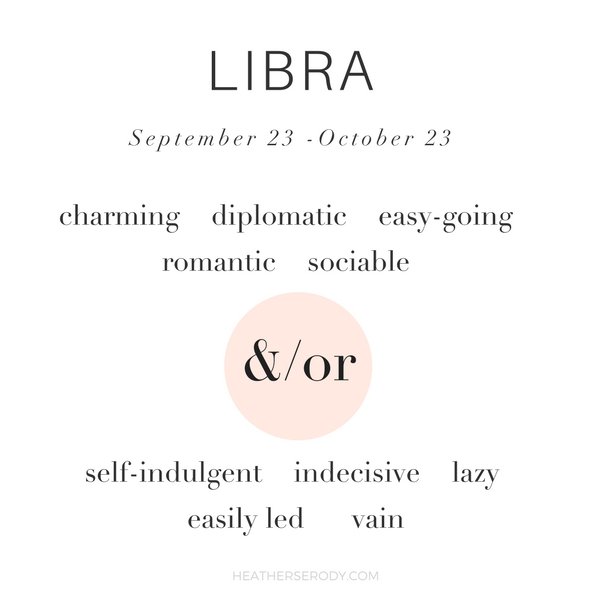 Partnership:
A life partner, with whom they can completely share their lives makes a Libra well-balanced and happy. Libra is by nature a romantic who loves old-fashioned courtship rituals and relishes in tons of affection. They are often described as being in love with love. In matters of the heart, their trademark indecision can give way to impulsive romantic commitments, which can lead to heartbreak. Of all the signs, Libras have a hard time functioning with a broken heart. Libras are not psychologically whole unless they are in a loving relationship.
Career & Health:
Most Libras love to be and find great joy in professions that offer them the ability to use their tact and diplomacy. They are well suited to the luxury professions of fashion, beauty, and cosmetics. Libras often dismiss the need for exercise. Regular, steady exercise is best to ward off weight gain. Social Libras do best to work out with others or join a gym.
Positive Attributes:

Charming, diplomatic, easy-going, romantic, and peace-loving

Negative Attributes:

self-indulgent, indecisive, lazy, easily led, vain
LIBRA is an AIR sign:
This fire aspect imparts a courageous nature to Libra and an enthusiasm for life; but just like the scales can change the balance, the object of their Libra's passions can quickly change. Fire signs are also known for their bright creativity and forceful nature that should be tended carefully to keep it manageable.
LIBRA has a cardinal or fixed quality:
Fixed signs are able to dig in in order to achieve a goal. It can be difficult for them to change, which gives them a reputation for being stubborn; but they are respected for their independence and sense of purpose.
Associations:
Ruled by the planet Venus. Relates to the kidneys in the body. Associations: the color blue, large roses, hydrangea, poppy, foxglove, daisies, & violets; Ash and Poplar trees, mint cayenne, and most spices; cereal grains, berries, apples, pears, & grapes; artichokes, asparagus, and beans; lizards and other small reptiles. Countries: Austria, Burma, Japan, Argentina, Egypt, Tibet, and China. Cities: Copenhagen, Johannesburg, Vienna, Lisbon, Frankfurt, Antwerp, Nottingham.
Do you recognize these aspects in the Libran in your life?
click here to get your free written birth chart reading from Michelle Knight
SaveSave