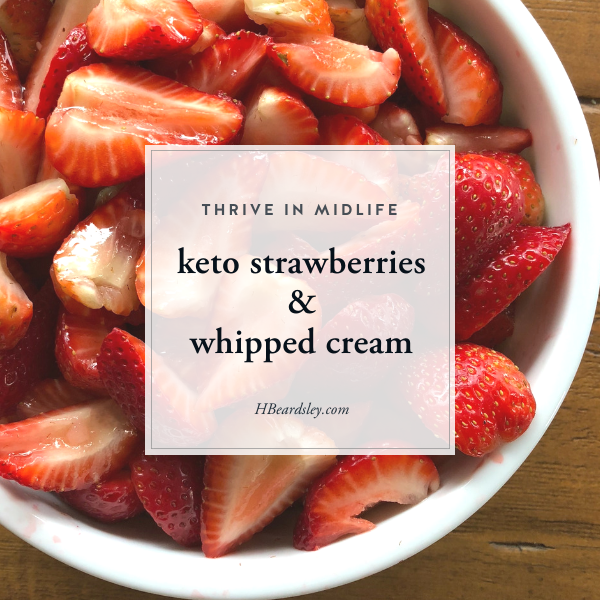 This is a super simple, no-bake keto-friendly dessert that should be part of your regular meal prep routine. Make it with blueberries, raspberries, or blackberries if you prefer those over strawberries, or go ahead and do a pretty mix. If you are eating keto I highly recommend investing in a Kitchen Aid stand mixer to make making whipped cream something effortless you can do a few times a month. There is nothing like to taste of fresh vanilla whipped cream. I always make mine while I'm cleaning up the dishes from dinner on Monday evenings.
Kitchen Aid stand mixer on Amazon
prep tips:
Buy organic strawberries. If you want to wash them, allow them to completely dry before destemming and quartering them, or your strawberries will be watery.
Allow the strawberries to sit at room temperature in the simple syrup so that the flavor develops and the juices run.
Use whipped cream within 5 days – it tastes best fresh.
Using the vanilla bean powder is optional, but I highly recommend it because it imparts an even better vanilla flavor to the whipped cream, and also gives the whipped cream those lovely dark vanilla bean flecks. you can use vanilla bean powder in your keto vanilla ice cream, too.
Try tossing some stevia sweetened Lily's chocolate chips over the top. The best price you can find these is from Thrive Market.
macro comparison
Strawberries and cream mini parfaits: 5 oz. = 299 calories, 15g fat, 1g protein, 41g carbohydrate
my keto strawberries & whipped cream: 1 cup = 230 calories, 22g fat, 2g protein, 8g carbohydrate, 2g fiber
shopping links
All the products I recommend from Amazon can be found on my Amazon Products List – click here for convenient one-stop shopping.
SaveSave
SaveSave
SaveSave
SaveSave