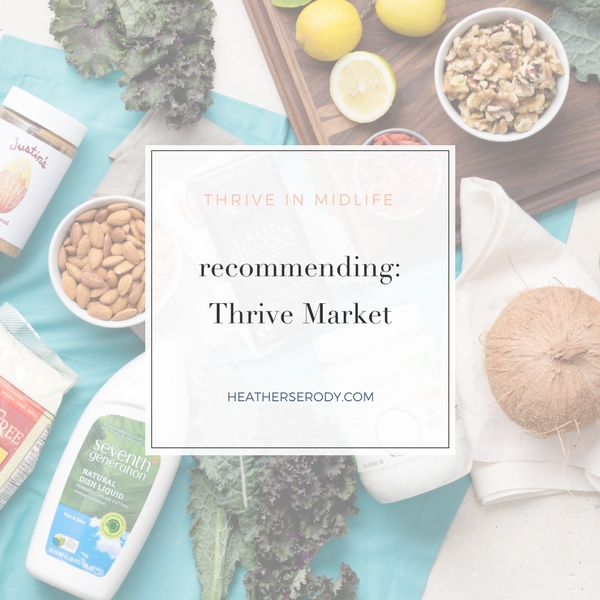 If Costco & Whole Foods had a baby, it would be Thrive Market. Thrive Market is a membership-based online discounter. Thrive Market carries organic, natural, & non-GMO food, personal care, baby, and home products that are always 25%-50% below retail prices. By operating on a membership model, Thrive is able to cut out the middleman and sell at 25–50% off retail prices, and ships straight to your door – it's my new favorite way to shop.
click here to get 20% off your first three orders
a better model
Thrive Market founder Gunnar Lovelace's mission is to take the elitism out of the natural & organic foods market by cutting out the middleman and buying directly from the farmers & brands. Thrive Market's business model does not make any profits off the sales of the products themselves. The membership fee provides the profit mechanism. This is how Thrive Market is able to offer such low process.
In addition, each paid Thrive Market membership also sponsors a membership for a family who cannot afford one, something you can feel good about.
high-quality products for less
Eating high-quality, natural, & organic whole food can be expensive & difficult to even find depending on where you live. Overcoming these obstacles is Thrive Market's mission. They tightly curate their product catalog to only offer a limited amount of high-quality products that are vetted using stringent the highest quality and ingredient standards.
click here to get 20% off your first three orders
For example, they make sure that their personal care, baby products, & cleaning supplies are highly rated by natural quality standards and certifying agencies and do not contain artificial chemical ingredients or hormone disruptors.
Thrive Market is now the largest retailer in the United States that sells exclusively non-GMO foods.
how it works
special offer for TIM readers
Thrive Market is hooking you up with 20% OFF on your first three orders of organic and non-GMO favorites! Plus your first box ships FREE. That's a great deal that instantly saves you $20 on items that are already discounted 25-50% of retail. 
Click the link below to get 20% off your first THREE orders today, but don't wait because this offer goes away at the end of March, 2018! 
click here to get 20% off your first three orders
If you purchase the keto starter pack of 12 keto items with your first order, you'll pay just $48 for $81.50 worth of keto items + FREE shipping. Here's what you get in your starter pack:
Riced Cauliflower
Ketone Test Strips
Non-GMO Sardines in Extra Virgin Olive Oil, 2-pack
Non-GMO Crunchy Almond Butter
Wonder Noodles – Fettuccine, 2-Pack
Grass-Fed Beef Bone Broth
Avocado Oil Mayo
Hickory Smoked Bacon Bites
Green Thai Coconut Curry
Salami Point Loma, Rosemary & Garlic
SaveSave