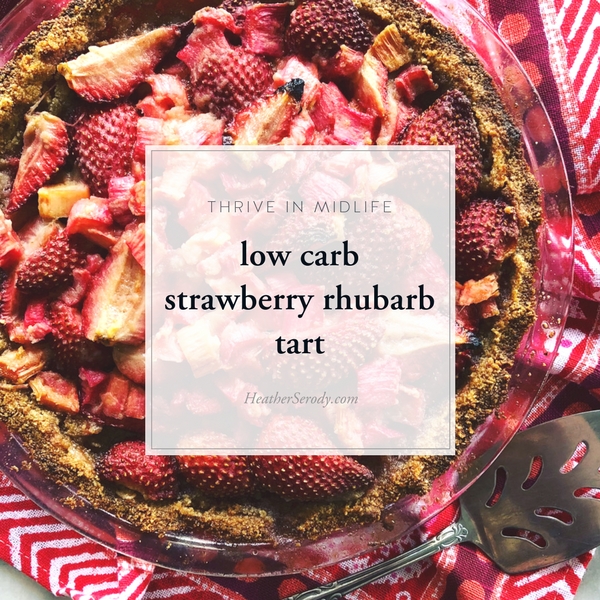 Growing up my Aunt had a spectacular garden in Wallingford Connecticut. I marveled that her rhubarb plants grew as tall as me (even as a teenager)! She used to have me over in springtime when the rhubarb stalks were ready to make strawberry rhubarb pie. Warm from the oven topped with a little fresh whipped cream, strawberry rhubarb pie is my favorite dessert of all time. IMHO—there is nothing better than this particular combination of tart-sweet and savory. It's always been my choice for a last meal.
This is my rendition of a low carb strawberry rhubarb pie. It's made with an easy press-in almond flour crust that takes just 5 minutes to prep and put into the oven to prebake. I omitted the top crust to save on carb count; so it's actually more like a tart. Sometimes when strawberries cook down, they release so much liquid that this soup and become soupy. To avoid that, I cook my filling separately, so I can pour off the extra liquid. Everything is assembled after cooking and reheated to avoid that issue.
You'll need a few low-carb ingredients to keep the pie keto-friendly:
macro comparison
Please note that Erythritol is essentially a carb-free and calorie-free food, even though carbs are listed on the label. To learn why I do not count the carbs in my nutrition facts, (and neither should you) read up on Swerve by clicking here.
Grandma's Strawberry-Rhubarb Pie (1/8th pie): 555 calories, 23g fat, 6g protein, 82g carbohydrate, 2g fiber
Thrive In Midlife low carb strawberry rhubarb tart: 143 calories, 12g fat, 5g protein, 7g carbohydrate, 3g fiber
shopping links
Click here to read about why I recommend shopping at Thrive Maret.
click here to get an additional 20% off your first three orders at Thrive Market