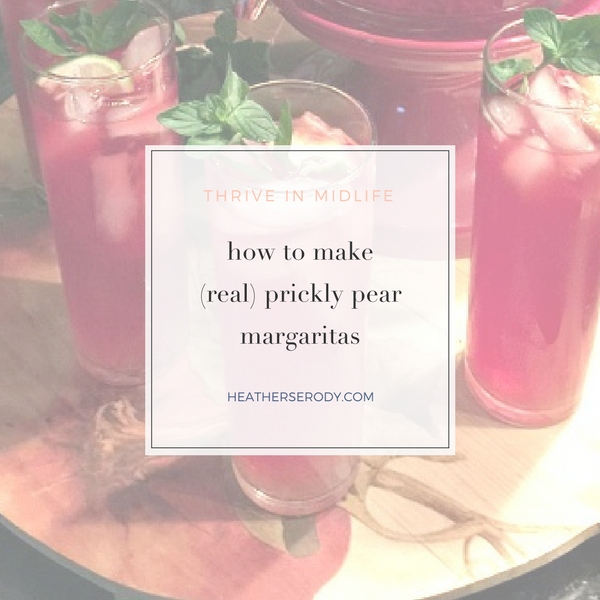 My friend Michelle finds prickly cactus pears at her farmer's market, peels them, and infuses them in white tequila for a week. She uses the prickly-pear-infused tequila to make these kick-ass margaritas, which she served to our book club last year while playing Gerry Rafferty Radio on Pandora
...and just like that our book club meeting turned into a dance party.
These are divine margaritas. I shared the recipe with another friend Candy last week and these are her photos. Can we agree that I have the greatest friends, ever? Thanks, Candy and Michelle! You'll need at least two days to infuse the tequila, so plan accordingly.
Prickly pears are in season here in Florida in late February/March. You can usually find them at your local farmer's maret, or the Yellow Green market – ask your produce manager when you can except them where you live. When they come in, it's the perfect excuse to invite some friends over for cocktails. Prickly pears grow primarily in the American Southwest so I'd pair them with some good tex-mex take away food or make up some Asian-style pork nachos with red cabbage and scallions. The red cabbage has the same fiery pink color as the infused tequila so the pairing is Tex-Mex-tasty eye candy.
PRICKLY PEAR-INFUSED TEQUILA:
10 prickly pear fruits
1 750-ml. bottle of silver tequila (I like Patron)
Cut the ends off the prickly pears so they stand up easily. Peel and quarter with a sharp knife. Place in a glass container with tequila and allow to infuse 2 days; up to 2 weeks.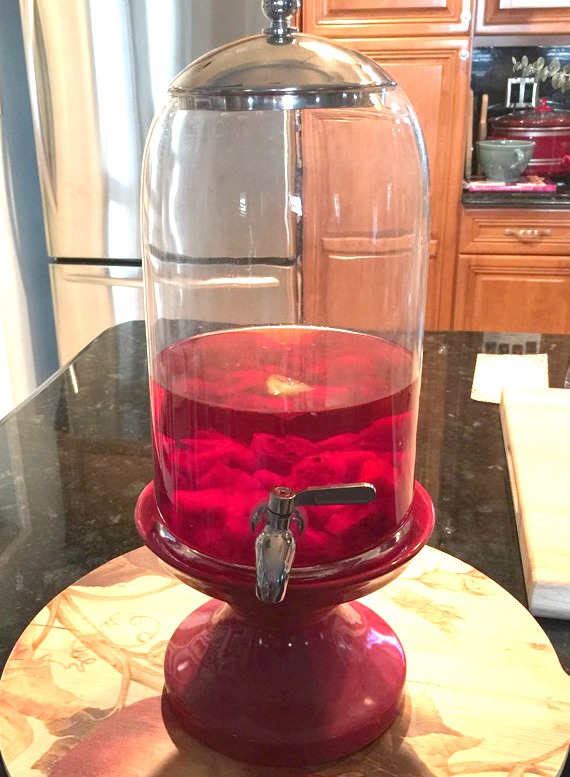 Remove from fridge and allow to come to room temperature. Remove fruit from the infusion. Using the back of a fork or spoon; mash prickly pears through a mesh strainer into a container. Discard seeds. Pour infused tequila through strainer and add to strained prickly pear mash. Stir well.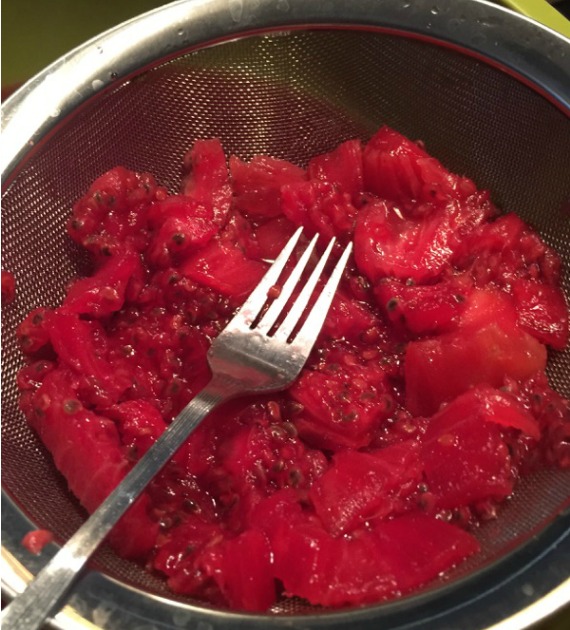 prickly pear margaritas three ways
All margaritas are made using the 3-2-1 ratio; meaning three parts tequila to two parts Cointreau, to one part lime juice. So whether you are just making two cocktails in individual glasses, or a pitcher for a small group, or a whole decanter for a party – visually divide the container that your mixing into into six parts using your amazing powers of observation. Fill half the container with tequila, another 1/3 of the container is Cointreau and the rest fresh lime juice (1/6).
3 parts infused tequila (see above)
2 parts Cointreau triple sec
1 part fresh squeezed lime juice
Now that you have your prickly pear margarita mix ready; decide how you want to serve it:
on the rocks – use a short wide glass

chilled served up (no ice) – use a martini glass

frozen – use a taller narrow glass
Toss some kosher salt onto a small plate. Take a wedge of lime sliced in the middle and run it around the rim of your glass. Invert the glass onto the plate to salt the rim. Tip: salt half the rim so your friends can adjust to their salt preference.
FROZEN: Fill blender ½ with ice and pour margarita mix over to just almost cover ice. Trick: allow ice and mix to sit for 20 seconds- it will 'collapse down' before blending. This keeps it from 'freezing up' while blending. It should make two glasses. Serve with a wedge of lime and a straw.
ON THE ROCKS: Fill salted rocks glasses with ice and pour margarita mix over. Serve with a wedge of lime.
CHILLED, UP: Fill a cocktail shaker with ice, add margarita mix at least halfway, but not all the way to the top. You need some space in there to allow it to mix! Secure top with hand and shake vigorously. Trick: shake for at least 20 seconds so that the ice has a chance to melt a bit and the mix has a chance to get really cold. Remove lid and pour through a strainer into martini glasses. Serve with a twist of lime peel.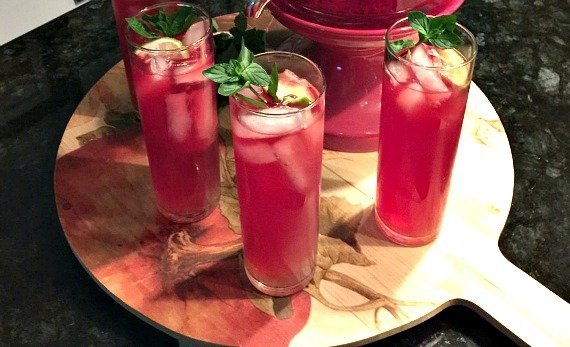 Note: Because you're enjoying authentic prickly pear margaritas served without any added fruit juices means that this drink is ⅚ parts alcohol-based and quite strong. They are so delicious that you'll need to be careful and tell your guests how strong they are. Serve iced water as a back and keep yourself and your guests happy and hydrated.
Note that most restaurants use a frozen lime-aid or "sour mix" in place of fresh lime juice, so unless you've made a margarita yourself using fresh lime juice you probably have no idea how freaking delicious a margarita made with fresh lime juice can be. Don't be tempted to use Lime-aid or sour mix which is filled with high fructose corn syrup, artificial colors, flavors, chemicals and preservatives and tastes so sickeningly sweet that you won't be able to taste the tequila or the prickly pear juice if you use it. Buy a bag of fresh limes, get their citrus squeezer out and go to town, or just put your friends to work helping you squeeze. Just like I insisted about frozen mudslides – margaritas do not need any added sugar or simple syrup. If you want something super-sweet, just have dessert!
Photos courtesy/© C. McMillan
SaveSave