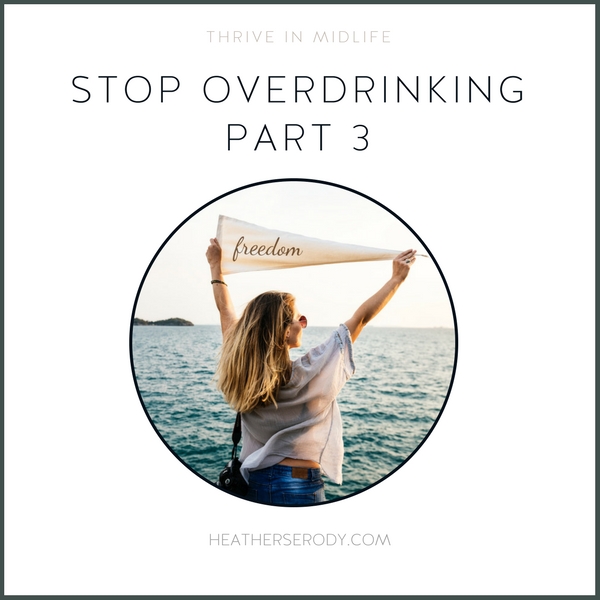 This is part 3 of the Overcoming Overdrinking series. I discussed my story in part one and gave an overview of why overdrinking happens. In part II, I went over how the extinction method works to help you change behavior including drink planning and abstaining. (Did you grab your worksheets?) In this 3rd and final part in this series, post, I'm showing how pharmacological extinction works and under what circumstances it has up to a 78% success rate in reducing or eliminating overdrinking. Let's dive in.*
review: what is the extinction method?
The extinction method is an established scientific procedure used to change behavior where the reinforcement that is provided for problem behavior is removed in order to decrease or eliminate the problem behavior.
In order to overcome overdrinking, the extinction method says that we must remove the reward in order to change both the over desire for alcohol & the action of overdrinking that follows that desire. That reward is happening in the brain. When we drink alcohol, our bodies release the neurotransmitters serotonin & dopamine which account for the pleasurable feelings we associate with drinking alcohol.
a third option to remove the reward
In part II we discussed how abstaining or is the most obvious way to remove the reward. Many people pair abstaining with replacing the negative behavior of overdrinking with a different pleasurable behavior that is more positive and can also give a boost of feel-good neurotransmitters in the brain.
Drink planning is scheduling your drinking ahead of time. Having a pre-planned drink doesn't reinforce the negative habit of overdrinking as much as it would if you just answered a desire to drink when you felt the urge to, so it is also a form of using extinction; although it isn't as effective as abstaining. Most people use a combination of abstaining and drink planning to successfully overcome overdrinking.
…but what if it isn't enough and you still find yourself consistently in a war with yourself: wanting to drink more and yet also not wanting to drink.
pharmacological extinction
There is a non-addictive FDA approved prescription medication called low-dose Naltrexone that is a THIRD option for using the extinction method to reduce overdrinking. It is proven safe & has been used since 1994 to reduce overdrinking.
Naltrexone works in the brain by blocking the receptors that receive the serotonin & dopamine that are released when you have a drink of alcohol.
Here's how taking low-dose Naltrexone works to extinguish the overdrinking habit:
You talk to your doctor about your overdrinking and discuss whether taking low-dose Naltrexone is right for you. If yes, you get a prescription.
You take low-dose naltrexone one hour prior to having an alcoholic drink.
It takes one hour for the opiate blockers in Naltrexone to lodge themselves into the opiate receptors in the brain.
You have a drink of alcohol.
The brain releases serotonin & dopamine.
The serotonin & dopamine feel-good signals are

not received or registered by the brain

because Naltrexone blocks the endorphins from activating the brains addictive centers.
You can still become intoxicated by drinking alcohol, but you do not feel the neurotransmitter reward that drinking gives while you are drinking; which means every time you drink using low-dose Naltrexone, the habit is weakened because you have removed the reward.
Taking Naltrexone while drinking allows the brain to decondition. It works gradually over a period of 9 months but most progress happens in the first four months.
The exact protocol of taking low-dose Naltrexone to reduce or eliminate overdrinking is called The Sinclair Method (TSM) which very specifically prescribes using a 50 mg dose of Naltrexone one hour prior to drinking. TSM is a very appealing option for those who do not want to give up alcohol. However, due to the progressive nature of how habit forming drinking is, this protocol must be used for life. You must always take naltrexone prior to drinking to prevent readdicting yourself.
Reducing overdrinking using low-dose Naltrexone has a 40-78% success rate.
Low-dose Naltrexone is a controversial method for reducing overdrinking in alcoholics because it REQUIRES that you drink in order for it to be effective. So in the case of alcoholics who have managed it quit, it is NOT advisable to use it. However, listening to Claudia Christian's moving TED talk of how Naltrexone helped her overcome her alcoholism sheds light on how it might work for some.
Doctors protocol for TSM & naltrexone:
The official doctor's protocol for prescribing low-dose Naltrexone can be found here. This protocol can be helpful to give to your doctor if they are not familiar with TSM & low-dose Naltrexone. The general guidelines are to take it and drink as often as you feel like drinking. This is actually advisable because every drinking event while on the TSM protocol weakens the habit.
how it worked for me
I told my story in part II about how I was pretty successful in cutting down on my overdrinking when a personal event in my life knocked me off my resolve and I found myself right back to overdrinking. I was also tired of feeling like I was constantly fighting myself and my desire to drink more than I wanted to. This was when I found TSM and made an appointment with my doctor to discuss it with him.
I was very thankful that my doctor was familiar with TSM. He listened to me and was very open to the idea. But, he started me on just a 10 mg dose. The literature specifically says that the dose that works best is 50mg, so I worried that I wasn't getting a strong enough dose to effectively weaken my habit. After a month, I called and asked him to I'll also say that this was the very first time in my life that I have ever asked my doctor for medication. Ever. I have never been on an anti-depressant, anti-anxiety medication, nothing! So, this wasn't a conversation that I was necessarily comfortable having, but I'm so glad that I did it.
what TSM is like
Like all extinction methods, it's common to have the behavior that you want to reduce actually increase initially on Naltrexone. This happened to me. I sort of felt the pressure to hurry up and feel it working. I wanted to not want to drink pretty quickly, but the reality is that it took 12+ weeks of drinking most days while on low-dose Naltrexone before I found myself pouring a glass of wine and then not drinking it.
As for how I feel drinking on Naltrexone…it's hard to describe because it's effect is subtle. It's little things, like before taking Naltrexone, halfway through a glass of wine I'd definitely laugh more and feel a slight feeling of relaxation and relief. On Naltrexone, I just feel like myself, unaltered, having a glass of wine. It's almost like taking Naltrexone removes the kryptonite effect of alcohol on my body & brain.
You'd think I'd want to drink more if the euphoric effects are dulled, but that didn't happen. Frankly, it was pretty cool to think that drinking on Naltrexone was actually helping me break my habit. Over the course of those first 12 weeks, I really thought about why I was continuing to drink if I wasn't feeling the euphoric effects…
I had to conclude that drinking wine gave me permission to take on a 'relaxed and enjoying myself' frame of mind. What a shame because I am always in charge of giving myself permission to relax and enjoy myself; and I certainly don't need wine to access that.
Back in the 90's when I used to chain smoke cigarettes it was the same thing that was appealing to my driven & overachieving personality. Taking a cigarette break was a way to relax for 10 minutes and sort of do nothing. Was that what wine drinking had become for me too? After all, no matter how much or often I had been drinking, I still never drank to get drunk, so I had to consider that this might be true…
The lesson that remains for me now and the insight gained in my experiment to overcome my overdrinking is that I just don't often give myself permission to rest and relax enough. I tend to overwork, overdo, and drive myself too hard, which leads to a mindset of needing relief from life. I had to resolve that in leaving overdrinking behind, that I woud make a solemn promise to myself to rest, take more breaks, and slow down. This way I won't keep finding myself on the uncomfortable side of addictive behaviors in order to find peace, rest, & equilibrium in my life.
Any serious attempt at changing behavior also needs an unflinchingly honest self-inquiry as to what's driving the behavior that initially led you to the habit itself. There is always a hidden gem at the bottom of the adventure to become a better version of yourself. One that points deep within and asks for a gentle shift, more grace in loving and accepting yourself.
settling in with TSM for life
By week 16 on Naltrexone I decided to try adding in abstaining and see how I did. It was surprisingly easy once I decided to give it a try. At this point, I found it pretty effortless to not drink at all during the week and just have 2-4 glasses of wine on the weekends. That's a big improvement from 10-14 glasses a week, and exactly what I was looking for when I decided that I wanted to cut down. I'm no longer fighting persistent urges to drink or repetitive thoughts of wanting a glass of wine in the evenings about 7 pm.
I'll take Naltrexone for life, one hour before I decide to have an alcoholic drink. I can't tell you what an incredible relief that is for someone who always worried that because I have alcoholism in my family that it would get its claws into me, too. Naltrexone feels like my suit of armor, my superpower, and my protector of my mind to not be hijacked into a spiral or progressive addiction.
I hope that my story and this series has helped you find your own answers for overcoming overdrinking. Please share/comment or feel free to contact me at heather [at] heatherserody [dot] com.
resources
Why the United States still lacks knowledge about Naltrexone
*disclosure

This discussion is framed for over-drinkers who want to cut back on their overdrinking habit. Please note that this discussion is not intended for chronic abusers of alcohol who compulsively consume. I am not a doctor, I simply am offering tips and tricks that I've used in my own experience in reducing my overdrinking. If you are having a difficult time with urges during abstinence, or are having difficulty sticking to your drink planning after a few weeks, then I encourage you to talk to your doctor or therapist for medical support.