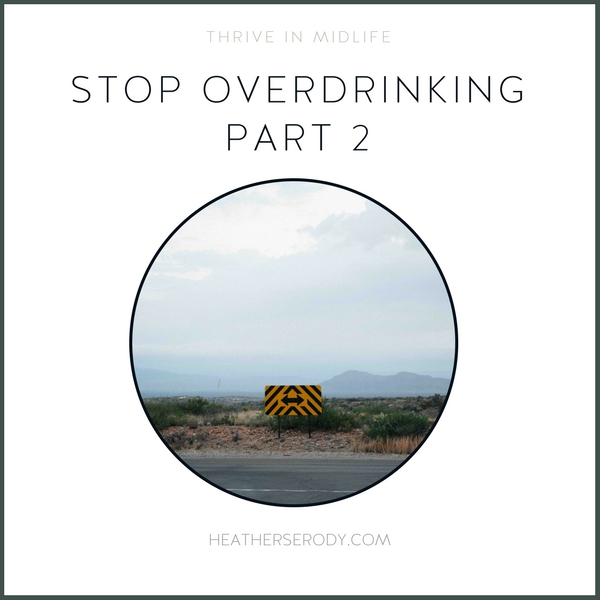 This is part 2 of the Overcoming Overdrinking series. I discussed my story in part one and gave an overview of what's happening in the brain when you find yourself drinking more than you want to. In this post, I'm showing you exactly how to use the extinction method to reduce the unwanted behavior of overdrinking. Let's dive in.*
what is the extinction method?
The extinction method is an established scientific procedure used to change behavior where the reinforcement that is provided for problem behavior is removed in order to decrease or eliminate the problem behavior.
If you think about it, ALL habitual learned behaviors involve a reward. This is why I love to say, People do what works for them because it's always true. Whether you are consciously aware of it or not, you are always getting something out of the behavior that you choose; even if you aren't consciously aware of that reward.
reducing drinking
Reducing the frequency & or quantity that you drink to a more moderate level of drinking, means that you want to desire to drink alcohol, consume it, and get some kind of conscious or unconscious reward less often than you do now.
Moderate drinking looks different for everyone, but in all cases, it is an amount and frequency that you perceive to not be a problem. Reducing the amount of drinking that we do is usually the first strategy that we use to try to make changes when our drinking starts to feel out of balance. So let's look at the model of behavior that's going on with overdrinking to see behaviorally what needs to change:
OVERDRINKING:

problem behavior = over desiring alcohol

action: over drinking alcohol

reinforcement (reward) = a changed mental &/or physical state (conscious or unconscious) that is perceived to be out of balance.
In order to overcome overdrinking, the extinction method says that we must remove the reward in order to change both the over desire for alcohol & the action of overdrinking that follows that desire.
how to remove the reward
Interestingly enough, there is more than one way to block the reinforcement/reward of drinking:
desire alcohol, but do not drink = abstaining
make a drink plan ahead of time, only drink during those times = drink planning
Read on to understand how each method works, and how you might create your own strategy for using one or a combination of both approaches for you.
abstaining altogether
One option is to stop drinking indefinitely or stop for an extended period of time in order to weaken the habit of overdrinking. Practicing abstinence means that you will still desire alcohol and experience urges or cravings for alcohol, especially in the beginning while your overdrinking habit is still strong, but you do not drink.
Persistent thoughts of wanting to drink, physical feelings or cravings or strong emotions that seem to draw you invisibly to drink even though you don't want to are all to be expected when practicing abstinence. This is the uncomfortable pull in two directions that results from wanting two separate things at the same time.
tips & tricks for abstaining
These urges to drink do not last forever and will subside over time.
I created worksheets to help you plan for and anticipate these urges. Referring to these worksheets when you are feeling the urge to drink can really help you reconnect to your long-term goal and help you remember all of the reasons why you want to overcome your overdrinking and redirect your behavior:
The recognize & strategize worksheet involves writing down the triggers that lead your urges to drink and make a plan ahead of time for handling them.
Writing down all of the benefits of not drinking can help strengthen your resolve during an urge to drink.
Writing down all of the negative consequences of drinking can motivate you not to drink during an urge.
Writing down all of the positive activities you'd like to do instead of drinking like playing cards, making art, exercising, etc. can help you take an alternate positive action instead of drinking.
drink planning
If your goal is to cut down on how much or how often you drink then you'll at times be practicing abstinence while also occasionally drinking, but only during pre-planned times.
The KEY to success in this scenario is to ONLY DRINK IF YOU HAVE PLANNED TO AT LEAST 48 HOURS AHEAD OF TIME.
By scheduling your drinking ahead of time, you have used a different part of your brain to incite the action of having a drink. Because it doesn't originate from that negative established overdrinking habit, having a pre-planned drink doesn't reinforce that negative habit as much as it would if you just answered a desire to drink when you felt the urge to.
I call this strategy drink planning. It works best to map out your drinking about a week ahead of time just like you would for meal planning. Spend some time journaling and really thinking about how much drinking and often would feel more in balance for you. Advanced drink planning accesses the powerful prefrontal cortex part of your brain and it's ability to accomplish and stay with long-term goals over time like decreasing your drinking by making strategic decisions ahead of time and then committing to that plan to drink less and less often.
Use your calendar app, planner, Trello, or your meal planner to write down ahead of time when and how much you plan to drink. Just be sure to plan ahead each week and WRITE IT DOWN. In case of a last minute change of plans, you can change your drink plan up to 48 hours before, but no later.
use a combination of abstinence & drink planning
Using the extinction method to reduce overdrinking by using a combination of abstinence & drink planning is how I got started reducing my overdrinking. I looked at my advantages of not drinking and disadvantages of overdrinking lists weekly when I made my drink plan for the week ahead. I began walking in the evenings after dinner when I usually felt the urge to drink so that I removed myself from that trigger.
I only bought enough wine to have during my planned drinking times. If the bottle of wine still had wine in it that evening, I'd toss it and throw the bottle away before bed.
Eventually, I subscribed to a dry-farmed wine delivery service because the wine had about half as much of the alcohol as traditionally made wines and no additives or sugar, which I knew would help me reduce cravings and register less of a feel-good reward when I did drink. And, I wouldn't chill any wine until about an hour before I planned to drink it. (I hate the taste of warm wine.)
Slowly, slowly over the course of about 8 months, my drinking decreased. Of course, I had slip ups but I got right back to my drinking plan. It's important to remember that it takes months of consistently extinguishing your overdrinking habit because that habit has been strengthened over a period of years or even decades. So, please be patient with yourself.
After a while, my sleep got better, and that motivated me even more to drink less…
when it doesn't work
About 8 months into being about 80% successful in reducing my drinking, I had a very stressful personal event happen in my life that was emotionally devastating. Suffice it to say that it derailed my resolve to stick with drink planning. Within a few weeks, I found myself right back to overdrinking about the same as before, maybe more. I felt alarmed at how quickly that happened, and I knew that once again I was out of balance. This time I just didn't have the reserves I needed to push through alone. I needed help.
pharmacological extinction
I did more research, certain that I was still not an alcoholic. I did not want to stop drinking for the rest of my life, but I needed something else to help me get back on track. Thankfully, I found exactly what I needed in a little YouTube video.
In that video, I learned about a non-habit forming medication that can reduce the desire to drink by completely blocking the rewarding effect of drinking in the brain. It works by the same extinction method I've been describing and has a 78% success rate in reducing overdrinking.
The way it works is simple, ingenious, and fascinating! I can't wait to tell you exactly what that is, how it works, & how I used it in combination with the approaches I've already described to overcome my overdrinking in part three in this series.
click here to read part III
*disclosure

This discussion is framed for over-drinkers who want to cut back on their overdrinking habit. Please note that this discussion is not intended for chronic abusers of alcohol who compulsively consume. I am not a doctor, I simply am offering tips and tricks that I've used in my own experience in reducing my overdrinking. If you are having a difficult time with urges during abstinence, or are having difficulty sticking to your drink planning after a few weeks, then I encourage you to talk to your doctor or therapist for medical support.
SaveSave