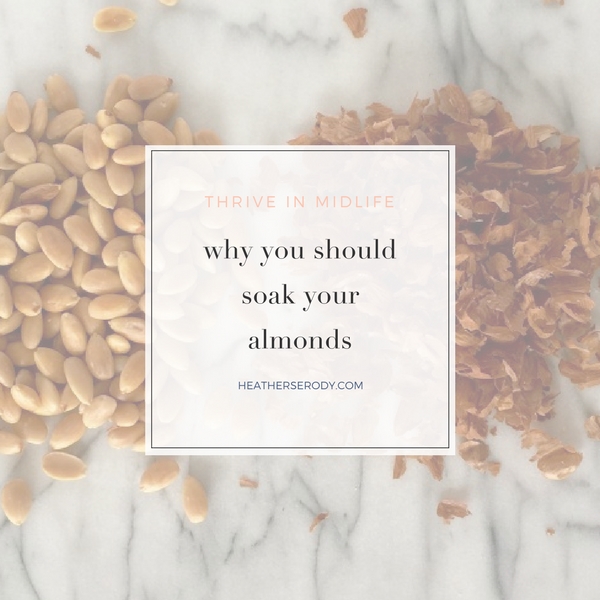 Did you know that if you soak your raw almonds in water, you get way more nutritional benefits from them? The brown papery coating on raw almonds contains tannin, which is great if you're an almond because it protects the nut from oxidation. Tannins act like almond bodyguards, locking in their nutrients – protein, magnesium, omegas, vitamin E, & Zinc. But tannins are not so great if you want to EAT raw almonds, though. You have to outsmart the nut.
soak your almonds
Tannins also impart a harsh astringent flavor into the nut and can interfere with your own digestion. So, it's a good idea to soak your nuts and then peel off the coating if you're an almond nut freak like me. Bonus? Soaked almonds taste so much sweeter than the brown papery ones.
It should be noted that tannins in the brown skins also contain wonderful anti-oxidants and provide great insoluble fiber to keep your system operating efficiently so, like all things, moderation in soaking is best. I say that you don't have to soak your almonds all of the time, but try to make the effort somewhat regularly. You don't have to get all crazy about it.
method
Place a week's worth of almonds in a glass jar and cover with water. Allow them to soak overnight or for 8 hours. Drain the water and lay them on a kitchen towel, rubbing them around with another towel to rough off the skins. You may have to give the almond a pinch between your fingers to get the papery skin off. Store them in a glass container in the fridge. They will last about a week.
p.s. I get my raw almonds here. Super fresh.
SaveSave
SaveSave
SaveSave