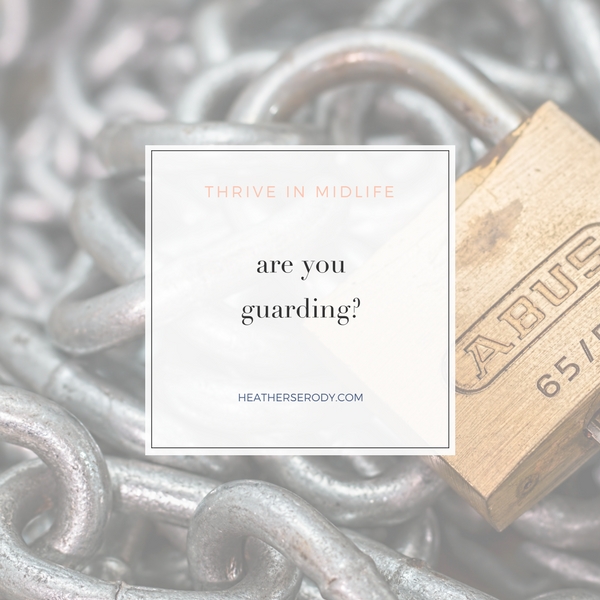 I've started outpatient physical therapy sessions to regain mobility in my left shoulder and arm after my rotator cuff surgery. Last week my therapist was moving my arm in a forward motion (think robot arms) while I was lying on the table and when she lifted my arm to 90 degrees; I encountered resistance and some pinching type pain. She investigated by probing around under my armpit and told me that she was sure that the other muscles around my shoulder blade were automatically tightening as she raised my arm. She said,
There's no question that you have some muscle guarding happening here. It's the body's way of protecting an injury, which is great initially since it helps protect the body from further injury. But, if guarding continues, it can inhibit the healing process. It takes time to give the body the message that the old injury is gone, and there is no need for the muscle guarding anymore. Until then you'll have to actively try to become aware of that guarding response to break the habit.
the body's job is to protect you
Wow. My body is in fear – fear of reinjury, fear of pain, fear that I did something wrong to create such an injury, and fear I could not recover completely. Not having an adequate explanation as to how I injured myself has also left me feeling vulnerable because I don't know how to avoid reinjuring myself. Thus the muscle guarding.
In order to be able to heal, you must become aware if you are guarding.
If my therapist had not made me aware of my guarding response, I would have concluded that my surgery left me with impaired mobility. imagine the self-defeating and frustrating thoughts I might have been left with. Knowing that my muscles were subconsciously guarding made all the difference because allowed me to make a direct and deliberate effort to connect with those muscles and send them the message to release. In fact, knowing that my body was still trying to protect me from my injury made me feel sort of sympathetic and kind toward my shoulder. This is the essence of mind-body connection.
Optimal healing requires the participation of both the mind and the body.
emotional guarding
Guarding isn't just physical. I caught myself exhibiting emotional guarding recently after several incidents where my kids kept taking my iPad, charger, and headphones, and not recharging them or returning them where they belonged. I began to immediately become annoyed and suspicious toward them as culprits every time I couldn't find things. A few outbursts later, after I found my headphones in my purse, or my phone I left in my car, I conceded that I was guilty of mentally guarding.
In another example, I physically guard when my neck is out and it's painful. I'll go to my chiropractor for an adjustment. He tells me to relax my neck, but often (too often) I just can't relax my neck enough to allow the adjustment to happen. Talk about impeding the healing process! We must let go of the guarding response if we want to heal.
Do any of these smaller examples sound familiar to you too? Are you in a disagreement with a family member? Have an ongoing lower back stiffness? Have a long term difference of opinion with your spouse on an issue? Chances are you're subconsciously guarding, mentally or physically to protect yourself. Here are some tips to release the physical & emotional guarding response and facilitate the healing process both mentally and physically.
For the mind:
Remind your chattering and anxious mind and body that everything is okay. If you have a lingering doubt about this statement consider this mantra: "Everything will be okay in the end if it's not okay it's not the end." The mind can't quite argue with this precept, can it? Just keep repeating this over and over when you find yourself guarding. This can start to break the fear-pain cycle and can release you from mental or physical guarding.
Embrace your vulnerability & fears. Write them down; or speak them aloud to those who you guard against. It's scary, but afterward, when the walls come down and you realize that you are still okay, the body and mind can relax too.
Visualize healing. Close your eyes and in vivid detail picture in your mind the physical healing of your body, or the healing of your relationship with some one else. think about what you need to say, or the body repairing itself.
Educate yourself. If you are physically injured educate yourself about the anatomy of your injury. Ask questions. Find out how others have healed themselves. Educating yourself is empowerment; a place fear cannot dwell.
For the body:
Practice deep breathing. Deep inhalations signal the body's autonomic nervous response system to return to a non-stressed state – breathing slows, heart rate slows, blood pressure normalizes. Stress melts away.
Practice meditation. It's really difficult to be in fear when you are meditating. Meditation is rest for the conscious mind. It promotes a physical healing response in the body that will help you recover from your injury.
Get a massage. muscle guarding sets in in all different places for different injuries and personalities. Getting your massage therapist to physically break up that tensive knot allows healing blood to enter and new, healthier tissue to form.
The best thing you can do when you set out to heal yourself physically or emotionally is to try to become be aware of any habitual mental or physical guarding responses that you may be engaging in. Then make an effort to empower yourself to get past guarding, past your fears, into healing and on with your life.
SaveSave
SaveSave