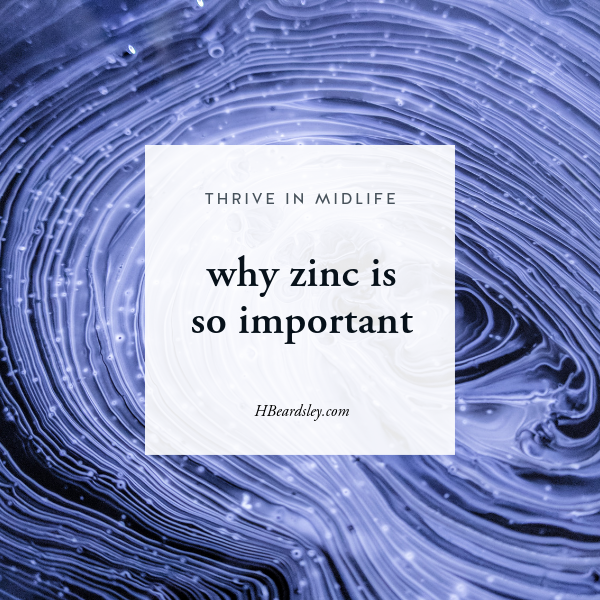 Zinc is found in all of our cells and is necessary for hormone production, cellular growth & immune function, proper digestion, and is a powerful antioxidant & anti-inflammatory which is why it's so important and why you I recommend taking zinc every day.
Zinc helps both repair and build muscle by helping the body release testosterone and human growth hormone which helps the body heal itself, build strength and stamina, and build a healthy metabolism.
Zinc helps increase testosterone, estrogen, and progesterone production when there is a deficiency so it is an important player in balancing hormones.
Zinc also helps the hormone insulin work and glucose to work properly so that glucose is used for fuel and not stored as body fat, therefore zinc supplementation can help those with blood sugar, diabetes, & other metabolic issues.
Taking zinc (and continuing to take it) within 24 hours of cold symptoms has been shown in clinical trials to significantly decrease the duration and severity of symptoms.
Zinc acts like an antioxidant by fighting cellular free radical damage, which means it keeps you younger on a cellular level.
signs of zinc deficiency
white spots on the fingernails
craving sweets or salty foods right after a meal
frequently getting sick
infertility
chronic fatigue
worsened PMS symptoms
digestive problems including diarrhea
being unable to tolerate the taste of water
nerve problems
why supplement?
The best sources of zinc are animal proteins so those who eat a vegetarian or vegan diet are more susceptible to zinc deficiency. Zinc is also lost through sweat so athletes who sweat a lot are also susceptible along with diabetics and those with blood sugar disorders.
Another way you may become zinc deficient is if you have digestive issues like leaky gut or a low functioning thyroid. Leaky gut causes you to not be able to absorb all of the nutrients from your food. Low thyroid very often leads to low stomach acid. Without adequate stomach acid, you also cannot digest and therefore absorb your food adequately.
Zinc is available in three forms: zinc gluconate, zinc sulfate or zinc acetate. No one form is believed to be more effective than the others.
warning
Common over the counter zinc cold sprays & liquids sometimes include propylene glycol as a preservative! Do you know what that is? ANTIFREEZE. Gross!! Just take a natural form of ionic zinc spray. Check the label for no added junk.
dosage & recommended brands
Zinc should be supplemented daily preferably in the morning.
Start with a low 5-20 mg dose per day for at least 3 days. Slowly work your way up because taking too much zinc at once can make you nauseous. Then double the dose for three more days. As long as you don't feel nauseous, keep doubling until you are at about 30 mg/day. At that point, you can try switching over to a 30 or 50mg capsule or tablet.
Note: do not take zinc with calcium or iron as it can interfere with absorption.
If zinc upsets your stomach, take it with food, but again, try to avoid dairy or food high in calcium.
click here to buy liquid zinc
click here to buy 30 mg zinc
click here to buy 50 mg zinc
dosage
The U.S. Department of Agriculture suggests supplementation at 8 & 11 mg/day for female & male adults respectively. However, many experts recommend taking 30-50 mg/day for an adult in order to get all the benefits. Use your own best judgment.
Amazon list
All the products I recommend from Amazon can be found on The Thrive In Midlife List – click here for convenient one-stop shopping.