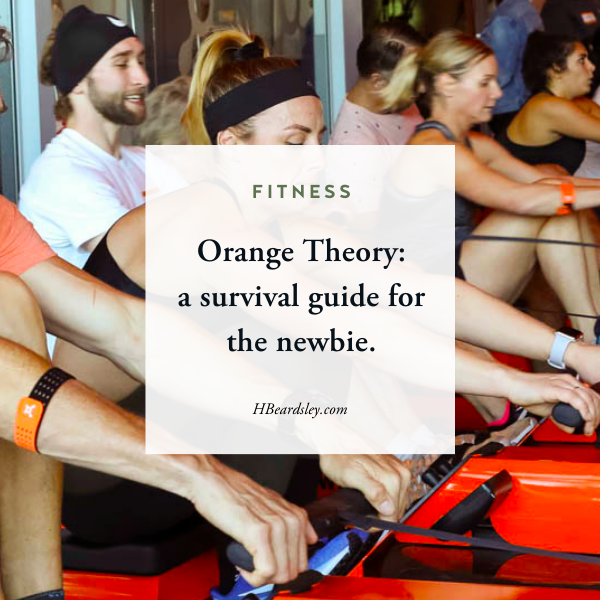 Orange Theory: a survival guide for the newbie
There are a lot of bulging biceps in Boca Raton, Florida. Last week in line at Starbucks my mouth fell open when I saw a woman in line sporting the quadriceps of an Olympic lifter. She was a grandmother. Not kidding. There's a new trend toward intense gym culture that is producing some pretty incredible physiques around town.
I've worked out my whole life, but don't really enjoy the group gym culture. And as for the intense part? No thanks, I'm all about, "Slow and steady wins the race." Still, I kept hearing about a gym called Orange Theory (OT). Several friends raved. One said she had to join the gym just to train to join OT. Seriously.
Here's how Orange Theory works
"It's not for me," I declared. Then, after the debacle with my back this summer, and noticing several shocking age-related developments on my lower half, I wondered if there was a way even a 43 year old 'slow and steady' girl could navigate all of that intensity and make the intense gym culture of OT work for me. Looking back now after my first few weeks, I've learned a little bit about how to survive. The first thing that I learned is that there are two types of exercisers. Knowing what type you makes all the difference in your approach as a beginner at Orange Theory.
THE EIE: extroverted intense exerciser. You know you are an EIE if you might say the following:
"I felt like puking after class. What a great workout – lol."

"My arms are so sore from yesterday's workout. I hope my legs feel like this after tomorrows workout."

"I love it when X is in class, so I can try to keep up with her."
If you are an EIE, you can just get on with it because Orange Theory is packaged perfectly for you. You will need to manage your natural intensity and downshift when your body sends signals and your heart rate goes above the zone you're supposed to be in. Beware of irresponsible dogma no matter what gym you attend that says 'push past pain." There is a great article on this here. Remember that as an EIE you already naturally push yourself, so use moderation. Rhabdomyolysis is becoming a common and very serious side-effect of intense training at crossfit gyms, so train hard, but know that as an EIE, your limits are already pretty high.
The IIE: introverted independent exerciser (IIE). You know you are an IIE if you might say,
I'm so traumatized, I almost puked in class."

"My arms are so sore from yesterday's workout I'm calling the doctor."

"Why join a gym when I can do interval training by myself?"
Intense gym culture is not natural or in any way comfortable for IIE's like me, but it's probably the best thing for us because it challenges us out of our comfort zone. This is a good thing when it comes to getting in shape because the research says that group-based intense exercise delivers the results far superior to doing it alone. Just because you can do it alone, doesn't mean that you will, or that you will push yourself as hard as when you are in a group dynamic. You'll have to call yourself out on that 'slow and steady' line of crap, especially if it's not working for you; as it wasn't for me.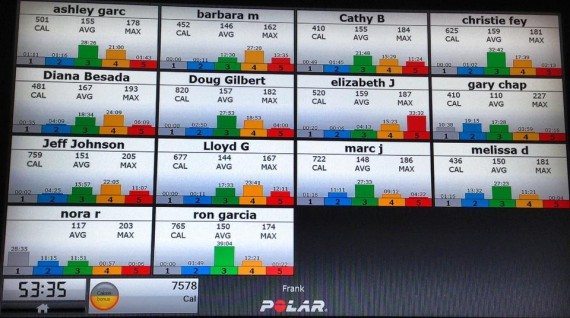 strategies I've used that make working out at OT 'doable' for me:
Wearing the heart rate monitor is optional and might be a good idea if you're a newbie. Why? In the beginning, you'll have a steep learning curve to figure out the class dynamic and learn the exercises. It's a good idea to just focus on getting acclimated and in touch with your own perceived exertion while you build your stamina in the first few weeks. If you're like me, you'll be working at max effort just to get through this workout. The heart rate monitor will actually signal you to slow down so you don't overexert. Also, if the idea of seeing your numbers up on the video monitor stresses you out then don't wear one! If you want to wear a heart rate monitor, but don't want your stats and name displayed for everyone to see, then have the front desk coordinator identify you with just your initials or a nickname so you don't feel so 'on display.'
When you're new, don't kill yourself, but remember that you're natural tendency defaults to 'slow and steady,' so your job is to push yourself. Remember that this is an hour-long workout with essentially no breaks. Find your sweet spot of exertion. Work up your stamina over several weeks; then make sure you get that heart rate monitor on and check whether your perceived exertion is accurate.
Arrive to class fully hydrated by drinking lots of water the night before

and

prior to class. Drink copious amounts of water during class. I put a pinch of sea salt in my water to help with electrolyte balance. The intensity of the workout requires more water reserves than you might think.
Do not drink alcohol the night before a workout. It will affect your performance and dehydrate you. Don't do it!
Get to class early and ask the instructor to clarify any part of that day's workout that you don't understand. Knowing what to expect is half the battle for IIE's. A mental head start can make all the difference when you are exhausted and don't have to think about what an overhead Y is. Ask questions. Ask for help.
Hang in there long enough to see the first early results. For me, that was the fourth class. It's the hardest exercise I've ever done, but there IS a feeling of accomplishment that always follows not matter how uncomfortable it was. Those results you waited for will spur you on to keep going. It does get easier.
Don't be a hater. During last week's workout, my neighbor on the treadmill kept checking her pace against mine. That's annoyingly competitive, right? Wrong. She's using the power of the group to get her to her finish line. She's not trying to make me feel bad that she's running a full two miles an hour faster than me, I did that all by myself. Ha!
The point is that OT is set up to use the group momentum to drive individual performances, and that's what is responsible for 600-1200 calories burned in the hour and those amazing bodies I've been seeing around town. Once you sign up for OT you've got to make peace with the fact that there all EIE's and IIE's and we're all trying to get in shape together.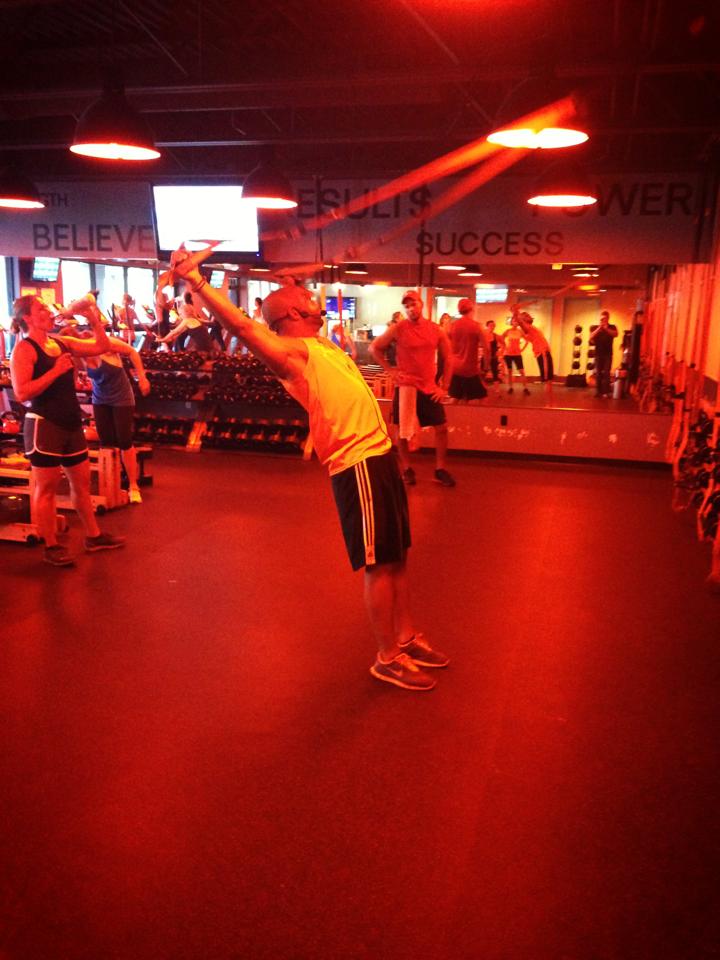 High-intensity exercising is not some mico-trend, OT has just opened its 165th franchise in 17 states in the U.S., two Canadian provinces and the United Kingdom all in three and a half years. It's a new age for getting in shape and I think there's room on the bus for all of us. Just be true to yourself, get out of your comfort zone, and be willing to try something new.
See you in class! I'll be the one not wearing a heart rate monitor.
p.s. No one paid me to write this review.