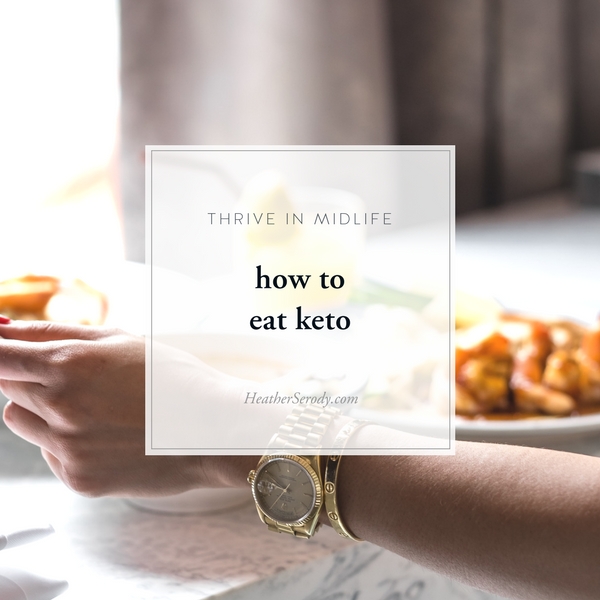 I get asked all the time how to eat keto for weight loss. Since people are different in how quickly they like to make changes, I can recommend two different ways to start. The first way to begin keto is to slowly move toward carb restriction so that the adjustment isn't so difficult. The second way is more like ripping off the band aid-it's gonna hurt, but you get into fat burning & weight loss the quickest.
HOW TO EAT KETO
slow adaptation
Week one: Cut out all processed foods and fruits except for berries. Processed foods are anything made with flour, added sugar, milk, bread, pasta, or sweetened snacks like cookies and cakes, cereals, sweetened drinks, ice cream, and pizza. Use only these keto approved sweeteners. Explore yummy keto recipes. Embrace fatty cuts of meat and slather your veggies with butter.
Week two: Increase the amount fat you eat to 40 percent and keep protein moderate at about 30 percent of your calories. The only carbs you should be eating are from keto approved carbohydrates.* In order get enough fat, start eating fatty cuts of protein and avoid lean meats. Think chicken with skin, bacon, eggs, and even avocado. By the end of this week, you should be feeling fuller for longer and not need to eat as often. You may also lose some weight. At this point, you need to start hydrating much more than you are used to. Your body also has an increased need for salt in with a low-carb diet. Salt your food with a good quality sea salt.
Week three: Cut out all snacks and only eat three meals a day. When you are hungry eat until you feel full. Do not restrict calories. Do not eat again until you feel hungry. Start listening to your body. Stop eating at least two hours before you go to bed. When you wake up do not be surprised if you no longer feel hungry first thing in the morning. Try working out in the morning on an empty stomach. See how you feel. If you are craving sweets make some yummy keto approved treats.
Week Four: You are ready to eat keto! Get your macros according to your goals by clicking here. Set up your macro goals in grams per day in My Fitness Pal and start logging everything you eat being careful to not exceed your macros in grams per day.
Keep hydrating. Be sure to add salt to your food and even put a pinch in your water to help keep your electrolytes in a balance as your body begins to move into primarily burning fat for fuel. Write in your journal every day to troubleshoot. Get yourself a blood glucose &/or ketone meter and start testing to see if you are in ketosis.
quick start with keto
This approach will get you into fat burning the quickest, but like ripping off the band-aid, it may be a little uncomfortable the first week or so. As mentioned before, this quick transition means that you'll probably experience symptoms of keto flu that feel like lethargy, having difficulty sleeping or sleeping a lot, digestive issues like constipation, dizziness, and weakness during workouts. All this might make you into a cranky person temporarily. Keto flu symptoms will go away in 1-2 weeks. But you do not have to suffer!
click here to learn what to do to avoid keto flu
Figure out how much and what macros to eat: Calculate your macros using a keto calculator.
Click here to calculate your macros using a keto calculator
If you are eating plenty of calories while keeping carbs low, it's not fair to expect sudden weight loss! This is why you must adhere to your macros. Most successful ketonians who lose weight track their macros by logging their food in the My Fitness Pal app.
Let's start with the facts: processed foods or anything made with flour, added sugar, milk, bread, pasta, or sugar-sweetened snacks like cookies and cakes, cereals, sweetened drinks, ice cream, and pizza are not part of a keto diet since they will be broken down into glucose and your body will fuel itself on that instead of fat.
The good news is that you can have keto-approved versions of many of these beloved foods that are not made of refined carbs. You must use only keto approved sweeteners. If you feel hungry, eat keto meals until you are satiated! Check out my recipe index for ideas of what to make.
Increase FATS: In the absence of carbs, you'll be eating more fats than you're probably used to. Go for saturated fats like coconut oil, avocado oil, palm oil, tallow, and lard (bacon fat) since they are stable; which means they don't produce oxidation and free radicals in the body, and thus are anti-inflammatory. As with ALL foods you consume, the quality of fats is important, so source organic and grass-fed sources of fats.
Do NOT consume any trans fats, any prepared foods with partially hydrogenated oils, or any polyunsaturated vegetable oils which are highly processed franken-foods that cause inflammation and interfere with your neuron's ability to work properly. This means no margarine, vegetable shortening, canola, corn, or grapeseed oils. After a few weeks of following a keto way of eating (woe), you should start experiencing the ability to go longer periods of time without eating, your hunger signals aren't as urgent, you'll experience sustained energy levels along with renewed mental clarity (because your brain loves to run on ketones), the ability to workout without having to eat first, and possibly weight loss too.
Hydration & Salt: While eating keto your kidneys react by flushing more water from your system. This diuretic effect of eating low-carb means you have less water stored in your cells. So, if you workout, sweat a lot, or just forget to hydrate for a few hours, you can very quickly get dehydrated and feel dizzy, have muscular cramping, headaches, and just generally feel low-energy and crappy.
It is essential that you counter the effects of losing excess water and the sodium and electrolyte depletion that goes with it when you are eating keto.
I'll say it again—dizziness, headaches, cramping, and feeling lethargic are all sure signs that you are dehydrated. Eating keto means that you NEED to drink more water AND sodium than you are used to having. Most keto experts recommend drinking at least half your body weight in ounces of water daily. For most of us, this means at least 10-8oz.+ glasses of water a day. Drink more if you sweat a lot or weight more than average. In addition, you must add high-quality salt to your diet which helps your body hold onto water and other essential electrolytes like potassium and magnesium which also get lost when you shed the excess water weight.
If I find myself feeling dizzy when I stand up too quickly or feel a slight pressure in my head (usually after too many cups of coffee) I'll immediately put a small pinch of some coarse gray sea salt under my tongue and let it dissolve right into my bloodstream. Then I fill up a big glass of water and drink it right away. After that, I keep hydrating throughout the day. Most days I just try to add a few coarse sea salt flakes right to my water along with a small squeeze of lemon or lime to make myself my favorite hydration drink that I call Keto Lemonade so I don't get dehydrated.
keto meal & workout planner (free download)
Like any new habit, being organized and planning ahead will help you to be successful. I created a keto meal planner to help meal prep and plan your meals for the week. It also helps you plan your workouts. As I mentioned before, you probably won't feel much like doing strenuous activity during if you are doing a keto quick start approach for the first week or so. When I first switched to the keto woe, I just did not have the energy to work out for a month. If this is the case, for you just do some stretching or an easy walk instead.
need more?
I offer keto lifestyle consulting. The first 20-minute session is free for new clients. Some client testimonials are below:
"It's been 7 days since I dove into the Keto diet … and I am LOVING it! I can't thank you enough for your insight and for the amazing blog you have put together. I've found it to be both helpful and inspiring.

I have struggled for almost 2 years with unexplained weight gain, elevated prolactin levels for no known reason, and sheer exhaustion which led to a state of depression. I had an awful time digesting my food. Every time I ate, I got sick to my stomach. I hated eating so much that I was down to about 700 calories a day, dehydrated and HUGE all over. I had fluid in my legs and a distended abdomen that made me look like I was 3-4 months pregnant. Doctors were no help and wrote me off. They even shrugged off my hormone imbalance. So I decided to be my own advocate and started reading … and reading. Everything I read about hormone imbalances led me back to the Keto diet. And then I remembered seeing your posts and delicious recipes. Why not? What did I have to lose except water weight and the depression I was sinking into.

In just 7 short days, I have done a complete 180. The fluid in my legs and abdomen are totally gone (really!). In fact, I went out last evening with Tom for the first time in MONTHS and wore a favorite pair of pants I haven't worn in 2 years!! My energy is back to what it used to be and I feel like myself again!
I'd like to lose 10 more pounds, which doesn't sound like a lot, but 15 pounds on a small frame is really cumbersome. What's exciting is that I truly think this is a lifestyle I can get used to, rather than some fad diet." –Karen C.