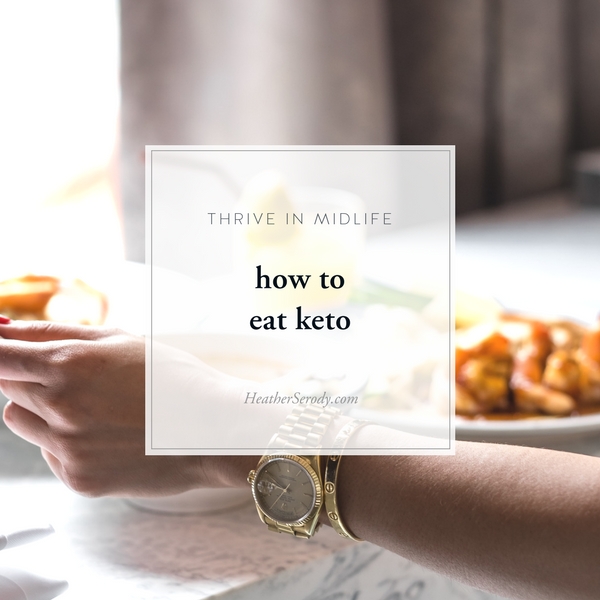 I get asked all the time how to eat keto for weight loss. Since people are different in how quickly they like to make changes, I can recommend two different ways to start. The first way to begin keto is to slowly move toward carb restriction so that the adjustment isn't so difficult. The second way is to follow ne of my keto programs; which is structured and gives you everything you need to get started and get into fat-buring mode quickly.
DIY slow adaptation
Week one: Cut out all processed foods and fruits except for berries. Processed foods are anything made with flour, added sugar, milk, bread, pasta, or sweetened snacks like cookies and cakes, cereals, sweetened drinks, ice cream, and pizza. Use only these keto approved sweeteners. Explore yummy keto recipes. Embrace fatty cuts of meat and slather your veggies with butter.
Week two: Increase the amount fat you eat to 40 percent and keep protein moderate at about 30 percent of your calories. The only carbs you should be eating are from keto approved carbohydrates.* In order get enough fat, start eating fatty cuts of protein and avoid lean meats. Think chicken with skin, bacon, eggs, and even avocado. By the end of this week, you should be feeling fuller for longer and not need to eat as often. You may also lose some weight. At this point, you need to start hydrating much more than you are used to. Your body also has an increased need for salt in with a low-carb diet. Salt your food with a good quality sea salt.
Week three: Cut out all snacks and only eat three meals a day. When you are hungry eat until you feel full. Do not restrict calories. Do not eat again until you feel hungry. Start listening to your body. Stop eating at least two hours before you go to bed. When you wake up do not be surprised if you no longer feel hungry first thing in the morning. Try working out in the morning on an empty stomach. See how you feel. If you are craving sweets make some yummy keto approved treats.
Week Four: You are ready to eat keto! Get your macros according to your goals by clicking here. Set up your macro goals in grams per day in My Fitness Pal and start logging everything you eat being careful to not exceed your macros in grams per day.
Keep hydrating. Be sure to add salt to your food and even put a pinch in your water to help keep your electrolytes in a balance as your body begins to move into primarily burning fat for fuel. Write in your journal every day to troubleshoot. Get yourself a blood glucose &/or ketone meter and start testing to see if you are in ketosis.
follow a program and stop guessing if you're doing it right
I have created two comprehensive paid keto programs for those readers who just want to get started and not waste time making mistakes or trying to learn all the parts of keto yourself. The first program is a 7 Day Keto Jumpstart program. This program is great for the keto beginner or keto-curious who want to tip their toes into the keto lifestyle and see how they respond to the low-carb lifestyle for a week. The second program is a comprehensive 30 Day Keto Transformation Program. This program gives you everything you need to learn keto for life and tweak it according to your goals and your lifestyle.
free stuff
When you sign up for my email list, you get instant access to the subscriber Resource Library which holds all of the free guide, checklists, cheatsheets, and PDF's that I create for my awesome community. These include guides on how to calculate your macros, digital fasting and meal planners, simple keto meal ideas for breakfast & dinner, The Guide to Thrive, and much more!
sign me up

coaching
Schedule a coaching session with me if you are looking for one on one support.