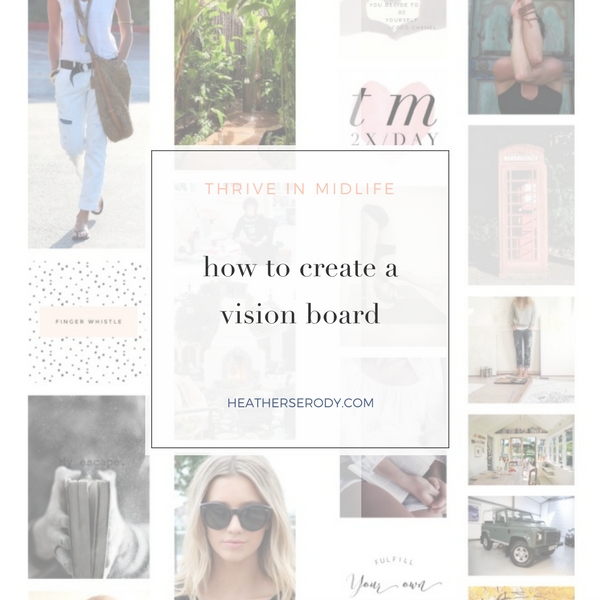 Creating a vision board is just one of many different ways to take a proactive step in creating an intentional life – one where your dreams are defined and actively pursued. Creating a vision board is an incredibly empowering project and, like all intentional efforts where we listen to our heart's desires and then FOCUS our energies over time, has amazing powers to manifest those dreams into your life. My artist friend Shari Dickson taught me how to create a vision board. She's been creating vision boards since 1995. She taught me how using her Bagua Map method, and even holds workshops from time to time. Her advice?
"Remember that there is value in the process itself; not just your finished board. It doesn't have to be perfect. Try to approach the project with an attitude of non-judgemental curiosity to allow creativity to flow. Follow these guidelines as much or as little as makes you happy; and, most all, have fun with it!"

—artist Shari Dickson
how to create a vision board in 7 steps
Step One: Gather images and include a headshot of yourself.
You can cut out pictures, images, words, phrases, quotes, or even poems from magazines, write them out on paper, or print out images, phrases, or words that thou find on the internet. Google search for images or use Pinterest to find these. Pinterest is a great place to find inspiring images – create a board called 'my vision board,' which of course you can keep secret if you like, and use that board to house all of your images as you are collecting them.
Think about ALL of the areas of your life that you have dreams and aspirations for: family, love, professional, money, travel, fun, home, cars, health, fitness, eating and food, hobbies, and helping others. If you can dream it you can find a photo, illustration, or write down a phrase that represents what you desire. Above all be sure you have a picture of yourself to place on your board.
This is important because it grounds the vision to YOU. Assembling enough material may take some time. Get accustomed to doing this every time you see a something that speaks to your heart, then when it's time to do a new board, (yes, this is an ongoing process!) you already have some material ready to go. Don't rush yourself with this.
Give yourself a time frame to complete all of these steps. On the other hand, don't put so much pressure on yourself to get the perfect images, either. There is magic at work here and you will find yourself surprised at how easily you find the perfect thing. These are visual representations of your dreams both big and small — from large career ambitions to wanting a new blender. Visuals that speak to your dreams, make you really happy or make you think, "Yes, that's ME," or, "That's what I've always wanted to do," or "That's what I've always wanted," are what you are looking for. what speaks to you might also surprise you. Be open to that.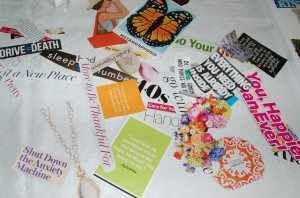 "When making your personal treasure map, think fun. Think delight. Think seven years old. This is not an intellectual exercise in existentialism. This is a wish list for the universe. Our deepest wishes are whispers of our authentic selves. We must learn to respect them. We must learn to listen."

–from Simple Abundance by Sarah Ban Breathnach
Step Two: Do some gratitude journaling.
Like all intentional efforts; vision boarding requires an honest assessment of where you are and where you would like to go. Take a time to reflect on the past year. Ask yourself,
"What really made me happy?"
Focusing on gratitude before you assemble your vision board focuses your desires on the important things in life that you already know make you happy and ensure that you don't leave those elements out of your future vision. This exercise hones your desires and primes the creative pump for assembling your vision board.
Step Three: Assemble the following supplies:
Poster board or framed canvas – 16″ x 18″ or larger works well.
Your images
An acrylic sealer to adhere your images to your board. Shari recommends Minwax Water-based Polycrylic in Satin finish. Brushes clean up with water. (in store at Home Depot & Lowe's, too.) *Mod-Podge is not recommended because it is sticky and can wrinkle thin magazine paper.
Acrylic paints in primary colors plus black and white for tinting your primary colors.
Two paint brushes – 1″ wide brush works well.
A jar with water
Paper towels
Newspaper
Paper plates to hold and mix your paint colors on.
Cover a large work surface with newspaper and assemble your supplies.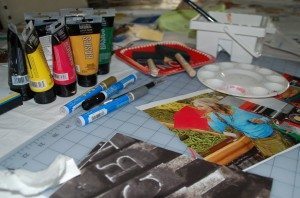 Step Four: Divide your board into nine sections following the image map below. Paint each section a color that is meaningful to you.
This technique is called Bagua color mapping. A Bagua map is a way of dividing the space on your board to correspond to all the different components of your life. It is a tool often used in modern forms of feng shui.
Using the map below as a guide, divide your board into nine squares as shown. Color your squares, using your paints, any colors that each area represents to you. Adding color infuses your board with another layer of visual energy. Print out your own bag map (download below) to keep next to you as you complete the next steps.
click here to download your free Bagua map
::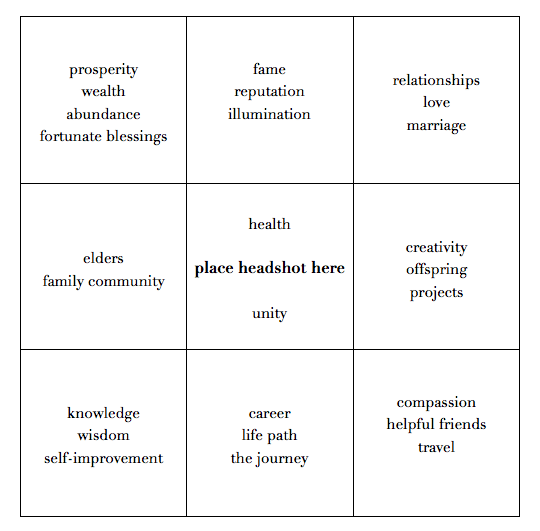 For example, the financial/abundance Bagua square, located at the top left-hand corner, I painted a light green color because it reminded me of the literal color of money, but just choose according to your own preferences. You can blend your colors at the edges, or not. The technique is up to you. When you're finished, clean up your paints and paint brush while you're letting your board dry (about 15-20 minutes) before moving to the next step.
::
Step Five: Lay out your images on the board.
Use your Bagua Map to help you place your images into their corresponding bagua square on your board. Remember to place your headshot in the middle of the board.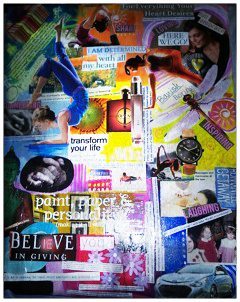 Step Six: Adhere your images
Start by painting one square using a good amount of acrylic sealer. Place images onto the sealer base coat. Next, paint the sealer over the top of the images. Be careful not to over-brush the images or they can get smeared or tear. But use enough to firmly adhere the images to your board. Repeat for each square.
Want to go over the top?
Use glitter, stamps, rhinestones, or attach small objects using a hot glue gun. Cut out individual letters and create your own words. This is all about creative expression so go for it! The Bagua map is meant as a guide; so incorporate whatever additional elements you would like to. It's your vision and your life so go for it!
Step Seven: Hang or place your vision board in a prominent place where you will be sure to see it every day
Seeing your vision board daily throughout the year serves to recall and focus your energies and sparks small unconscious actions and energies daily to bring your vision board to fruition.
get ready
You will be amazed at how that happens for you. Some dreams may take years to come together, and some might show up for you the week after you finish this project. No joke I've had my visions manifest before I could even get the photo glued down on my vision board. It's also amazing to me how I have a picture of white bookshelves on my board from three years ago that I ended up designing and having built at my home. This process is hugely powerful to manifest your dreams, and I hope you have as much fun with it as I do every year.
Now that you've finished your board, read part 2 of this series and develop the seven habits of dream manifestation to magnify the power of your vision board here.
::
SaveSave