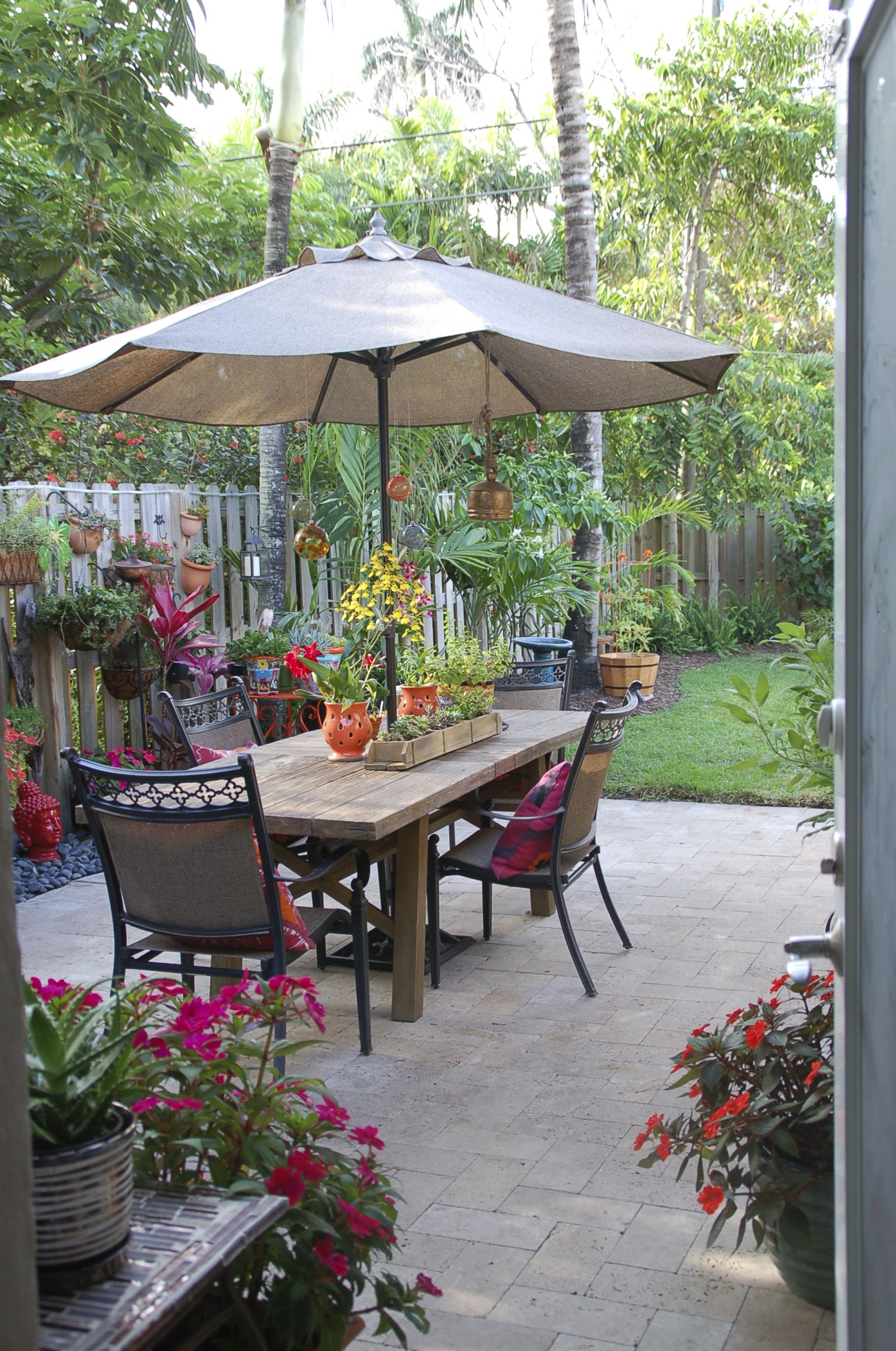 Garden Tour: 13 ideas to make the most of your patio
My girlfriend Candy is a creative type with an eye for color and a green thumb. Not surprisingly, her patio space is a colorful cozy space that's a feast for the eyes. Candy gave me a tour and shared lots of ideas for creating a gorgeous patio space. But first, meet the stars of this photo shoot; Cricket and Bo.
How cute are they?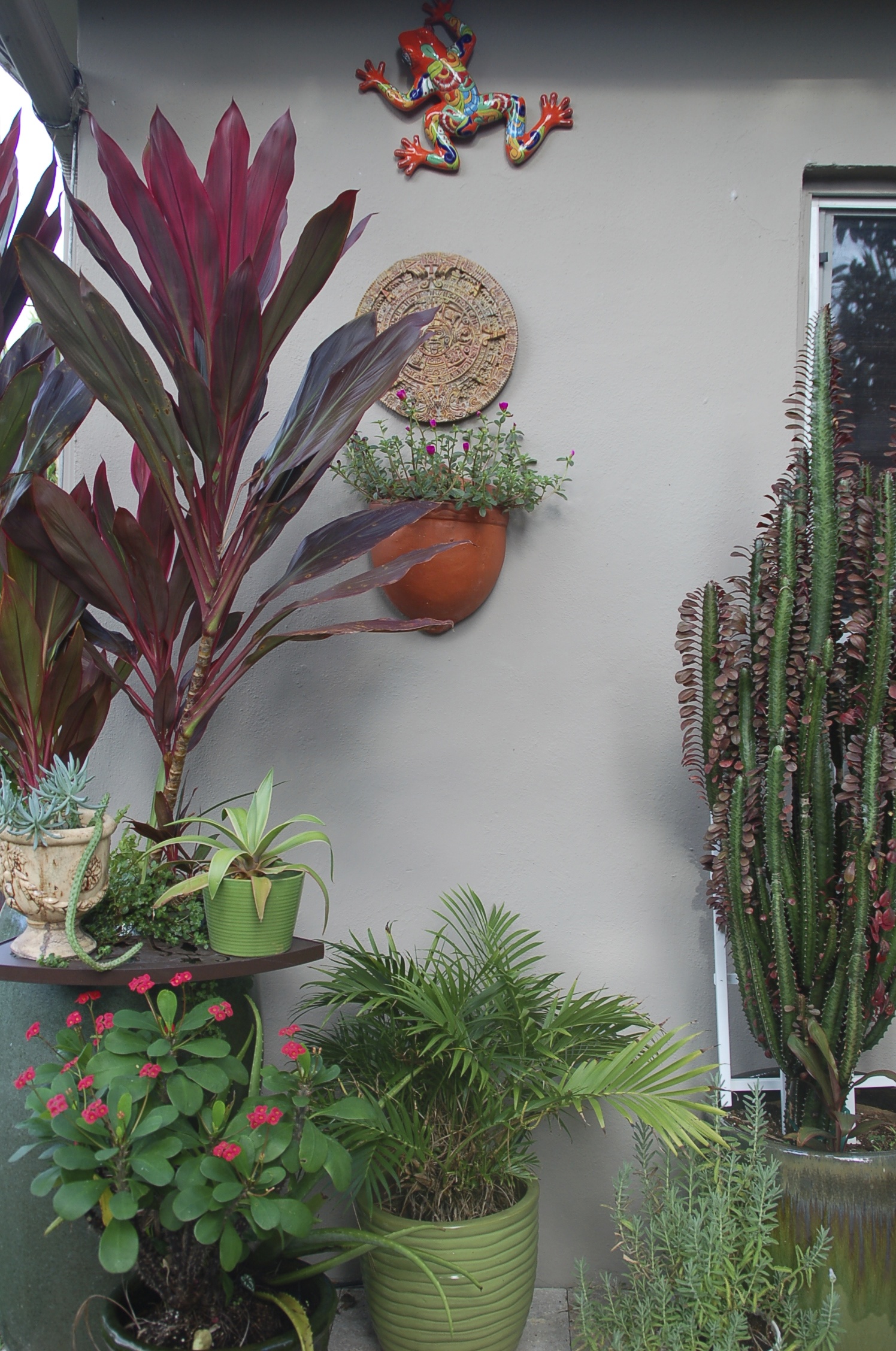 Idea #1: Create layers of interest.
Vary the height of pots and plants. Vast expanses of exterior walls are boring. Cover them up using wall-mounted planters, medallions, fountains, and sculptures. Don't be afraid — more is better. If you go for it in this way, it creates a feeling of abundance. Don't worry about being too matchy – these pots are different colors and mix modern and classic deigns. Candy also used a plant shelf on the large pot in the back left and set smaller pots on top of that. There is so much to see here and that's why it's interesting!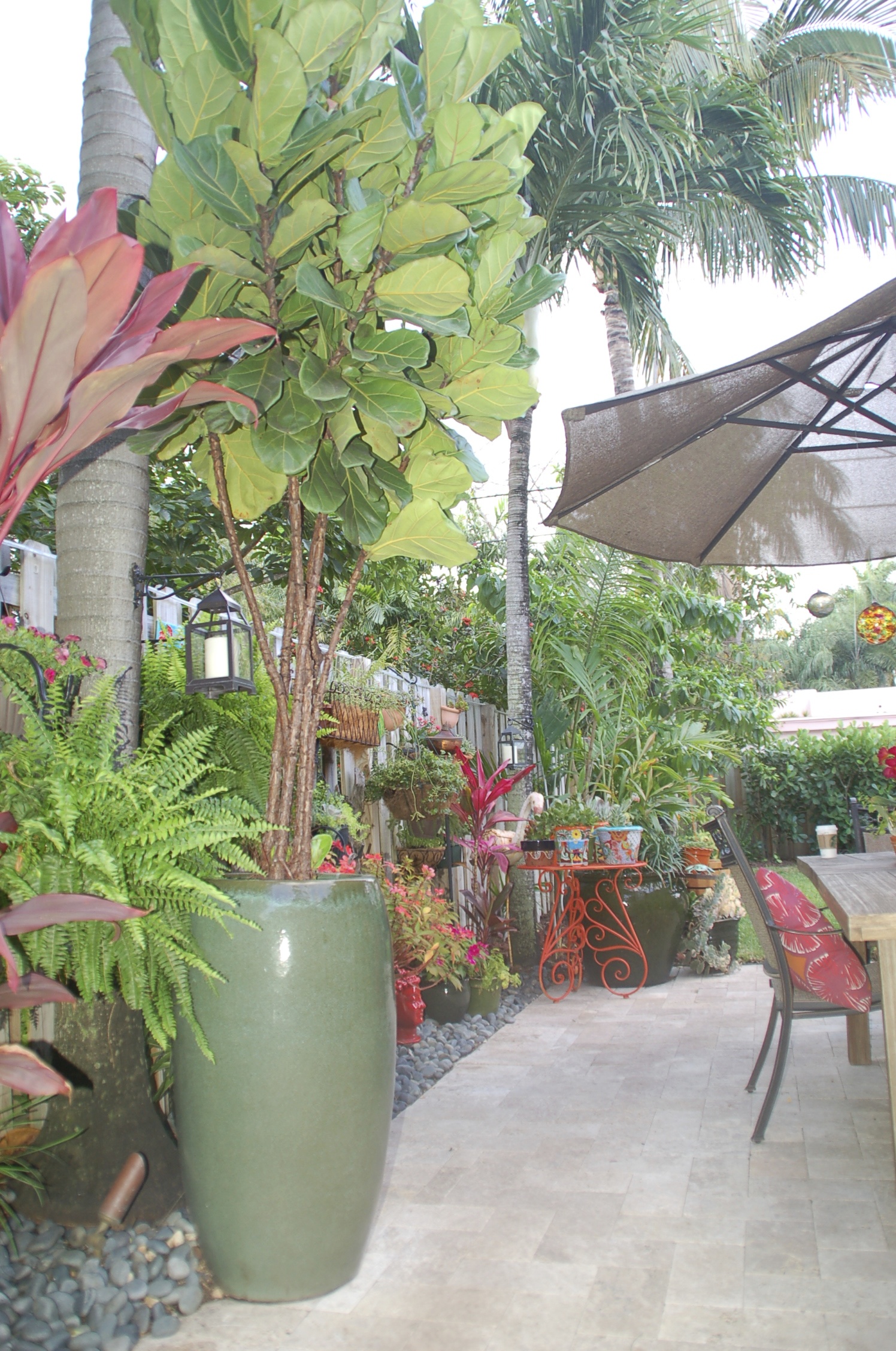 Idea #2: Minimize doggie damage by obstructing pathways.
Large heavy ceramic pots line the narrow fence line and provide vertical interest and color. They also create an obstruction so Cricket and Bo can't convert the strip into a run line and trample plantings.
Idea #3: Cover digging hotspots with stone.
Dogs love to dig by a fence. Candy covered this area with smooth flat river stone which discourages digging. It's also a ground covering that never has to be replaced like mulch and so much prettier.
Idea #4: Go big.
Don't be afraid of using tall pots – this gorgeous planter houses a fig leaf ficus that is high enough the create a canopy 'rainforest effect.' When plants are higher than you, it leaves you with a feeling of being protected, and a calm energy is created because of it. It also casts some dappled shade which is inviting. The worst patios greet you with blinding sun and hot pavers, so use umbrellas and plant trees that are high enough to provide shade. Umbrellas, trees, and large planters are expensive, but these are the foundations of an amazing patio space and create the inviting atmosphere you are looking for.  So look at it as an investment and begin first with these elements.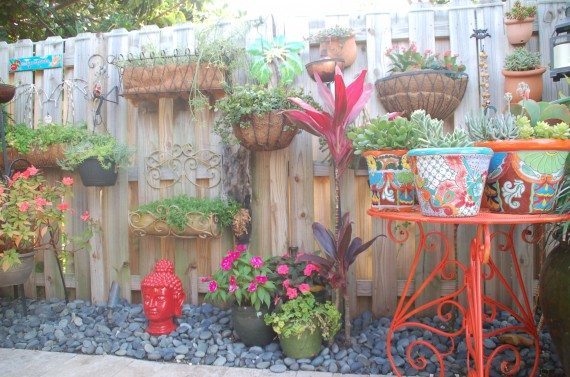 Idea #5: Use planters on your fence. 
The use of varied heights and styles of planters along a fence line provides wonderful visual interest in a what would otherwise be an ugly fence. There are only two plants planted in the soil here. Everything else is in a planter or pot. Candy told me she got the Buddha head at Home Goods and spray painted it red.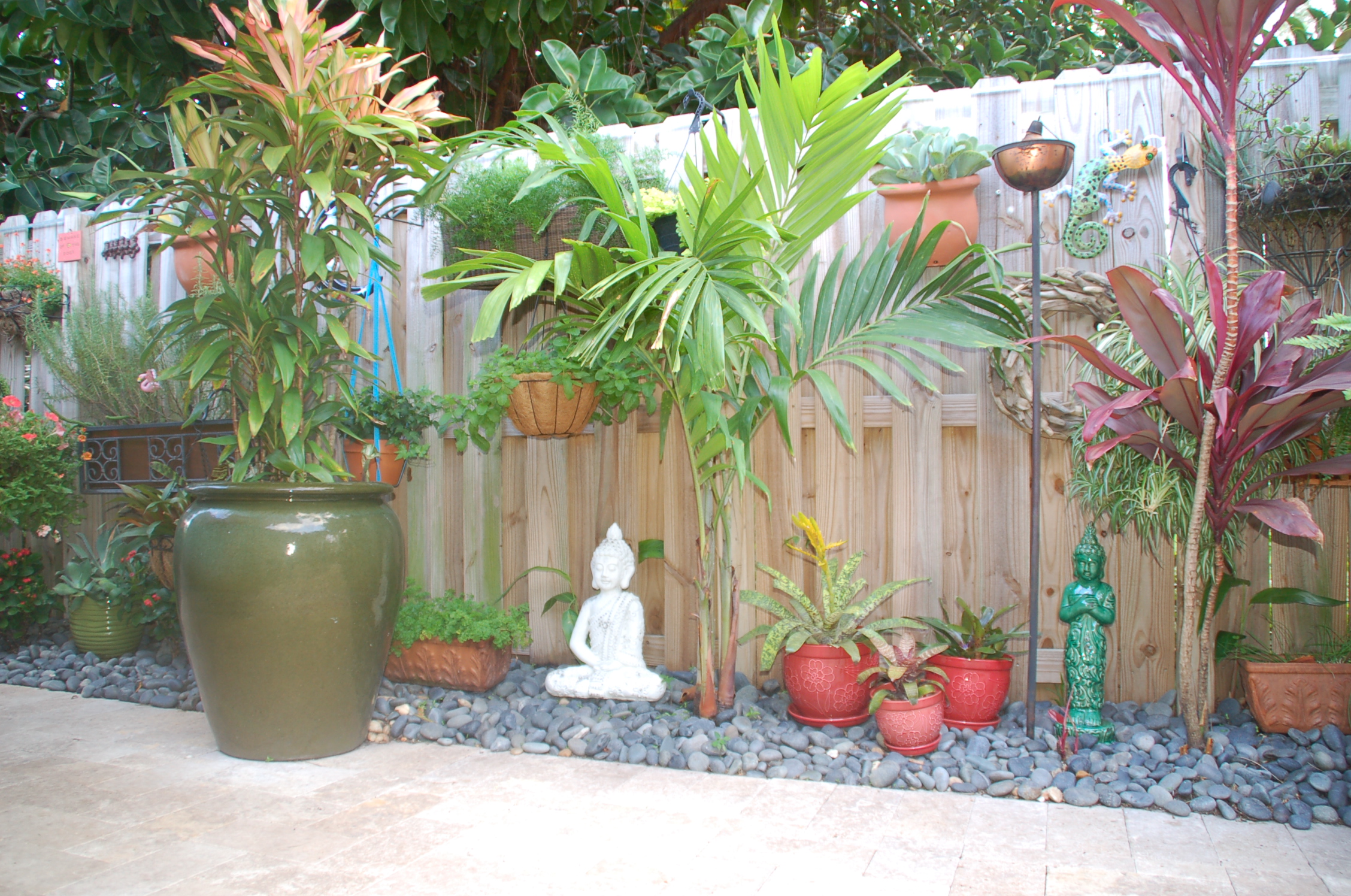 Idea #6: Repeat elements.
Smaller pots are just as necessary as larger pots for balance. The key is to display them in groupings for a massed effect. Here the three red pots create a montage effect — similar colored pots all hold bromeliads and ground the space. Also the Buddah theme is repeated throughout the space with different statuary and provide a cohesive feel.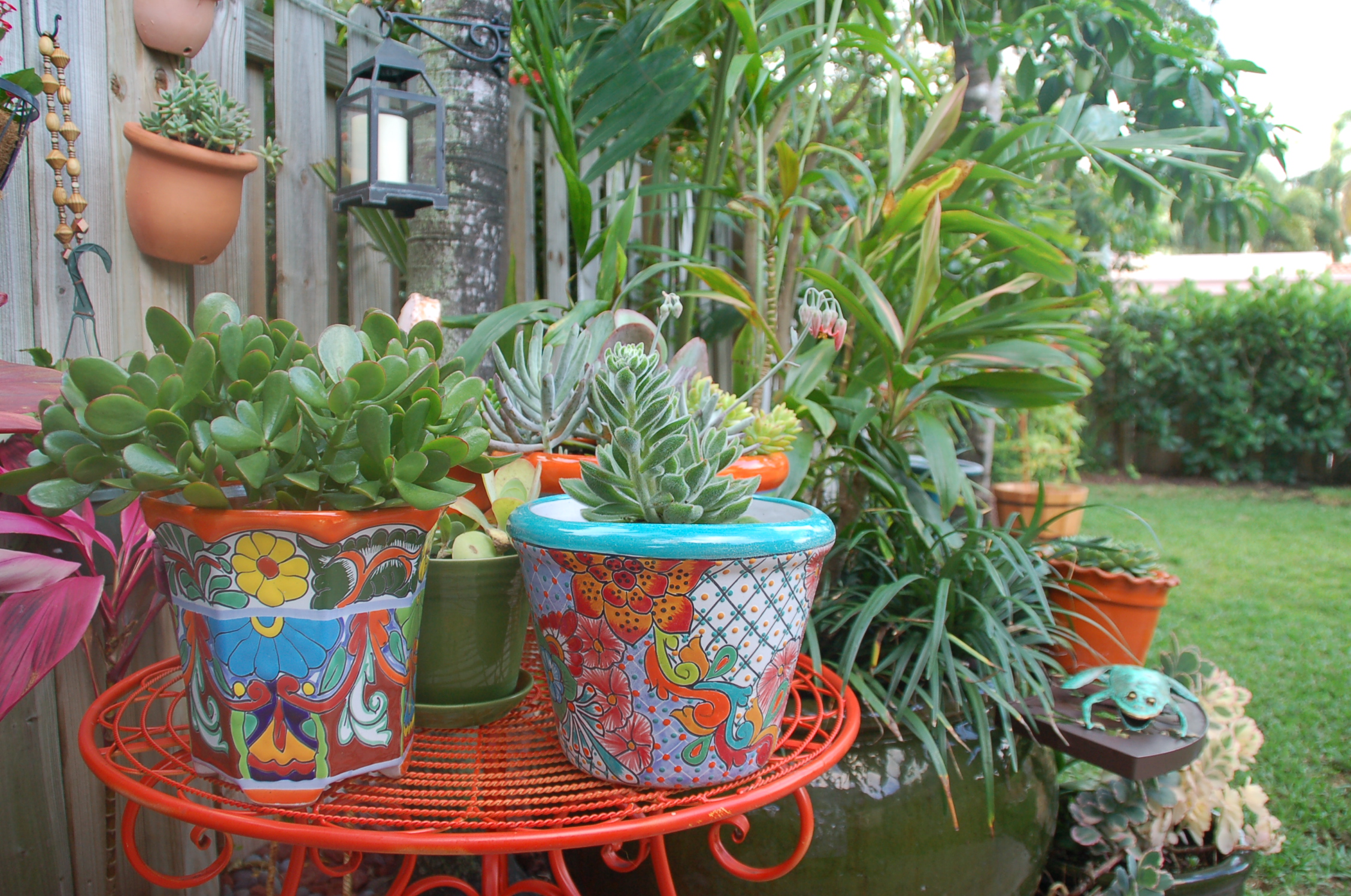 Smaller mexican pots are also grouped on this cheerful table (also spray painted). The orange, pink, and red theme is repeated throughout the patio space as well. Another pot shelf was used here. Looks like the frog is smiling for my camera.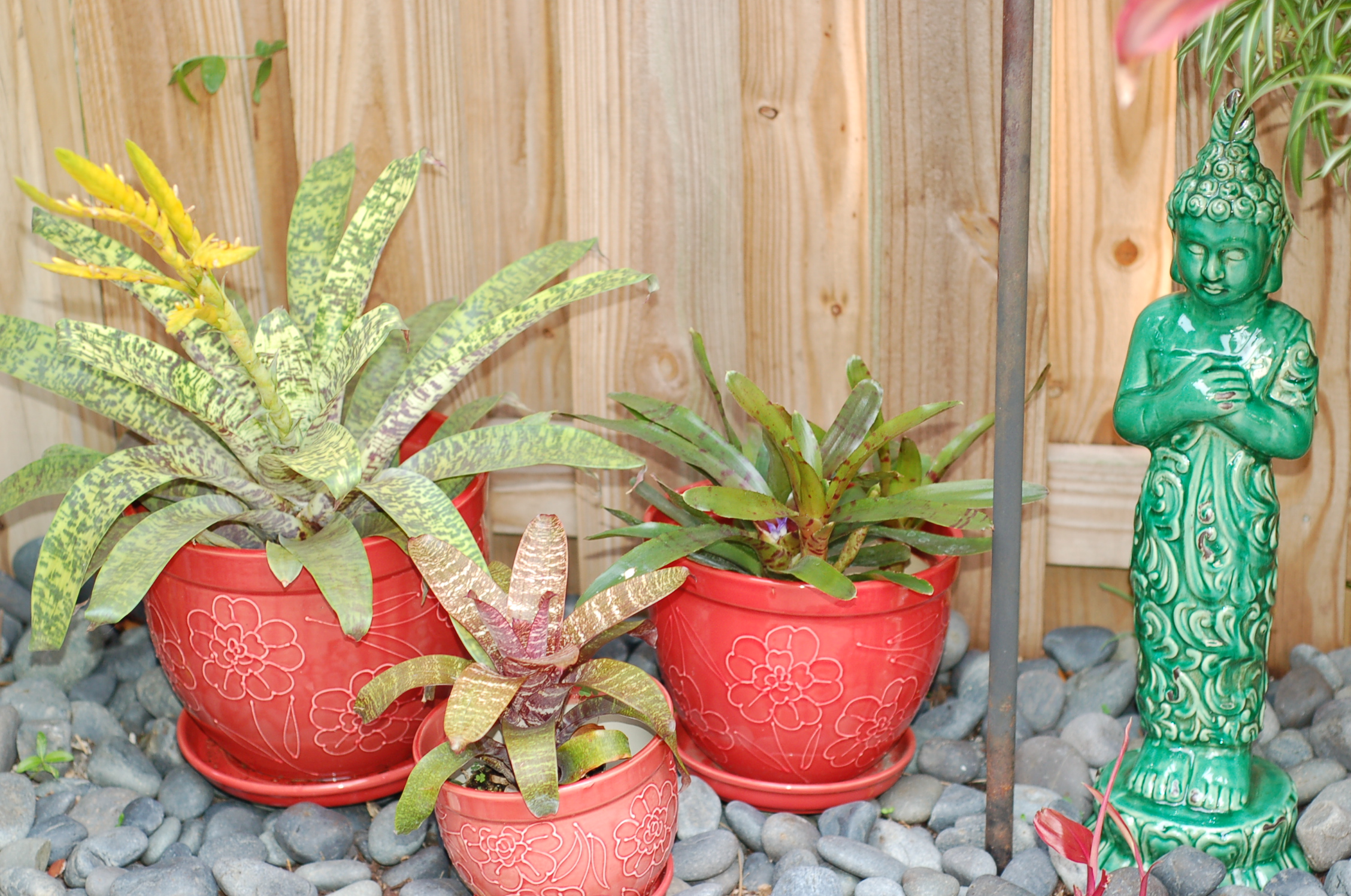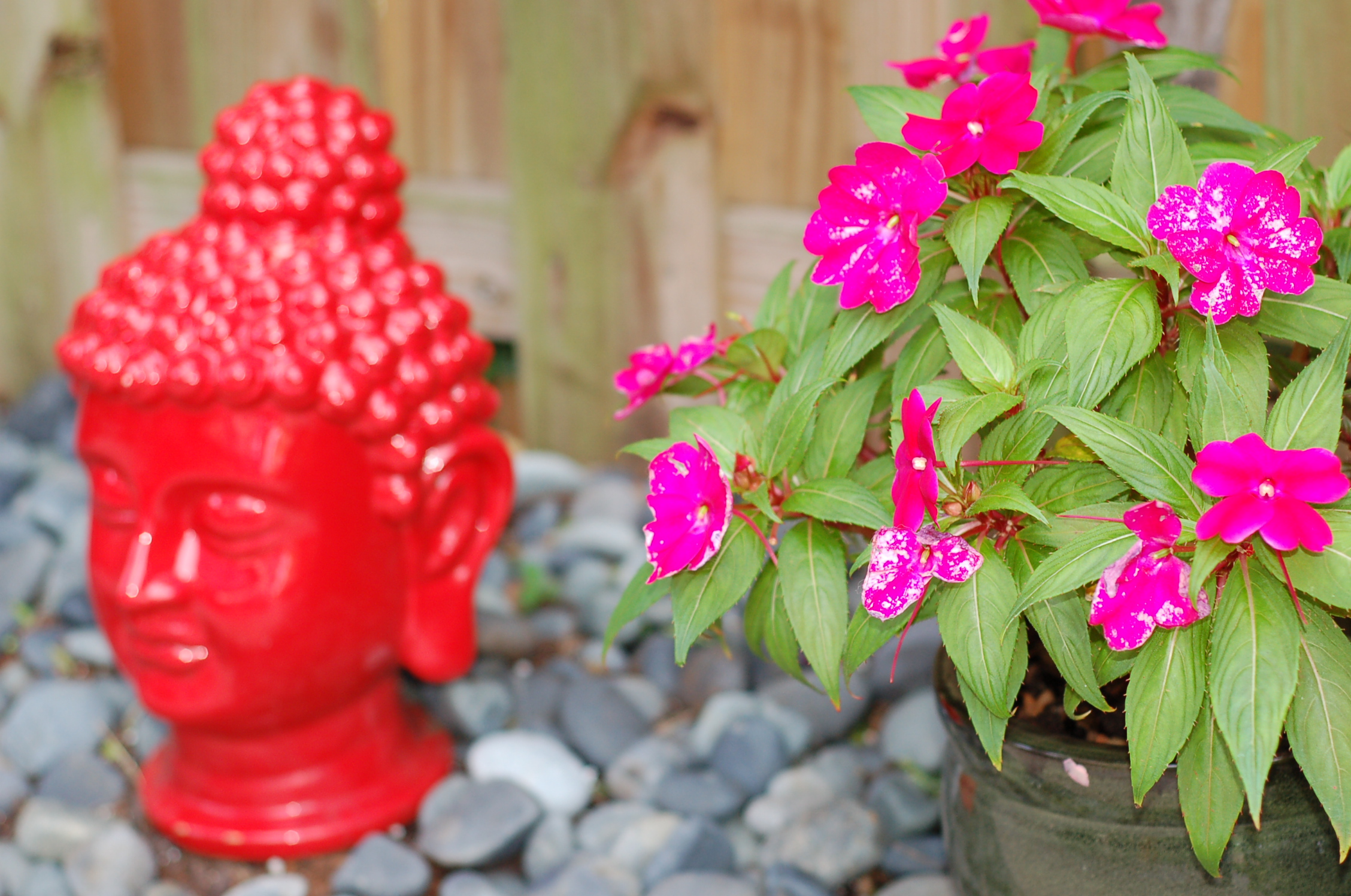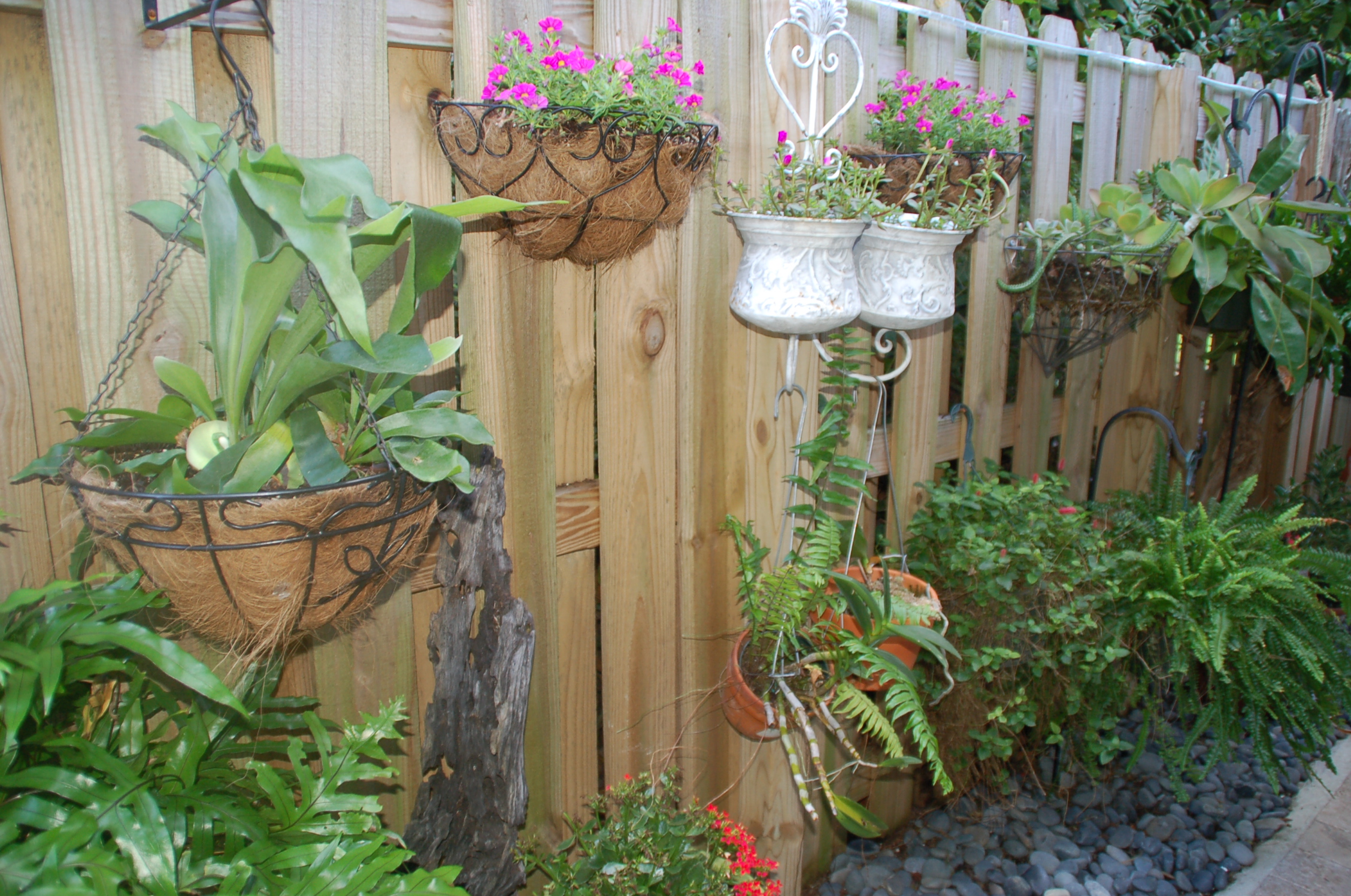 Idea #7: Use unexpected elements.
Candy mounted driftwood here. There's a mirror on the wall by the door, and a bust of a woman on top of the grill. The effect is playful and keeps the space interesting and fun.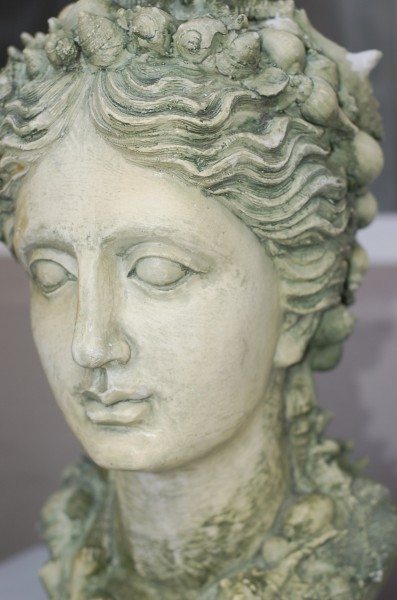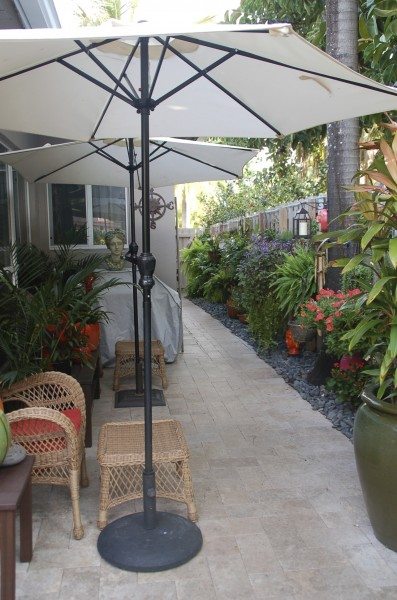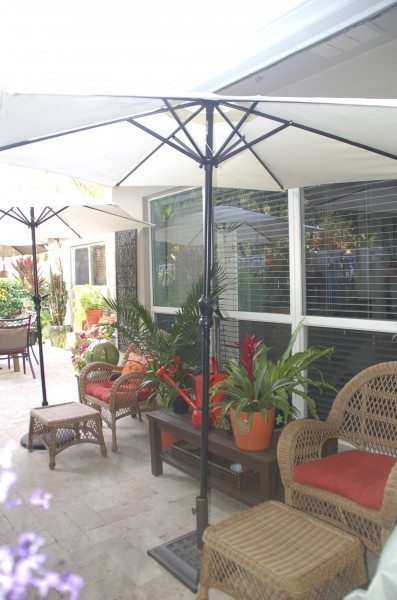 Idea #8: Be kind to the grill master.
I love how Candy used two umbrellas here in the grilling area. If you're going to be grill master it's really nice to have shade and a place to sit down and converse while the food cooks. The happier the grill-master is to grill, the less you have to cook inside so consider shade and seating by the grill.
Idea #9: Tablescape even when you're not eating.
Put your best flowering plants and most colorful pots on the table. Hang lights or interesting objects from your umbrella. colorful glass globes catch the light and contrast with a brass bell.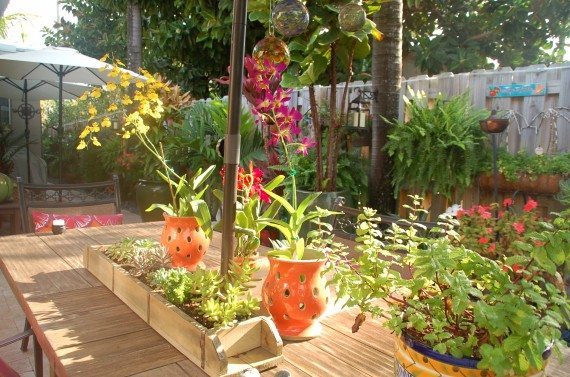 Look at this view! This is what hits your eye the moment you open the door out to the patio.  You can see the gorgeous effect when the sunlight hits this tablescape. A table should be bountiful whether you're eating there or not. When I worked with Candy at Pottery Barn in visual merchandising that was the first rule they taught me.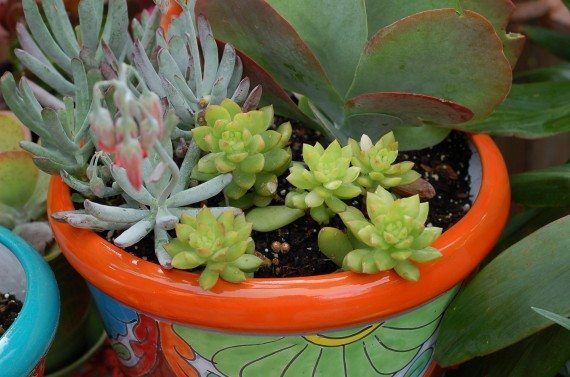 Idea #10: Use cactus and succulents in small pots.
The small pots are the first to dry out, so experiment with low maintenance cactus and succulents. There are so many kinds and colors to try beyond the standard ones you see at home depot. Poke around at garden centers or even try mail order.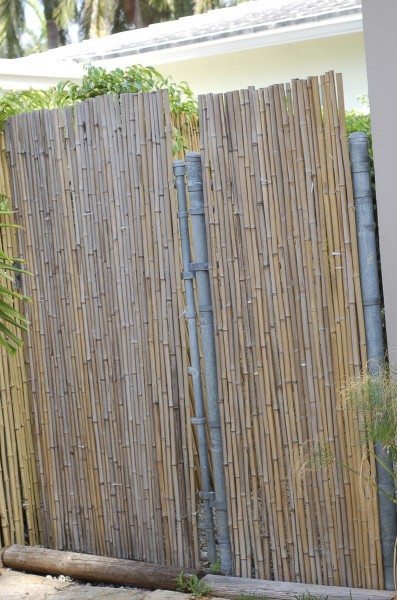 Idea #11: Spruce up your ugly chain link with bamboo.
Chain link is a problem for Bo and Cricket. They can see the dog next door and this leads to all kinds of racket. Candy used heavy-duty tie wraps to line the chain link for a cool tropical effect that also gives privacy.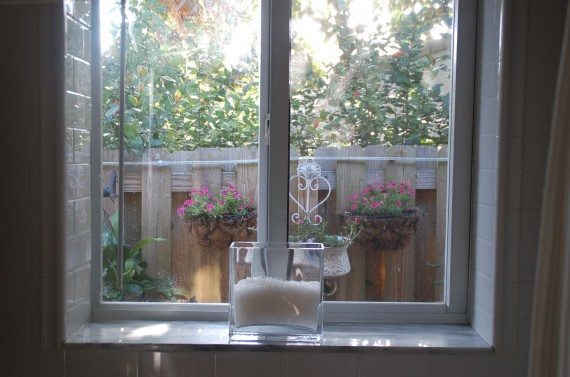 Idea #12: Consider the view.
Candy's guest bathroom is gorgeous. Once you step in the shower these pretty pink flower greet you. To consider the view through your window and provide some planting interest there.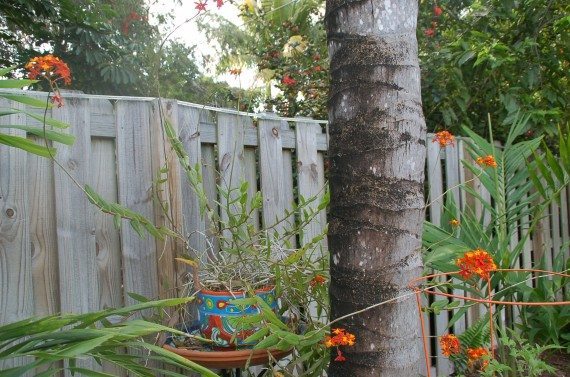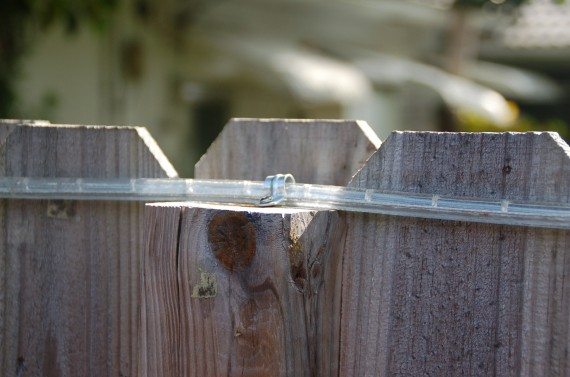 Idea #13: Use LED rope lighting.
Take your eyes off that enormous orange orchid for a minute and notice the Clear LED rope lighting fastened across the top of the fence. Led rope lighting is flexible, clear, and so easy to install at the top of a fence line using these fasteners. No digging wires! The lighting effect is subtle and glowing at night, they stay cool, and use minimal electricity. Ask your Home Depot person to help you with this easy lighting project.
Thank-you to Candy & Jack for allowing me to document your lovely space.