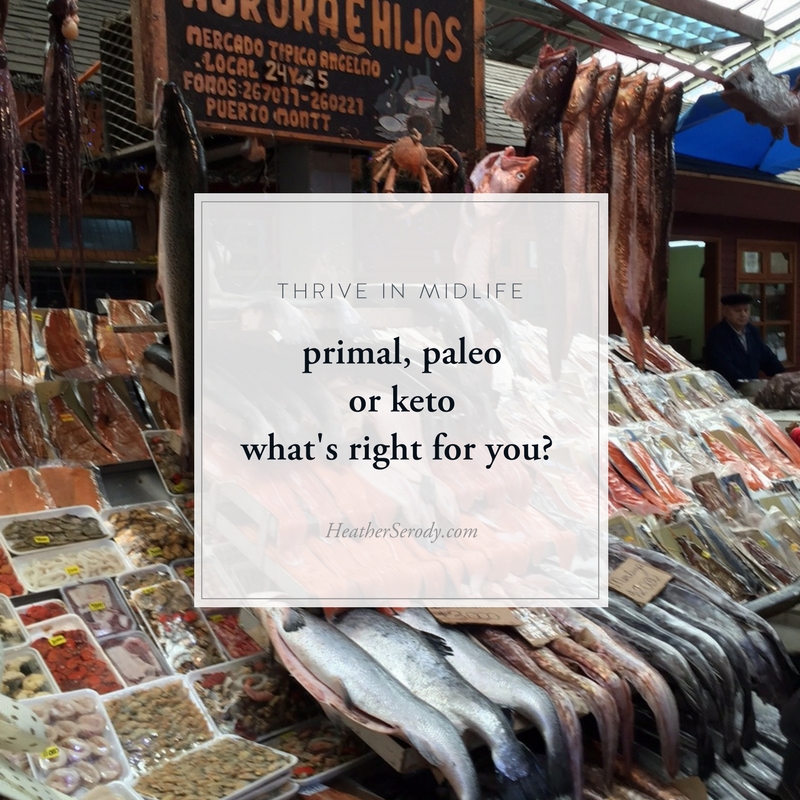 Paleo primal or keto? These three terms are definitely not the same, The question is, which one is best for you? All three low-carb approaches to food recommend limiting carbohydrate intake. They are immensely popular because so many people have finally found a way to feel better and more energetic by restricting carbohydrates and eating real quality non-processed foods. Because of the reduced amounts of carbohydrates in each of these approaches, you'll be eating relatively more fat and protein. Each approach differs in their recommendations as to how much and/or what type of protein, carbs, and fats are recommended. It's really useful to understand the differences between them so that you can find one or a combination of approaches that work best for you.
Let's take a closer look.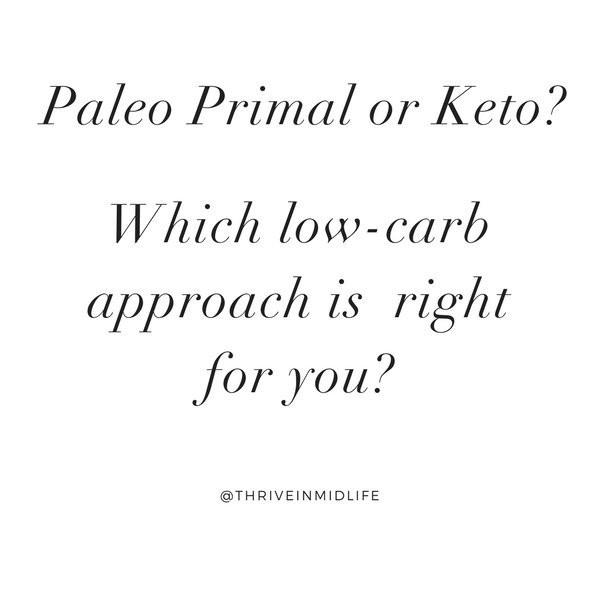 paleo
In the beginning of the Paleo movement, the founders initially recommended focusing on lean meats and avoiding saturated fats like butter and coconut oil because they followed the now debunked diet/heart theory that linked saturated fats to increased cholesterol and heart disease. The paleo community has since changed its position on saturated fats and now allows it.
You can think of Paleo as more of a 'diet' in that Paleo has definite restrictions on certain foods. Dairy, nightshades (which include potatoes, peppers, eggplant, and tomatoes), legumes (beans) and coffee are not allowed/recommended because they believe they are irritating to the system and can lead to leaky gut and inflammation.
primal
The primal movement has always centered on trying to replicate the lifestyle of ancient hunter-gatherers who ate the high-fat portions of animals, making it more of a lifestyle that includes other elements besides what to eat. The Primal lifestyle advocates eliminating grains and eating more vegetables, pastured organic meats, and getting plenty of sleep and exercise.
Primal lifestyle allows for dairy as long as you feel good eating it and aren't allergic or sensitive to it. Primal eating guidelines aren't as restrictive as a Paleo diet in that they believe that raw, full-fat dairy from pastured animals is a quality source of healthy fats. It also doesn't restrict nightshades, potatoes, or coffee.
Primal eating is an approach that doesn't pursue nutritional ketosis (burning your own fat for fuel) as something to strive for all the time but sees it as something that happens from time to time as a beneficial and natural result of eating low carb. Primal dietary guidelines recommend keeping carbs below 150 grams per day. Fruit, chocolate, and wine are allowed within these carbohydrate parameters.
ketogenic
Ketogenic is a low carb, moderate protein, high-fat diet, where 60-75+% of calories come from fat, 15-30% come from protein, and 5-10% comes from carbohydrates. The goal of eating this way is to burn fat instead of sugars (carbs) for fuel. Burning fat for fuel is called nutritional ketosis (which is not at all the same as diabetic ketoacidosis). The keto way of eating switches your body over to burning fat for fuel by limiting the carbohydrates you eat.
How much you must restrict your carbs in order to burn fat for fuel will vary from person to person because that depends on your activity level, the amount of insulin resistance you have, and health of your metabolism. A ketogenic diet was originally used and still is used to control epilepsy. Over time people realized that there are lots of other benefits to fueling the body with fat besides the benefits to the brain.
People who can't lose weight by restricting calories, have unexplained weight gain, blood sugar dysfunction, Alzheimer's or want to avoid Alzheimer's in the future, &/or people who have a sluggish thyroid or imbalanced hormones can find healing from keto because it allows the cellular machinery to run on an alternate and more stable form of fuel. These ketones keep insulin low which can heal insulin resistant cells, balance sex hormones and hunger/satiation hormones, and allows for weight loss in folks who can't lose weight using a traditional diet.
Most keto professionals advocate keeping carbs below 30 grams per day. Switching over to burning fat for fuel takes time and requires special considerations if you have been eating a traditional diet because you literally have to allow time for your cells to switch their engines over to using an alternate form of fuel. What this means is that you can feel awful if you don't know how to support your body through this process.
what is right for you?
There is no question that reducing your carbohydrate intake will make a huge difference in your health and how good you fee; especially in midlife. I eat and recommend a keto diet because I am insulin resistant and have high fasting blood glucose. You may not, and therefore don't need to follow such a carb restrictive way of eating. Perhaps Primal is best for you? On the other hand, if dairy or potatoes don't agree with you then Paleo can give you the structure you want with a less restrictive stance toward carbs. Or you can always modify keto to be dairy-free. If you don't have weight to lose and just want to eat low carb then I recommend starting with the primal lifestyle for several months before giving keto a try. The bottom line is that these are guidelines that you can modify according to what's best for you.
One of the big lessons of midlife is to approach eating within the parameters of how it makes you feel, being sensitive to any approach that feels too restrictive, while also gently remaining open to trying new solutions that work for you and your body. Also, give yourself ample time and to adapt to this low carb lifestyle.
ready to begin?
I have created two comprehensive paid keto programs for those readers who just want to get started and not waste time making mistakes or trying to learn all the parts of keto yourself. The first program is a 7 Day Keto Jumpstart program. This program is great for the keto beginner or keto-curious who want to tip their toes into the keto lifestyle and see how they respond to the low-carb lifestyle for a week. The second program is a comprehensive 30 Day Keto Transformation Program. This program gives you everything you need to learn keto for life and tweak it according to your goals and your lifestyle.
free stuff
When you sign up for my email list, you get instant access to the subscriber Resource Library which holds all of the free guide, checklists, cheatsheets, and PDF's that I create for my awesome community. These include guides on how to calculate your macros, digital fasting and meal planners, simple keto meal ideas for breakfast & dinner, The Guide to Thrive, and much more!
sign me up
coaching
Schedule a coaching session with me if you are looking for one on one support.
SaveSave
SaveSave