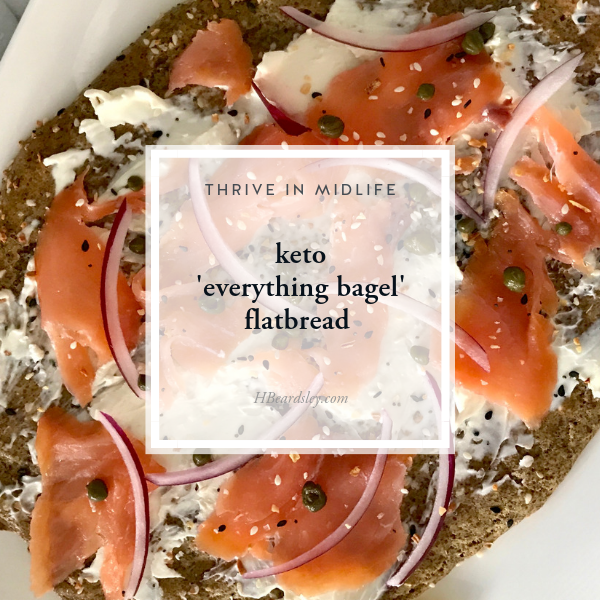 Yes, you can make yourself up an easy low-carb flatbread in 15 minutes and top it with all your favorite bagel things without sabotaging your low-carb fat-burning game.
(drops the mic)
It all starts with my basic Keto Flatbread recipe, which has just 3 ingredients: ground flaxseed, eggs, and sea salt. Just mix those up in a bowl and then spread it out with the back of a spatula on top of a parchment-lined sheet pan. Top with Trader Joe's Everything but the Bagel Sesame Seasoning Blend (or click here to make your own) and bake it for 15 minutes. After it cools for a minute, add your favorite bagel toppings. This flatbread has cream cheese, nova, thinly sliced red onion, capers and a squeeze of lemon.
It's so freaking good.
a word on flax seed
Flaxseed must be ground in order for your body to be able to utilize the nutritional benefits-and there are so many in flax seeds! It's high in omega 3's, potassium, magnesium, B vitamins, and has a ton of fiber, which is great for making this flatbread low-carb. Since fiber is not digestible & isn't absorbed, you don't count the carbs from fiber when figuring your carb count. A serving is 1/2 a flatbread and has just 2.3 net carbs. Heck, even if you eat the whole thing like I did this morning, it's still very low carb at just 4.6 net carbs for flatbread.
Let the happy dancing ensue.
shop the story
SaveSave
SaveSave
SaveSave