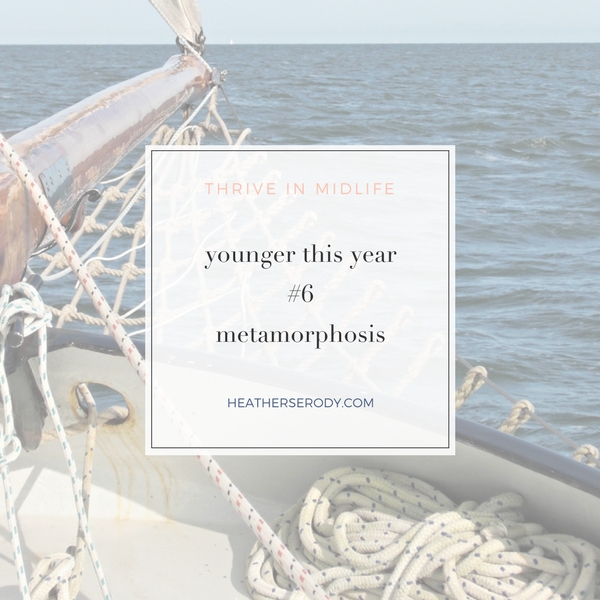 a cautionary tale
Please note that this series was written in 2014 before I understood that the reason I couldn't lose weight and why I had gained was because I had become insulin resistant. The eat less/move more theory of weight loss which I was applying here worked well enough when I was younger but by the time I was well into my 40's it had disastrous results. I can see in retrospect that my eating that included lots of sweeteners like maple syrup, fruit smoothies, and eating more than 3 times a day was the worst thing I could do for my insulin resistance. Plus, the calorie restriction damaged my metabolism, slowed my thyroid function down, and ended up causing me to regain all the weight I lost.
I keep this series published as a cautionary tale to you and a reminder to myself that over exercising in order to lose weight does not work. Since then I've adopted a low-carb high-fat ketogenic way of eating along with intermittent fasting to control my weight and heal my insulin resistance and metabolism. I now exercise to stay functionally younger and strong. If you recognize yourself in this story and you've also lost your confidence in your ability to control your weight in midlife start here.
I also keep the series published to honor my journey that's representative of that of so many of us; that we each have to find our own way in midlife, recognize that the things that used to work for us in our 20's and 30's often no longer do in midlife. We need to stay open to trying new things and start pursuing a long-term strategy for health & wellness in midlife that makes us feel nourished, happy, and thriving. If you'd like more, please join the list and you'll get the Guide To Thrive as your free gift.
click here to join & get free instant access
younger this year update #6
What's happened after six months of trying to work out for 60 minutes, 6 days a week; with 2 days of strength training. I've hit that goal pretty consistently for the past 6 months; I'd say 85% of the time.
1. I'm shrinking:
-2″ from thighs
-3+" from my lower abdomen
-2″ from my waist
-1.5″ from my ribcage
Went from a 36DD bra to a 34C (a loss of over 2″)
-1″ from my upper arms
-1″ from my neck!
2. 16 pounds lost since January 2014
month 6 is about metamorphosis:
I've now given away 4 big shopping bags of clothes. Every single item of clothing left in my closet fits again. When I wake up in the morning I feel strong and like my former self of 20 years ago. Really! I love the feeling of getting in my cardio for the day. I love the feeling of being able to hit yoga arm balances that I simply couldn't manage at 16 pounds heavier.
The biggest difference, though, and the most important is that at 6 months in, the positive benefits of choosing – day after day – to carve out a life of intention; an intention to treat my body as a temple – and to live a happy life are part of my every waking moment. I no longer am striving to become a better vision of myself, I already feel like that's happened. I feel like I have reserves of power and stamina that are both mental and physical. I feel happier than I have in a long time.
a look back
I look back on photos of myself last year prior to this lifestyle change and I remember feeling very discontent. It was a vague feeling, so I floundered about for many months until I hurt my back. In those moments of severe pain; stuck on the couch I wanted to feel like my body had let me down. But then came a quiet voice that called me out on my own bullshit. I had allowed my body to decay, atrophy, and prematurely age. I was overeating and drinking too much wine. I had a choice to accept that consequence of a sedentary lifestyle (still walking 10,000 steps a day, mind you) or try something different. That was back in August of 2013. I began to work out on September 5, and haven't stopped since. I began the Younger Next Year prescription of one hour of cardio a day with two days of strength training in January. Ten months later the difference really shows in my face.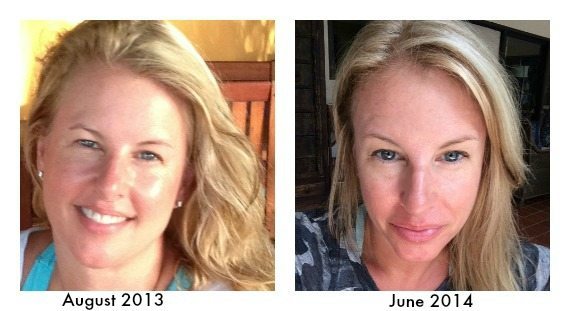 Fitbit recommendations
All of the Fitbit heart rate tracking watches offer:
continuous heart rate & step monitoring
automatic sleep monitoring tracks time spent in sleep stages & time awake to better understand the duration & quality of your sleep
silent alarms
smartphone notifications
automatic tracking of multiple sport activities
gives you reminders to move if you've been sitting too long
responsive tap display
*With technology products, you want to be sure you can get the ability to return or get a new Fitbit in case something happens, which is why I always recommend you purchase through these links at Fitbit.com instead of retail stores because you get
Free shipping on $50+
45-day money back guarantee
1 year limited warranty
click here to buy FITBIT
resources & tips
The book that my protocol is based on is Younger Next Year: Live Strong, Fit, and Sexy Until You're 80 and Beyond, and the companion book for women called Younger Next Year for Women. This exercise and lifestyle prescription is scientifically proven to stave off 70% of the normal decay (weakness, sore joints, muscle apathy), and…eliminate over 50% of all illness and potential injuries related to aging.
Find a friend or group to get accountable with. I joined the Tone It Up team. Karena & Katrina feel like my personal trainers. I use their toning and cardio videos regularly — all free!
Tone It Up is a great network of women (mostly very young) who check in with their workouts on Instagram and in the Tone It Up Community. Use the hashtag #tiu40plus to find TIU members who are our age. This kept me accountable, gave me a sense of being part of a greater community and I've met some fantastic women.
Diversify: I also do Zumba and Spinning at my local gym; and yoga at my local studio.
My dogs keep me walking. Every Damn. Day.
I love running again and have discovered trail running is my favorite place to get in my cardio.
Link to all the younger this year updates here: 1| 3 | 4 | 5 | 6 | 7 | 8 | 9
p.s. Let's connect and inspire over on Instagram with daily check-ins. You can find me @thriveinmidlife
SaveSave