a cautionary tale
Please note that this series was written in 2014 before I understood that the reason I couldn't lose weight and why I had gained was because I had become insulin resistant. The eat less/move more theory of weight loss which I was applying here worked well enough when I was younger but by the time I was well into my 40's it had disastrous results. I can see in retrospect that my eating that included lots of sweeteners like maple syrup, fruit smoothies, and eating more than 3 times a day was the worst thing I could do for my insulin resistance. Plus, the calorie restriction damaged my metabolism, slowed my thyroid function down, and ended up causing me to regain all the weight I lost.
I keep this series published as a cautionary tale to you and a reminder to myself that over exercising in order to lose weight does not work. Since then I've adopted a low-carb high-fat ketogenic way of eating along with intermittent fasting to control my weight and heal my insulin resistance and metabolism. I now exercise to stay functionally younger and strong. If you recognize yourself in this story and you've also lost your confidence in your ability to control your weight in midlife start here.
I also keep the series published to honor my journey that's representative of that of so many of us; that we each have to find our own way in midlife, recognize that the things that used to work for us in our 20's and 30's often no longer do in midlife. We need to stay open to trying new things and start pursuing a long-term strategy for health & wellness in midlife that makes us feel nourished, happy, and thriving. If you'd like more, please join the list and you'll get the Guide To Thrive as your free gift.
click here to join & get free instant access
younger this year update #5
What's happened after 5 months of working out for 60 minutes, 6 days a week; with two days of strength training?
Total weight lost since January: 12 pounds.
I donated 2 shopping bags of clothes that are too big.
Decreased one bra cup size.
Increased endurance in running & spinning class.
Inches lost:
Measurements reveal that my calves are getting slightly bigger while my thighs are ever so slowly continuing to get smaller. I also lost a whopping ½" from my upper arms this month.
performance goal milestone reached:
I was able to reach a pinnacle pose in yoga class that I've been working toward for years; assisted scorpion handstand; where my feet easily reached my head and I had no pain in my back. (photo below) Keep in mind that I've been practicing yoga for over 13 years, and it was my particular goal to reach my head without any crunching or pain in my back. This is a significant milestone since my back injury last summer was the catalyst to get me back into shape.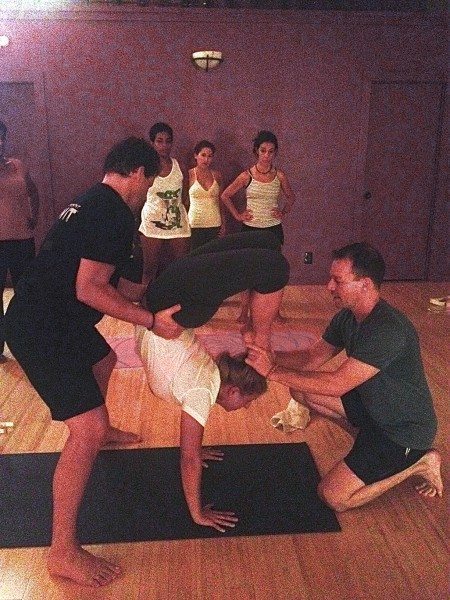 month 5 is about endurance:
It seems last month was all about my body dropping weight, and this month is all about progress in endurance – increased running distance without stopping, and endurance in power in spin class. I had several amazing 'highs' in spin class this month when I found myself not only able to keep up but to push beyond old limitations. I can't think of anything more gratifying than that feeling – proud, surprised, and humbled by what the body is capable of. Mentally, those feeling transfer to lots of other areas; too; including my psychological readiness for that yoga pose.
And of course, how you think about your physical capabilities is a huge marker for thinking young. When we are young there is an inherent expectation that you're strong and capable. But in the second half, our bodies have let us down. we have let our body down by neglect or injury or both. We lose confidence. How we think and see ourselves physically operating in the world becomes more and more insecure unless you're actively working out. This is how thinking 'old' begins to happen, and the only weapon we can have against that is to use this imperfect and aging body as the mantra against what the authors refer to as 'the tide' of age-related decay, illness, and disease. As we see age creeping upon us through the years and experience some illness or decay; it becomes a game changer to face these hurdles with a frame of mind that says – I'm physically as strong as I can be. I have endurance and I can face this. This kind of confidence is WAY better than any that is given freely as a gift of youth. This kind of confidence is hard earned and you're not as likely to let it go. It's why I haven't stopped, and don't see myself stopping even though it's a bitch to work out an hour a day.
This is good news. If you're considering giving this lifestyle a shot, my advice is to make it well into your fifth month of consistently working out in order to feel the endurance payoff that is changing the way I think about myself and my life as a whole. It's a huge improvement that is not reflected on the scale, but that I'd venture to say is psychologically as important, if not more so, than the 12 pounds I've lost along the way.
Fitbit recommendations
All of the Fitbit heart rate tracking watches offer:
continuous heart rate & step monitoring
automatic sleep monitoring tracks time spent in sleep stages & time awake to better understand the duration & quality of your sleep
silent alarms
smartphone notifications
automatic tracking of multiple sport activities
gives you reminders to move if you've been sitting too long
responsive tap display
*With technology products, you want to be sure you can get the ability to return or get a new Fitbit in case something happens, which is why I always recommend you purchase through these links at Fitbit.com instead of retail stores because you get
Free shipping on $50+
45-day money back guarantee
1 year limited warranty
click here to buy FITBIT
resources & tips
The book that my protocol is based on is Younger Next Year: Live Strong, Fit, and Sexy Until You're 80 and Beyond, and the companion book for women called Younger Next Year for Women. This exercise and lifestyle prescription are scientifically proven to stave off 70% of the normal decay (weakness, sore joints, muscle apathy), and…eliminate over 50% of all illness and potential injuries related to aging.
Shin splints are no joke; treat them carefully.
Once you start running more than two miles, more than twice a week, it's time to get yourself fitted for the right running shoe from an expert at a specialty shop for runners. I discovered that I've been wearing shoes that are a whole size too small. Running has become much more comfortable in the right shoe. No more picking up cute random sneakers from Marshall's! Get serious about your gear.
I'm loving the accountability that comes from checking in on Instagram daily with my workouts and/or healthy eating goals. If you're looking for accountability and support follow me over there to connect and see how this support system for the like-minded can spur you on to reach your goals, too.
link to all the younger this year updates here: 1| 2 | 3 | 4 | 5 | 6 | 7 | 8 | 9
SaveSave
SaveSave