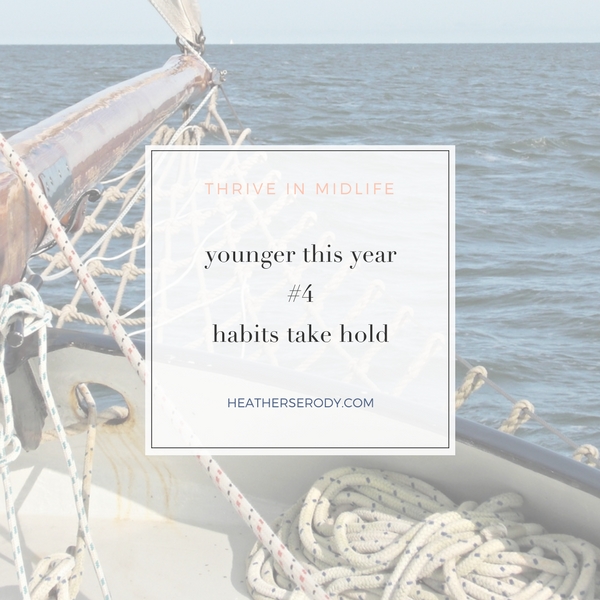 a cautionary tale
Please note that this series was written in 2014 before I understood that the reason I couldn't lose weight and why I had gained was because I had become insulin resistant. The eat less/move more theory of weight loss which I was applying here worked well enough when I was younger but by the time I was well into my 40's it had disastrous results. I can see in retrospect that my eating that included lots of sweeteners like maple syrup, fruit smoothies, and eating more than 3 times a day was the worst thing I could do for my insulin resistance. Plus, the calorie restriction damaged my metabolism, slowed my thyroid function down, and ended up causing me to regain all the weight I lost.
I keep this series published as a cautionary tale to you and a reminder to myself that over exercising in order to lose weight does not work. Since then I've adopted a low-carb high-fat ketogenic way of eating along with intermittent fasting to control my weight and heal my insulin resistance and metabolism. I now exercise to stay functionally younger and strong. If you recognize yourself in this story and you've also lost your confidence in your ability to control your weight in midlife start here.
I also keep the series published to honor my journey that's representative of that of so many of us; that we each have to find our own way in midlife, recognize that the things that used to work for us in our 20's and 30's often no longer do in midlife. We need to stay open to trying new things and start pursuing a long-term strategy for health & wellness in midlife that makes us feel nourished, happy, and thriving. If you'd like more, please join the list and you'll get the Guide To Thrive as your free gift.
click here to join & get free instant access
younger this year update #4
RESULTS:
Total weight lost since January: 10 pounds!
1 pant size lost.
1″+ loss from my hips, thighs, and chest.
I'm able to fall asleep faster and stay asleep. Also, now when I wake up, I actually feel awake.
Regular spinning classes will carve out your legs; especially your quadriceps (the long muscles located on the top front of your thigh) and butt. BUT I have to stretch out your butt from all that contraction. The deep gluteal muscle, called the piriformis can actually tug on your sacroiliac joint and cause problems with your lower back if it isn't stretched out properly. This is my go-to exercise; reclined pigeon & trigger point release. If you Spin, do these every day!
other changes
Things are definitely happening with my body; but what's interesting is what's happening with my mind, too.
On Sunday I decided to take a day completely off from working out and just rest; I felt physically fatigued and thought I'd welcome the break from all that working out. By the end of the day, I was cranky and regretful about lazing around all day. It really surprised me. I had a talk with myself. Here's what I learned:
My body really likes the endorphin hit every day. it makes me feel good. I catch myself smiling more often. That endorphin hit (at least for me) is as addictive as any other mood-altering substance. (And it's non-toxic & free!) I really believe the science behind Younger Next Year; so I want to live it's principles daily. It's the same as embracing any sacred practice. A day without means a day not living according to your principles. I like how being active makes me feel. Just like I'm no long that girl who smokes; I'm no longer that snarky girl who used to say, "I only run unless I'm being chased." I didn't realize that I've shed my skin (once again) about what makes me feel good.
A glass of wine really only tastes good to me anymore if it's NOT every day. Living this lifestyle has created a contrast in my life that highlights the good things – making them even sweeter and more delightful when they are illuminated by a sense of restriction, and if that also keeps me younger next year then there's no way I'm stopping now. What is surprising is that I can be living a lifestyle and yet still my mind has not completely internalized all of the philosophical and lifestyle changes that come with a shift like this. This is why I thought I love a day off when really I hated it! Internalizing this lifestyle takes time. If like me, you find yourself grumpy or dissatisfied or pushing back, it helps to have a curious inquiry with yourself. You might be surprised what you find.
Some people are supportive of my new priorities, and some are not. I'm old enough to already know that sometimes these differential reactions actually have nothing to do with me, but how my actions make people feel about themselves. This was the most painful part of this last month for me. When you change, you also change your role in other people's lives, and again, change is sometimes painful, but that doesn't mean there isn't good stuff on the other side of that change. My mantra is always; "Accept people for who they are and what they have to give and you will be happy."
is it possible to LOOK younger this year by exercising daily?
Here's what the book
says,
"What you need to remember is this: healthy looking women are way prettier. It's dumb to think you're ever going to look young again. You are not. If you set your heart on looking twenty-eight or thirty-eight, you're going to break it, no matter what this cosmetic maker or plastic surgeon tells you. Ain't going to happen. The best you're going to do, if you go down that road, is look like a vaguely delusional woman of precisely your age who has gone to a hell of a lot of trouble and expense to achieve a slightly weird look. The real goal is much simpler and easier to achieve. The real goal is to be a terrific looking woman of precisely your age. And that you can do. And people won't be able to take their eyes off you. …in this world, where everyone is more or less naked, it's being in great shape that starts fantasies flaming."

—Younger Next Year for Women p. 208-209
So the answer is yes, but not for the reasons you might think. Living an active lifestyle infuses your physical and energetic being with a vibrancy that's often hard to describe because it's mostly felt by others. That energy can be more alluring than any youthful physical attribute.
Fitbit recommendations
All of the Fitbit heart rate tracking watches offer:
continuous heart rate & step monitoring
automatic sleep monitoring tracks time spent in sleep stages & time awake to better understand the duration & quality of your sleep
silent alarms
smartphone notifications
automatic tracking of multiple sport activities
gives you reminders to move if you've been sitting too long
responsive tap display
*With technology products, you want to be sure you can get the ability to return or get a new Fitbit in case something happens, which is why I always recommend you purchase through these links at Fitbit.com instead of retail stores because you get
Free shipping on $50+
45-day money back guarantee
1 year limited warranty
click here to buy FITBIT
resources & tips
I invested in a pair of spinning shoes. Cycling shoes are made with a very stiff sole that enables more powerful pedal strokes because they clip onto the pedals, which facilitate a push/pull action and more efficient pedal strokes. I like the pair I got because the clip is recessed leaving you able to walk around without scraping up the floor &/or slipping and falling. If you're considering buying a pair, know that cycling shoes tend to run small. Also, you have to have the clips made for indoor spinning installed on the shoe after you buy them.
I updated my Power Walk playlist on Spotify. Have a listen here or hit play in the player at the end of the post below.
Leave me a comment below. I'd love to hear from you about your own experience with an active lifestyle.
link to all the younger this year updates here: 1| 2 | 3 | 4 | 5 | 6 | 7 | 8 | 9
p.s. Let's connect and inspire over on Instagram with daily check-ins. You can find me @thriveinmidlife
SaveSave
SaveSave