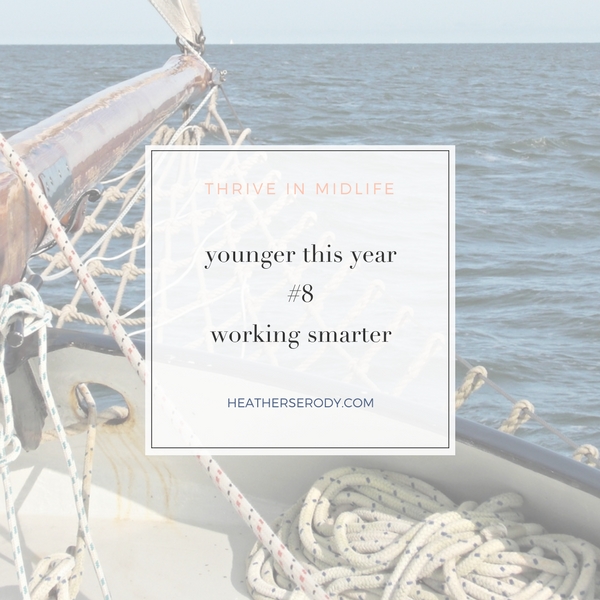 a cautionary tale
Please note that this series was written in 2014 before I understood that the reason I couldn't lose weight and why I had gained was because I had become insulin resistant. Also, the eat less/move more theory of weight loss which I had been applying my entire life worked well enough when I was younger but by the time I was well into my 40's it had disastrous results. I can see in retrospect that my eating that included lots of sweeteners like maple syrup, fruit smoothies, and eating more than 3 times a day was the worst thing I could do for my insulin resistance. Plus, the calorie restriction damaged my metabolism, slowed my thyroid function down, and ended up causing me to regain all the weight I lost.
I keep this series published as a cautionary tale to you and a reminder to myself that over exercising in order to lose weight does not work. Since then I've adopted a low-carb high-fat ketogenic way of eating along with intermittent fasting to control my weight and heal my insulin resistance and metabolism. I now exercise to stay functionally younger and strong. If you recognize yourself in this story and you've also lost your confidence in your ability to control your weight in midlife start here.
I also keep the series published to honor my journey that's representative of that of so many of us; that we each have to find our own way in midlife, recognize that the things that used to work for us in our 20's and 30's often no longer do in midlife. We need to stay open to trying new things and start pursuing a long-term strategy for health & wellness in midlife that makes us feel nourished, happy, and thriving. If you'd like more, please join the list and you'll get the Guide To Thrive as your free gift.
click here to join & get free instant access
month #8 update

Here's what I've learned in month #8 of sticking to the protocol – workout 6 days a week for an hour a day. Two of those days I spend strength training:
Last month, I began to notice this lifestyle has started to feel like a logistical and time problem. It had become this big overwhelming thing. I know myself and when I feel this way I'm in real danger of giving up and walking away. So, I also did an assessment of where I was at and I noted two weak links.
Not enough weight training.
I hit a plateau in my weight loss.
After some analysis, I realized that the problem was that I'd get my hour of intense exercise in, but then I still had to walk the dogs. Also, my natural preference is to run or walk instead of strength train. I was doing some online strength training at home, but I wasn't feeling like I was working hard enough. So, I added high-intensity interval training BootCamp – 3x/week.
My Bootcamp is a private group class where I feel accountable to show up and also work to my capacity; something that the at home strength training videos just can't duplicate. It's also incredibly difficult and challenging, something that I don't normally enjoy. But, I find it to be fun and interesting and I laugh a lot. Dare I say it's fun? No one is more surprised than me that I enjoy going.
the lesson eight months in?
Suffering in a group is way more enjoyable than suffering alone. I say that somewhat facetiously, but it's true. Amping up the intensity of my workouts should help me break through this last plateau and help me reach my goal of losing my final 10 pounds of fat.
lesson #2: adding in means taking some things out
Of course, adding in something new 3x/week means that some other things have to go. So for now, I'm reluctantly sacrificing my twice weekly 20-mile commute to my yoga studio in favor of a local studio just 10 minutes away. I hated to do this, but I know that
…empowering myself to become successful in my goals often means a departure from what feels familiar and easy and necessitates having the fortitude to say no to endeavors that, however valuable, just aren't moving me to my goal.
The upside? I've freed up over two and a half hours that I used to spend commuting to yoga class. And just like that, my feeling of exercise overwhelm has gone away.
conclusion
I highly recommend high-intensity interval training at least two days a week to get in your challenging workouts and blast through any plateau in your weight loss or performance goals. you have a few options:
Join a local BootCamp, Crossfit, or Orange Theory-type gym will all give you that dual cardio/strength workout, making a more efficient use of your time. If you can pair that with working out in a group where people are expecting you to show up, even better. Accountability and group motivation are your best friends in making an active, getting-younger-this-year lifestyle feel less overwhelming.
Get yourself a membership to the Sweat with Kayla App for intense plyometric training workouts. These workouts are no joke and you will see results! Her program is exactly suited to the program that Younger Next Year recommends – so you can track your cardio and strength workouts from the App to keep yourself on track with this lifestyle. I also recommend that you join Instagram and use the hashtag #bbg and #sweatwithkayla to connect with other women (young and older) who are also doing the program. I love looking at the #bbgtransformations posts for some serious motivation. The strength training workouts are just 28 minutes three times a week – an intense 28 minutes, but short enough to push through. My best advice is to just start at the beginning with pre-program week one and modify modify modify. You don't need to kill yourself to see results. This is how I get my strength training in now because I've stopped the BootCamp since I first wrote this post.
When I feel like my time spent working out is efficient and effective I feel empowered to continue for the long term. If you're following along and in your final quarter of the first year of getting younger too, try working smarter and do whatever you have to do to arrive at the close of this year in a successful place, knowing that you empowered yourself to be consistent and effective.
resources & tips
Fitbit recommendations
All of the Fitbit heart rate tracking watches offer:
continuous heart rate & step monitoring
automatic sleep monitoring tracks time spent in sleep stages & time awake to better understand the duration & quality of your sleep
silent alarms
smartphone notifications
automatic tracking of multiple sport activities
gives you reminders to move if you've been sitting too long
responsive tap display
*With technology products, you want to be sure you can get the ability to return or get a new Fitbit in case something happens, which is why I always recommend you purchase through these links at Fitbit.com instead of retail stores because you get
Free shipping on $50+
45-day money back guarantee
1 year limited warranty
click here to buy FITBIT
link to all the younger this year updates here: 1| 2 | 3 | 4 | 5 | 6 | 7 | 8 | 9
SaveSave
SaveSaveSaveSave
SaveSave