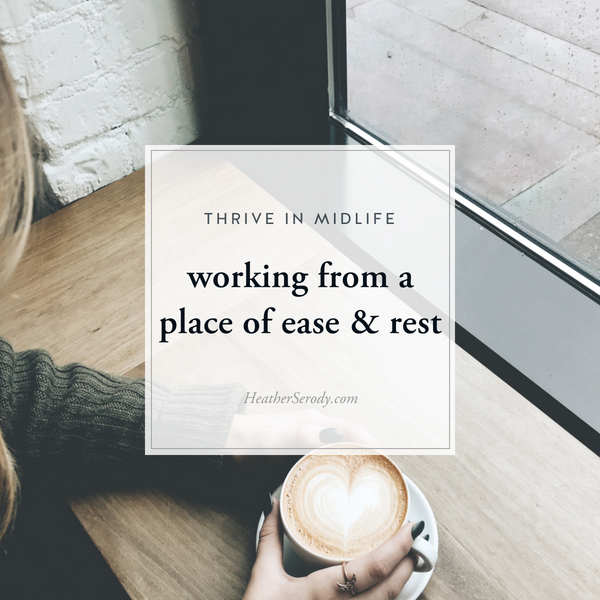 Something shifted for me this year. Maybe it was because I had a family member very sick in the hospital for an extended period of time and all of my work projects had to stop for a few months in order to tend to the situation. As the days and then weeks went by though, I noticed that I got more and more uncomfortable with not hitting my project deadlines and seeing the work pile up that was not getting done.
There was an internal alarm system that was going off relentlessly within that was directing me to push myself to catch up on my work which made no sense. Because the truth is that I work for myself, I am my own boss and my professional timeline can easily be shifted, so I had to ask myself…
…what is really going on here?
I couldn't shake this feeling so I broke it down with my therapist. I like to do this when I get stuck or feel like I have a blind spot in my own life. Working with her throughout my 40's from time to time has been a wonderful investment in my own personal growth. Anyway, we worked on this feeling of 'being behind,' and 'not keeping up,' and obviously it was no surprise that this tendency to push myself and overwork stemmed from childhood thinking.
we all have needs in childhood which aren't met
As a kid, I turned to overachieving, overworking, and a perfectionist attitude toward my school work and within my family to shield me from criticism and garner attention. Of course, at the time, these coping mechanisms were an unconscious way of compensating with not getting my needs met. Overachieving and working harder than everyone else are really effective strategies to get attention, and when we as women do that we start to internalize overworking and perfectionist standards as necessary for belonging and we carry these beliefs with unconsciously into adulthood.
recognizing unconscious patterns
Once I identified how I had adopted this mindset, I could look back at my life and see this overworking perfectionist pattern repeating itself in my work schedule that left no time for myself never mind time for my family who needed me. I had to acknowledge that my I'm at a stage now in my life where I need all of the striving to stop. I enjoy my work, but I also want to work from a place of rest and ease.
creating a new pattern
When I thought about releasing all of this self-imposed pressure a few months ago it felt impossible; like I HAD to push myself to catch up on these projects I had fallen behind on. But after some thought, journaling, and investing some time making this unconscious drive more conscious, I began to experiment with letting this old mindset go. I began stopping my workday earlier. I began deciding ahead of time to just not work a few days a week in order to tend to myself and my family. When I shifted my mindset to have compassion for my former younger self who had a need for recognition without having to 'do things' it felt like the kindest and most loving thing to do to heal an old wound within myself.
My tendency to push myself and achieve has served me well in my life. It's given me self-confidence and sense of pride, but I'm no longer allowing this mindset to drive a workhorse mentality or a impose a schedule that competes with my own needs for self-care and rest. The gift of this stressful spring has been a reevaluation of false priorities in favor of doing some healing work on myself. It's actually been the greatest gift.
This is the part about midlife that I really appreciate. A chance to meet yourself as you are, reevaluate, and choose a different approach that feels kinder, more loving, and more sustainable.