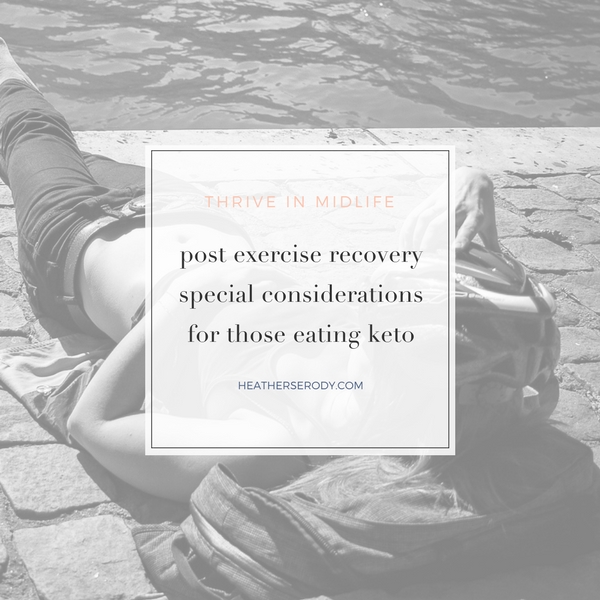 I'm back to spinning again. It's an intense workout and I sweat a ton. Because I am now fueling myself on my own fat by eating keto, the conventional recommendations for recovery after intense exercise are now different for me. Ketonians have different requirements because of the way our cells fuel energy production and that causes kidney function to change as well. However, intense exercise still requires recovery so here are some things to consider doing differently than you used to.
post-exercise recovery special considerations for those eating keto
1. Increased need to replenish fluid & electrolytes
This is why I sometimes get a headache or feel dizzy after intense exercise. If you are eating Keto, often it is not enough to simply rehydrate. If you are eating a ketogenic diet your kidneys flush more water and electrolytes when you are in nutritional ketosis, so it's crucial that you stay very hydrated and replace sodium & electrolytes after you've been sweating.
Action Step: Add no-carb natural electrolyte replacement drops to your water & a small pinch gray Celtic sea salt to your water while you're working out in order to maintain optimal electrolyte balance through your workout.
click here to buy electrolyte drops
click here to buy sea salt
2. It may not be necessary to supplement with extra protein
High-intensity workouts fatigue the muscles past their capability, which damages them. It's this damage that then signals the body to break down those damaged muscle fibers and build new stronger muscle fibers. This is why we have sore muscles. Conventional research shows that consuming 10-20 grams (for women who weigh between 120-150 pounds) of protein within an hour of exercise aids in the recovery of damaged muscles. This conventional advice is targeted to most people who are eating a high carbohydrate diet.
If you are eating a ketogenic diet and are fat-adapted, you consume a set amount of protein based on your size, weight, and activity level. It may not be necessary to add additional protein beyond this base requirement unless you train very hard and/or very often. If you are feeling especially fatigued after an intense workout, you may want to experiement with add ing some post workout high-quality protein. however, if your energy is fine, then it may not be necessary.
As long as my energy is steady after a workout, I just eat my recommended daily amount of protein spread out at my regular mealtimes.
What I do do religiously though, is take a magnesium supplement every night in order to help my muscles recover faster.
Action Steps:
Decide for yourself if replacing protein beyond your daily requirement is really necessary if you are fat-adapted (your body is used to running on very few carbohydrates).
Take a magnesium to help sore muscles recover faster
3. It's not necessary to replace lost glycogen
When I was eating lots of carbohydrates I felt extremely lethargic after intense workouts. This is why conventional research says that replenishing your energy is best done by consuming carbohydrates within 30 minutes of starting your cool down. Man, did I feel that. I used to HAVE TO EAT something with carbs after a hard workout. Now that I eat low carb, high fat I no longer feel totally wiped out after an intense workout because my muscles are fat-adapted and are already running on ketones (fat), not carbs.
My new approach is to try to do a fasted workout in order to deplete any excess blood sugar in my muscles and then eat a keto meal afterward to keep that process chugging along. Eating keto has liberated me from the thinking that my body's only fuel source is carbs. Now I fuel myself with my own fat – a beautiful thing. 🙂
click here to learn more about becoming fat adapted
4. The immune system gets suppressed both during and after high-intensity workouts
This is why I can get sick easily if I'm over exercising with chronic cardio. During intense physical training, the body suppresses the immune system defenses and diverts those energy reserves to your workout. The body can't tell the difference whether I'm running for my life being chased by a lion on the African plain, or I'm just running on the Shredmill at the gym.
So, it makes sense biologically for the body to abandon the energy requirements of the immune system and shift it over to the energy requirements of my current boot camp session. This immune repression leaves the body temporarily vulnerable to sickness. This is why it makes sense to give the body a boost for immune function following a workout.
Consuming vitamins C, zinc, glutamine, and probiotics (from whole foods like sauerkraut or yogurt) or taking a good supplement after an intense workout helps boost the immune system.
click here to purchase vitamin C
click here to purchase probiotic
If you are investing your time and money into an intense exercise regimen while also eating a ketogenic diet, you may want to rethink what the conventional wisdom says about the need to eat carbs and/or protein after intense exercise. If you are fueling your workouts by burning fat, then you also have an increased need to replenish electrolytes and sodium and water. My advice is to always be aware of signals that your body is sending you, and act accordingly, which may also mean letting go of your post workout shakes and protein bars. Keep in mind that your fat-fueled your body works differently than most people who eat a traditional diet, so give your body what it needs to properly recover, and your efforts in the gym won't have been counter-productive to your goals.
SaveSave
SaveSave
SaveSave
SaveSave
SaveSave