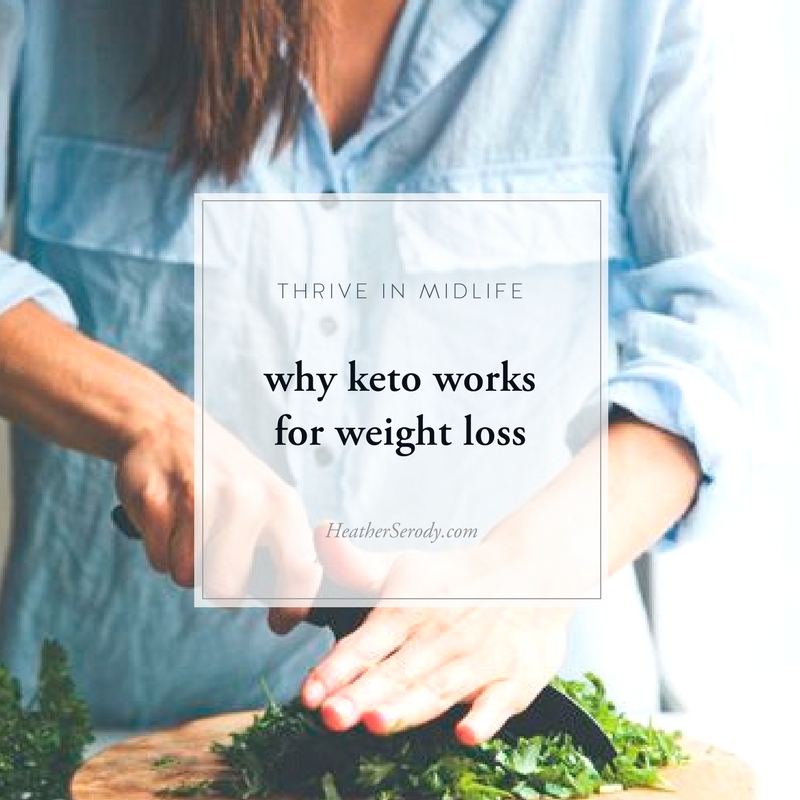 why keto works for weight loss
Once you understand why so many of us can't lose weight in our 40's then you start to understand that in order to start losing weight again, we need to start eating in a way that will not raise insulin. Why keto works for weight loss is because it is a way of eating that works really well for keeping insulin low.
the solution is how to get at the fat reserves
Remember, insulin is a hormone that signals the body to STORE FUEL, not burn it. If insulin is raised (even just slightly) it will push any fuel lying around into your muscles and liver as glycogen or it will push fatty acids into your fat cells to fuel for another day. If this is the environment your body is operating in, you will not lose weight.
Therefore, in order to unlock fat reserves, you need to eat in a way that does not elevate insulin. The most effective eating protocol for low insulin levels is to restrict carbohydrates to less than 25 grams per day or not eat at all. 
keto 101
Keto works for fat loss because restricting carbohydrates to less than 25 grams per day will result in lowering your blood sugar, which then lowers your insulin levels. When you begin to restrict carbohydrates in this way, several things start to happen physiologically:
A prolonged lowering of your insulin levels begins to heal the insulin resistance that so many of us are left with in midlife after 40 years of eating a diet comprised primarily of insulin-spiking food. Healing insulin resistance will allow us to be able to lose weight more easily, no matter what we eat. 
A keto diet optimizes your hunger hormones so that you are not hungry all the time.
Restricting carbohydrates allows you to go longer and longer periods of time without eating (intermittent fasting).
Intermittently fasting paired with eating keto allows you to supercharge your fat burning ability by keeping insulin very low for longer periods of time when you are not eating. 
how keto works for losing weight
When you're eating a keto diet, by restricting carbohydrates you'll keep insulin low and experience less hunger. You're going to want to eat less often. this allows you to go longer periods of time without eating (intermittent fasting).  Congratulations! You're eating keto and likely producing ketones, which are the energy blocks that your body makes from burning your own fat for fuel.
BUT this does NOT mean that you are losing weight! Listen up, because this where so many get it wrong! 
If you are eating exactly the right amount of calories in this situation to fuel all of your daily needs then you will neither gain or lose weight. Your body will just burn the fat that you've eaten for its energy needs. If you want your body to burn the butter off your behind, then you'll need to ALSO eat less dietary fat than your body needs. What you need is a calorie deficit. It is this fuel/calorie deficit that will then signal your body to finally open vault to your body fat to be used for fuel.
As long as you are in burn fuel mode and also restrict your calories to less than your body needs to operate, then your body will start burning your own fat for fuel. This is how you unlock your stored body fat to be burned if you want to lose weight.

Keeping insulin low and eating a calories deficit is how lose weight with a keto diet.
sources: *Harvard School of Public Health **Dr. Jason Fung