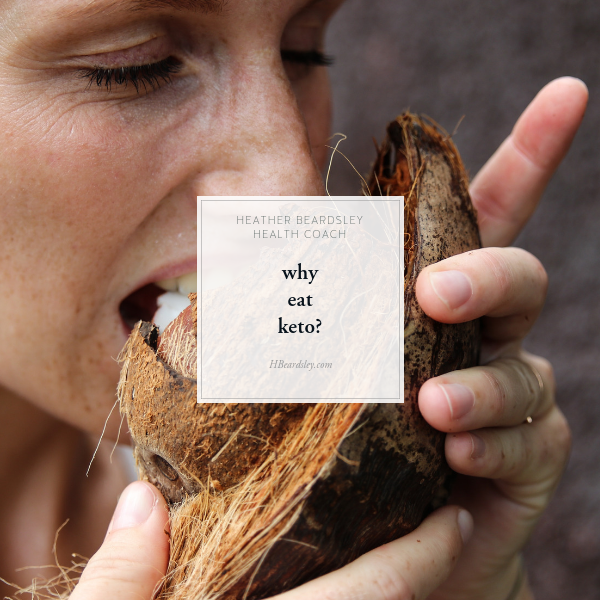 why eat keto (beyond weight loss)?
Many people dive into eating keto before they are really sure about their WHY. Only looking at the keto way of eating (woe) as a solution for weight loss misses so many other long-term benefits of this lifestyle. It's important to understand the wide-ranging and very compelling health benefits that come from restricting carbohydrate intake for the human body. Those who eat keto for the long-term health benefits (beyond temporary weight loss) are the most successful, even if they start keto to lose weight.
The following is an incomplete list of what keto can help you with:
obesity
chronically high fasting blood sugar
hypoglycemia or blood sugar dysfunction including not being able to go more than a few hours without food or having to constantly snack to avoid feeling shaky or weak
Parkinson's disease
a cancer diagnosis, or the desire to prevent cancer
chronic inflammation
autoimmune disease
feeling lethargic all the time, brain fog or the inability to think clearly
Keto is a way of eating (woe) that requires that you pay attention, put the time into educating yourself, and have the ability to be consistent and patient over the long-term because eating keto signals sweeping changes in the way your body processes and burns fuel that lead to other beneficial system wide changes in hormone signaling.

If you are looking for a quick way to lose weight & then plan on going back to being a sugar burner, then I suggest you look elsewhere for a solution because your results likely won't last, and more than that, the significant health benefits won't have time to kick in.
That being said, I think it's okay to start keto being unsure if it really is something that you can sustain. Honestly, that's how we ALL begin keto. All I'm saying is to just keep an open mind and definitely commit to a minimum of 60 days so that you have a chance to physiologically feel all of the benefits of adapting your body to burn fat for fuel. There are SO MANY benefits beyond an effortless way to control your weight that if I listed them all here you probably wouldn't believe me.
This is something that you just have to experience for yourself.
At the very least set yourself up for success by spending some time asking yourself if keto right for you, do the research, set aside time for meal prep, and know what to expect.
ready to begin?
I have created two comprehensive paid keto programs for those readers who just want to get started and not waste time making mistakes or trying to learn all the parts of keto yourself. The first program is a 7 Day Keto Jumpstart program. This program is great for the keto beginner or keto-curious who want to tip their toes into the keto lifestyle and see how they respond to the low-carb lifestyle for a week. The second program is a comprehensive 30 Day Keto Transformation Program. This program gives you everything you need to learn keto for life and tweak it according to your goals and your lifestyle.
free stuff
When you sign up for my email list, you get instant access to the subscriber Resource Library which holds all of the free guide, checklists, cheatsheets, and PDF's that I create for my awesome community. These include guides on how to calculate your macros, digital fasting and meal planners, simple keto meal ideas for breakfast & dinner, The Guide to Thrive, and much more!
sign me up
coaching
Schedule a coaching session with me if you are looking for one on one support.