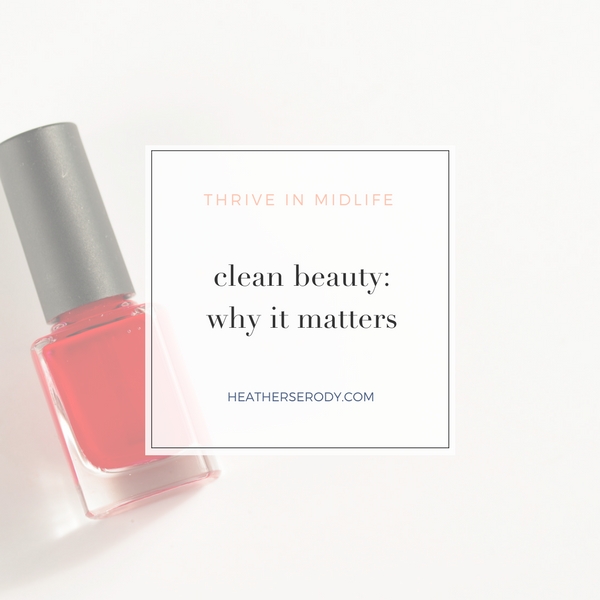 why clean beauty matters
The last law put into action the regulate the safety of the cosmetics industry was passed over 80 years ago. The FFDCA was a bare-bones set of laws that gave the Food & Drug Administration (FDA) regulatory authority over the cosmetics industry in two ways: to ensure that products are not adulterated or misbranded which sounds great on the surface but in reality is disturbingly low bar of criteria that cosmetics products have to adhere to. Just look at the summary definitions of those terms as described in the law:
Adulterated products are those that are made with 'poisonous, filthy, putrid or decomposed substances'…or 'prepared, packed, or held under insanitary conditions whereby it may have become contaminated with filth, or whereby it may have been rendered injurious to health.'
Misbranded products are products whose labeling is, 'false or misleading…'do not include all required information,'….or products whose 'labeling is in violation of an applicable regulation issued pursuant to section 3 or 4 of the Poison Prevention Packaging Act of 1970. [1]
It's hardly comforting to know the FDA's job is making sure we're not being directly poisoned or outright lied to by profit-driven cosmetics companies. It's also important to know that, unlike the prescription drug industry the FDA still has no authority to approve any products for safety, and as a result simply ask cosmetics companies to rigorously test each batch of ingredients for heavy metal contamination with the expectation that they refuse to use ingredients known to be unsafe.
Legally, cosmetics manufacturers do have a legal responsibility to ensure the safety of their products. But, neither the law nor FDA regulations require specific tests to demonstrate the safety of individual products or ingredients. The law also does not require cosmetic companies to share their safety information with FDA. [2]
Which means safety standards in the cosmetics industry operates on an honor system, which is absurd. That's kinda like asking students to follow the rules & do the right thing when the teacher is absent.
dirty secrets you should know
It comes as no surprise that in light of such an essentially unregulated atmosphere, that the U.S. has banned only 11 known unsafe ingredients from being used in cosmetics products.
Europe has banned 1,400.
In addition, The FDA has only set

upper limits

(hardly a standard of safety) for arsenic, mercury, and lead in personal care products

even though there 12 heavy metals contaminants found in personal products

. Which means levels of those other contaminants are completely unregulated.
Not only do cosmetics companies add known toxins to their products, but they mask their toxic ingredients labeling their products with words like natural & green which sound great but are legally meaningless.
The result of this lack of safety oversight and regulation is that the vast majority of cosmetics – skin care, nail polish, and makeup are made with known toxic ingredients, carcinogens, and endocrine (hormone) disruptors that are slowly over time negatively impacting our health and wellness as a whole, but especially for women. This is why clean beauty matters if you care about your own and your family's health & well being.
the grassroots clean beauty movement
As a result of this reality, there is a grassroots movement happening to demand both cleaner cosmetics and better regulatory oversight of the cosmetics industry, and I'm hoping that you'll join it. Because once you know the truth, you can't un-know it.
what you can do
step 1: become aware of the filthy 13 most toxic cosmetics ingredients
I compiled a list of what I call the filthy thirteen-13 ingredients commonly added to skin care, nail polish & make-up that are known to be toxic (poisonous), hormone-disrupting, or carcinogenic (cancer-causing).
I challenge you to look for them on the list of ingredients in your beauty products and see how clean they really are.
click here to see the filthy 13
step 2: Install the Environmental Watch Group's Healthy Living App on your smartphone
The Healthy Living App has a database of more than 128,000 beauty & food items that are rated for safety. You scan the barcode of the cosmetics (or food) product to get a quick assessment of safety so you can make better choices.
click here to download the app
step 3: Use Beautycounter skincare & makeup products
Beautycounter is a U.S.-based cosmetics company whose mission is to bring safer products into the market. Beautycounter is committed to a health and safety standard that goes well beyond what's required by the U.S. & Europen safety laws by banning the use of more than 1,500 questionable or harmful chemicals. Founder Gregg (female) founded the company with the intention to create products that could perform equal to any other high-end conventional beauty or make-up product in the market while staying true to their safety standards.
Beautycounter's name is a play on words in that their philosophy, transparency & rigorous ingredient testing & screening for safety runs 'counter' to industry standards. I love that.
Beautycounter is also organized as a B-corporation. B Corporations are for-profit companies certified by the nonprofit B Lab to meet rigorous standards of social and environmental performance, accountability, and transparency.
I was so impressed by Beautycounter's mission and product performance that I have partnered up with them as a consultant/affiliate. I'm really excited to share with you some of my favorite Beautycounter skincare and makeup products.
I encourage you to try some Beautycounter products. About 80% of my beauty products & 90% of my makeup now consist of Beautycounter products. I truly enjoy using them for both for their performance and the peace of mind using them brings me knowing that I am using safe products and supporting a company whose mission and values align with my own.
Step 4: sample some other clean beauty brands while you're at Whole Foods
Stopping by the While Foods cosmetics to sample and try all of their samples or try on makeup the next time you're shopping is a great way to become aware of other clean beauty brands. I use the Mychelle & Andalou product lines that they carry, but my favorite is Evan Healy. Her products are pristine and handmade. I also curated a some of my favorite clean beauty products for sale in my shop.
click here to shop clean beauty