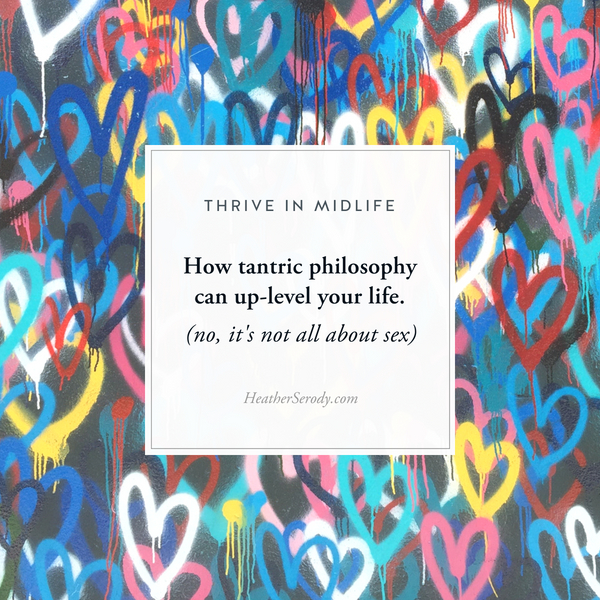 There is a pervasive misconception that Tantra is all about sex. That's a shame because this philosophy can straight up change your life; if you take a little time to understand the big picture of what tantra is. Applying tantric concepts to my life has shifted everything and made my life sweeter in countless ways.
what is tantra?
Tantra is first and foremost- an ancient Hindu (& Buddhist) philosophy that seeks to explain the fundamental nature of our existence.
Tantra's fundamental precept is that that grace/God/the divine lives wholly within each of us and and thus implies that intrinsic goodness/grace/pure happiness is within all of us to tap into. Once these precepts are embraced, they tend to inform and govern a Tantrika's approach to life itself.

So Tantrikas (tantric practitioners) do not try to transcend the human experience by – say, trying to have an out of body experience in meditation, or trying to find God by living in seclusion, or believing that the connection with God is to come in the next life.
Q?
If Tantrikas believe the reason for being here is for the purpose and pleasure of discovering the divine within – then how do they do that?
A:
By engaging fully with this human experience, this body, this mind, this food, these relationships, and our own own innate energies. All are vehicles for and opportunities to know the divine within ourselves and in each other.
Now that you can pull back see the big picture that Tantra is a philosophy of thinking about engaging with the divine in this life, you can place the small facet of Tantric ritualistic sexual practices are just one of many, many different vehicles for connection to the divine.
And – by the way, not all branches of Tantra (and there are MANY) condone such practices. THAT'S the critical connection that most articles about Tantra leave out, probably because it doesn't get as many likes, comments, or shares.
Even if you could perfectly practice Tantric sex for seven hours like Sting, I wish so-called experts would emphasize that in Tantra, any fulfillment gained in that process is not given FROM one partner TO the other – no. Tantra says the fulfillment/ecstasy/bliss arises from the process of that engagement but its origin is from the divine spark within your own soul. Connection to the divine in a Tantric sexual union is STILL about a singular journey of the self; albeit joined with a (hopefully) loving partner.
I learned about Tantric philosophy as part of my yoga teacher training in Anusara years ago. I found the philosophy to be incredibly liberating from my judgy Protestant upbringing. I can't improve on Anodea Judith's elucidation:
The philosophy of Tantra, which most people mistakenly think is only about sex, is actually about weaving. The word Tantra literally means "loom" and the verb tan means "to stretch." Tantra is the spiritual practice of weaving together opposite energies, specifically the upward and downward currents of Shakti and Shiva, of yin and yang. Sexuality, a subset of Tantra, is a sacred act that embodies this union on the physical plane. The ultimate balance of these two forces, however, occurs when we bring them through all the chakras and balance them in the heart.

Tantra seeks to obtain enlightenment not by renunciation, but by embracing the full experience of living. Tantra delights in the senses, desires, and feelings, and is focused on the expansion of consciousness that comes from a dynamic, sensate connection to life. Tantra does not advise us to cease action, but to transform our acts into creative evolution. Tantra is the harmonious weaving of primordial opposities: mortal and divine, male and female, Shiva and Shakti, spirit and matter, Heaven and Earth."

~ Anodea Judith in Eastern Body, Western Mind
This philosophy has completely changed my outlook on life, how I frame the events (good and bad) that happen in my life, and my purpose in this run around the sun.
I used to think, due to difficulties in my childhood, that I was meant to struggle, scrap, & overwork. Tantra liberated me from all that. Tantra reminds me to drop the struggle and invites me to weave in the joy with the work, to find the pleasure in the struggle, find purpose in the work, and to also cultivate a life of pleasures, play, and liberation from relationships that hurt and more joy in everything.
SaveSave