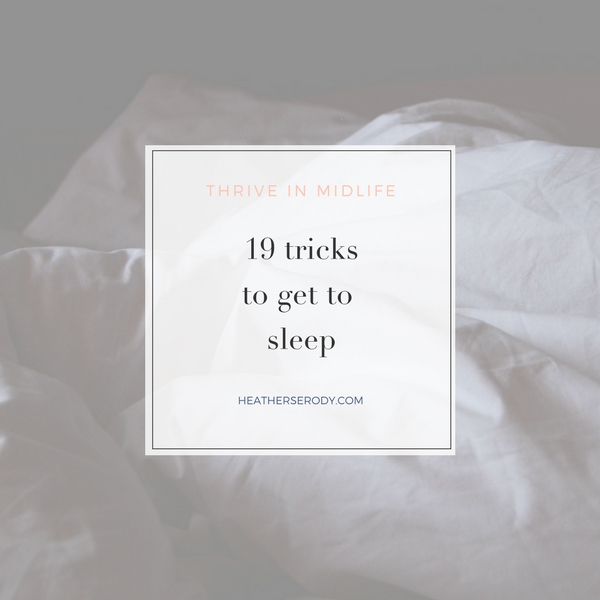 I'll be the first to admit that I've always had a hard time with sleep. I definitely remember being the only one who couldn't sleep in kindergarten during nap time. It's always been hard for me to let the day go because there are endless things that I want to read, shows I want to watch, and more to see on Facebook and Instagram. I'm terrible. That attitude combined with the sleep deprivation of having children conspired to put me into such a sleep deficit that I had a few bouts of exhaustion and adrenal fatigue. Let's just say I learned my lesson the hard way.
These days I have a system in place to shepherd me to bed on time and it works about 80% of the time which for me, which means I'm getting more sleep now than I ever have. In addition to that system, I've 19 other tricks I regularly rely on to get to sleep.
problem #1: PARTNER SNORING
There's nothing worse than being unable to sleep; especially if your partner is racking up their z's while snoring next to you. There are many challenges to having a partner to co-habit with but I think snoring is especially insidious!
Get to sleep before your partner. This is the best way to avoid the problem in the first place.
Wear custom molded ear plugs for a more comfortable fit.
Have your partner wear Breathe Right nose strips to help open up nasal passages and decrease snoring.
Have your snorer sleep with their head slightly elevated, which can decrease the amount of throat obstruction and reduce snoring. You can put a firm bed pillow or two under the mattress for a few inches of lift.
If all else fails or you've got to get a good night's rest; sleep elsewhere! It's just that simple.
problem #2: YOUR MIND WON'T TURN OFF
To fix this problem you have to be proactive in order prevent it in the first place.
Stay active – throughout the day. I track my daily steps and get in a minimum of 11,000/day; which equates to walking about 4.25 miles; not including a workout. Doing so makes me sure I've been moving throughout the day which is a constant challenge for someone who spends most days at a computer. At the end of the day, my body signals my brain that I need rest and so these days sleep comes fairly easily. for more about why I use and recommend Fitbit, go here.
Stay off the computer after 8-9 PM or so if you can help it. The blue light emitted from computer screens messes up your circadian rhythms which disrupt sleep. If you have to be on electronics after the sun goes down, wear blue light blocking glasses, and set your phone and other electronics to automatically go into 'night mode' which will reduce the amount of blue light the display emits.
Do a mind dump before bed. Write down on a piece of paper all of the pressing thoughts that your mind conjures up as you relaxing into bed – the doctor appointment you know is coming up, (but can't remember when), the toilet paper that you must remember to buy, the proposal that needs something else, etc. Get it all down on paper. If you're like me, you will remember all this shit as soon as your comfortable and the light is off. So annoying! I've learned the hard way to sit up, turn on the light and write it all down. As soon as I do, my brain knows that the information is safe on the paper and it automatically relaxes so I can get to bed.
Establishing a meditation practice gives your brain some daily decompression time allowing it to generate the thoughts it wants to so it can settle into a calmer and more equanimous place over time. In fact, when I meditate this is so much the case that I don't need as much sleep because meditation is conscious regenerative time for the brain, which is like sleep is for our body. For more on how to start a simple chair meditation practice right now, go here.
problem #3: YOU STILL CAN'T SLEEP
Drink Sleepytime Extra tea about an hour before bed. It's made with Valerian which is a natural sedative. It works but doesn't taste that great, but the results are worth it!
Try a magnesium supplement called Natural Calm. in Raspberry-Lemon flavor. It's labeled as an 'Anti-Stress Drink' because it contains magnesium citrate. Magnesium is an essential supplement that helps you absorb calcium and is a natural muscle relaxant. You mix the powder in water. It's all-natural and sweetened with stevia natural sweetener. It t tastes a little sweet and slightly fizzy. Within 20 minutes of drinking it, I feel like I've just sunk into the mattress a bit – sweet! Just don't take too much because remember that some laxatives also use magnesium in higher doses and that's not a problem you want to have if you're trying to sleep. Take the correct amount!
When I feel like my circadian rhythm is off from jet lag, there's been a time change, or I've just gotten off track with my sleep cycle, I take an all natural sleep aid called Soothing Nature Secret Garden. It has lavender, melatonin, lemon balm, and chamomile. Helps me go to sleep naturally with no groggy feeling in the morning.
Pick up a book and read for up to 45 minutes before you want to go to bed. Read something interesting enough to take your mind off its chattering nonsense, but not so interesting that it's going to keep you from going to sleep. It's my preferred way to end the day. Is there anything better than falling asleep to a good book?
Get your hormones checked. Women in their 40's often experience an ability to sleep due to falling levels of progesterone. Adequate levels of progesterone are required for sleep. At one point a few years ago I thought I'd never sleep again, my insomnia was so bad. Well, it turned out that insomnia was a symptom of low progesterone. I saw a functional medicine doctor who tested my hormones and prescribed bioidentical progesterone. Within THREE days of taking it, I was sleeping like a teenager again. Really.
Do you have a special trick you use to help you get to sleep? I'd love to know, leave me a comment.