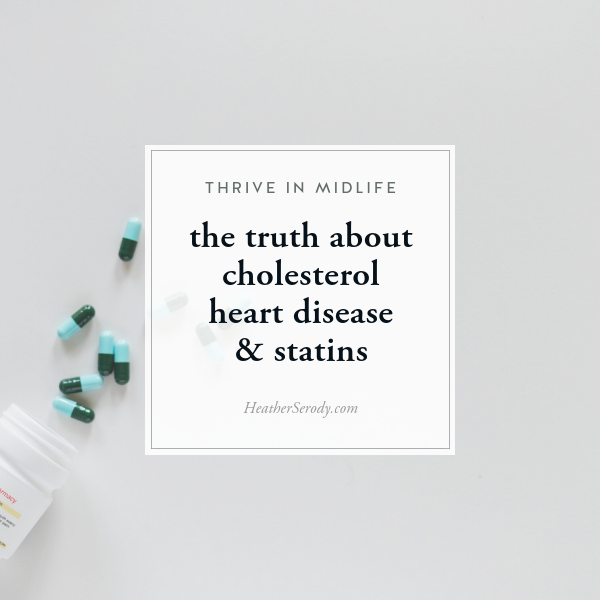 Three-quarters of people who have a first heart attack have normal cholesterol levels. [1] In fact, for older people deaths from coronary heart disease (CHD) are more common with low cholesterol. [2] The famous Framingham Study showed the people who actually lived the longest had the highest cholesterol. Do those statistics surprise you? If you believe the pervasive narrative that high cholesterol is a significant risk factor for heart disease then these statistics should be enough to question that theory–whether the practice of prescribing cholesterol-lowering statin prescription medication for the prevention of heart disease is evidence-based at all. It's a question worth researching and asking because in 2001 the U.S. medical guidelines issued by the American Heart Association and the American College of Cardiologists were revised to recommend that doctors prescribe cholesterol-lowering statin prescriptions to 36 million middle-aged Americans (nearly one-quarter of all American adults) for the prevention of CHD.
This policy is predicated on the assumption that high cholesterol levels are both an accurate predictor and symptom itself of the development of heart disease. But how can that makes sense knowing that three-quarters of those with a first heart attack do not have elevated cholesterol levels? This fact alone is a strong indicator that perhaps this massive over-prescription of cholesterol-lowering statin drugs for the primary prevention of coronary heart disease (CHD) based on a non-reliable risk factor may just be a massive failure for middle age Americans (and a financial boon for the statin pharmaceutical industry). Considering that statins have serious negative side effects to your health this policy can have devastating health effects for millions of Americans.
If you have been asked to go on statin drugs because of elevated cholesterol levels yet you have no proof that you actually have heart disease, you NEED to understand exactly what the science says about when stains drugs are and are not effective. You need to determine your actual level of heart disease. I'll bet you didn't know you could that, did you? Since most doctors don't or won't help you find this out I'll tell you how to do this. I'll point out the science says behind the current practice of prescribing statins for nearly 1/3 of American adults and show you the well-documented risks of taking statins so that you can make your own informed decisions about what's best for your health.
My goal is to empower you with information way upstream of a CHD diagnosis so that you have time to modify your lifestyle habits by adopting easy lifestyle modifications that you don't need a prescription for, and are actually backed by science to mitigate the progression of CHD even if you already have serious damage. That's the best news of all. So, grab yourself a cup of coffee and give yourself at least 10 minutes to take this in, I promise you it will be a quality investment for your long-term health.
cholesterol is not the enemy we think it is
Being bombarded with the message that cholesterol is bad and we need to lower it with cholesterol-lowering statin medications has demonized cholesterol in the collective minds of Americans. But is this an evidence-based assumption, or a myth? Here are some facts about cholesterol from the Weston Price Foundation:
Without cholesterol, you will die. Every single cell membrane in your body is comprised of cholesterol.
Cholesterol is required to synthesize vitamin D. "Vitamin D is made from the cholesterol in our skin when it is exposed to sunlight. In those times of the year when there isn't much sunlight, we can get this vitamin from cholesterol-rich foods: cod liver oil, fish, shellfish, butter, lard, and egg yolks. Our recent misguided fears of the sun and avoidance of cholesterol-rich foods have created an epidemic of vitamin D deficiency in the Western world."
You need cholesterol for healthy brain and nerve function. A substance called myelin makes up the coating of every nerve cell, enabling your cells to communicate. Myelin is composed of 20% cholesterol. Multiple Sclerosis is a disease where you lose this protective coating with devastating consequences for health. Twenty-five percent of all of your cholesterol is located in your brain.
Cholesterol serves as a repair mechanism in the body when there is inflammation. In the case of damaged arterial walls, the body actually uses (HDL) cholesterol to control the inflammatory reaction, via the activation of ATF3. Think of HDL cholesterol as the firefighter whose job is to put out the fire & repair the inflammation. You can see then that high cholesterol is a symptom of inflammation, not a CAUSE of CHD. If that's the case, it's logical to question why would you want to decrease cholesterol by taking a statin which is actually part of the body's healing mechanism?
Cholesterol is required to produce hormones. Without cholesterol, we become infertile because every sex hormone in our bodies is made from cholesterol. "A fair percentage of our infertility epidemic can be laid at the doorstep of the diet-heart hypothesis. The more eager we became to fight animal fats and cholesterol, the more problems with normal sexual development, fertility and reproduction we started to face. About a third of western men and women are infertile, and increasing numbers of our youngsters are growing up with abnormalities in their sex hormones. These abnormalities lead to many physical problems."
Cholesterol is required to make bile which is essential for digestion of food and to absorb nutrients from your food.
"Cholesterol is essential for our immune system to function properly. Animal experiments and human studies have demonstrated that immune cells rely on cholesterol in fighting infections and repairing themselves after the fight. In addition, LDL-cholesterol (low-density lipoprotein cholesterol), the so-called "bad" cholesterol, directly binds and inactivates dangerous bacterial toxins, preventing them from doing any damage in the body."
Cholesterol acts as a healing mechanism by neutralizing the free radical damage. "Any wound in the body contains plenty of free radicals because the immune cells use these highly reactive molecules for destroying microbes and toxins. Excess free radicals have to be neutralized, and cholesterol is one of the natural substances that accomplish this function." Immune cells require cholesterol to heal themselves after fighting infection.
how the cholesterol/heart myth is wrong
The problem with the cholesterol/myth is that CHD (atherosclerosis) is a multifactorial problem, of which cholesterol is just one associated factor; and a weak one at that. Nonetheless, The American Heart Association and the American College of Cardiology issued new guidelines in 2001 that declared:
…Every Caucasian male over the age of 62, every African-American man over 65, every white female over 70, and every black female over 69 and some young people should be taking statin medications for the primary prevention of heart disease.
The AHA & ACC justified their expanded guidelines by citing nine randomized trials as evidence supporting who should be on statin lowering drugs for the prevention of CHD. It turns out that eight of the nine experts on the panel who developed these guidelines had financial ties to the drug industry, which lead to an uproar and backlash in the field. After all, there is no question that expanding the guidelines to include an additional 23 more million Americans on preventative statin therapy at a cost of $1+/day for the rest of their lives makes the statin manufacturers richer without providing evidence for benefitting these patients.
As a result, John Abramson, MD, of Harvard Medical School, author of Overdosed America, and James Wright, MD, of the University of British Columbia, challenged the validity of the guidelines in an article published The Lancet. In the article, the authors note that not one of the randomized trials provides any such evidence supporting statin therapy for the primary prevention of this disease in women and
people aged over 65 years. [3]
who benefits from statins? (according to the science, not the pharmaceutical industry)
Studies have shown that statins have a modest effect in lowering heart disease-related death for middle-aged men (age 30-80) who've already had a heart attack or established heart disease. It has also been shown that statins are slightly effective for middle-aged men who have many risk factors for heart disease like high blood pressure, obesity, and/or diabetes. However, studies continue to question the efficacy of statins in preventing further calcium buildup after a first heart attack. [4]
Dr. Frank Lipman points out,* 'the science isn't clear that this modest effect is due to lowering cholesterol, but may, in fact, be due to a statin's ability to decrease inflammation in the body. If you're not in these groups, there is no evidence that being on a statin drug will reduce your risk of CHD."
Let's look at the actual numbers that support statin therapy for this group. A study analysis done by Abramson & Wright and published in the Lancet shows that one out of fifty men in this risk group avoids a heart attack with statin drug therapy. In those five years, there will STILL be heart attacks, deaths from heart attacks, and stroke in BOTH groups but there will be one less event in the statin-treated group. [4]
This is the information that patients should be given before they make the cohice to take a statin, rather than giving every patient he impression that by taking a statin drug and lowering thier LDL cholesterol they are guaranteed less risk of a cardiovascular event. —Kay Carlson–Diary of a Legal Drug Dealer: One Drug Rep. Dares to Tell You the Truth
who does not benefit from taking statins
Abramson & Wright also concluded in their analysis that:
There is no evidence statins work as a primary prevention tool for women. It is well documented that post-menopausal women experience increased cholesterol due to declining estrogen levels. This review study showed no association between low-density-lipoprotein cholesterol numbers and mortality and, "provides the rationale for a re-evaluation of guidelines recommending the pharmacological reduction of LDL-C in the elderly as a component of cardiovascular disease prevention strategies."
There is little evidence that statins help men over the age of 69 who do not yet have heart disease.
Abramson & Wright's advice is that
…statins should not be prescribed for primary prevention in women of any age or for men older than 69 years.
In addition:*
If you lower bad cholesterol (LDL) but have a low HDL (good cholesterol) there is no benefit to statins. [7]
If you lower bad cholesterol (LDL) but don't reduce inflammation (marked by a test called C-reactive protein), there is no benefit to statins. [7]
There is no proof that taking statins reduces the risk of heart attack or death in healthy women with high cholesterol. [5]
Cholesterol treatment with two medications (Zocor and Zetia) lowered cholesterol much more than one drug alone but led to more plaque build up in the arteries and no fewer heart attacks. [9]
what if your doctor wants to put you on a statin?
Since I'm not a doctor, (please see the disclosure) and none of this article should be construed as medical advice, I'll quote Dr. Frank Lipman* on this topic:
If your numbers are borderline or you don't have any major cardiac risk factors, your first response should be "not so fast, partner." Unless you've been diagnosed with heart disease, have had a heart attack or stroke, or have a family history of early heart attack or death, you probably don't need a statin at all. So, don't let the doc put you on one simply to cover their arse, 'cus statins won't cover yours. – Dr. Frank Lipman
big pharma influence, conflicts of interest, & flawed studies
You've seen that well put together pharmaceutical representative breeze into your doctor's office on a busy afternoon and be whisked inside while the patients are stacked up in the waiting room like sardines. We all know the pharmaceutical reps are there to market their prescription drugs to your doctor, and their 'perks' confer special treatment. One of the most common marketing perks these reps use is to take doctors out and pay for their meals. Gifting meals are by design a persuasive practice where doctors are pitched information about the drug. Doctors can also be directly paid for travel expenses, to speak about the drug, offer consulting, or do research.
A peer-reviewed study by the National Bureau of Economic Research found that cardiologists who were taken out to a meal by sales representatives of Pfizer and AstraZeneca, makers of the cholesterol-lowering statins Lipitor and Crestor concluded that paying for cardiologists meals results in a 73% increase in prescribing of their drug by that cardiologist. [10]
Another study reviewed 37 expert physicians who spoke on behalf of drug companies and found that they were all being paid a median of $39,316 from the pharmaceutical industry. [11]
It's no wonder patients often no longer believe that the advice their doctors give is unbiased and in their best interest. Perhaps that accounts for why 40-60% of patients prescribed statins stop taking them.
Cardiologists often reference the well known Jupiter study as 'proof' that preventative statin therapy works. Here is what chairman of cardiovascular medicine at the Cleveland Clinic, Dr. Steven Nissen said about the Jupiter study:
The extent of reduction in death, heart attacks, and stroke is larger than we've seen in any trial I can remember. I don't know how you get much bigger than that."

"It's a breathtaking study. It's a blockbuster. It's absolutely paradigm-shifting," –Dr. Steven Nissen, M.D
That's a rousing endorsement. But look closer and you'll find numerous conflicts of interest from Dr. Nissen, who took money from 3 of the most powerful drug firms (Amgen, Pfizer, and Astra Zeneca) to do research and write papers. Dr. Nissen earned $80,000 from big pharma in 2016. I won't bore you with the details, but you can read for yourself the truth vs. sponsored hype regarding the overinflated 'evidence' The Jupiter study provides for primary prevention of CHD with statin therapy.
Dr. Nissen has gone on the warpath declaring that 'internet cults' and statin-deniers are peddling 'fake news' and as a result are scaring people away from 'life-saving statins' and that's he's worried that who-knows-how-many people will die.
Funny, Dr. Nissen seems to be engaging in a lot of fear mongering himself to scare people into taking their (highly-profitable) medications.' —Dr. Jason Fung
Contrast Dr. Nissen's hysterical defensiveness with that of Dr. Aseem Malhotra, a leading cardiologist from the UK, along with Dr. Maryann Demasi and Dr. Robert Lustig, who DO NOT take any money from big pharma and the commentary they wrote arguing that the cholesterol hypothesis is dead. [12]
Who do YOU trust on this issue?
how statins affect your body + side effects
As many as 20% of patients who are prescribed a statin medication to lower their cholesterol complain of side effects such as muscle pain and weakness, stomach upset or forgetfulness. *[5] Here are other reported side effects:
diabetes
cataracts
liver damage
muscle damage
nerve damage
reduced energy
lack of interest in activity
increased fatigue after exercise
erectile dysfunction and reduced ability to achieve orgasm
memory loss and/or confusion, Alzheimer's-like symptoms
digestive problems: nausea, gas, diarrhea, constipation
rash or flushing
Just look at how many of these side effects are potentially life altering and devastating. If I were asked to take a drug with these side effects for the primary prevention of CHD yet I had no evidence that I actually had heart disease besides high cholesterol I would expect to see conclusive, irrefutable scientifically documented evidence that it works, but that evidence is not to be found. Anywhere. [3]
so what does cause heart disease?
We know that it is decades of inflammatory disease is what causes a weakening of the walls of your arteries. This is what causes the body to respond by depositing calcium onto weakened arteries to stabilize and support them. So the question becomes, what is the main reason why arterial walls become weakened? Research shows that this damage stems from primarily chronic inflammation in the body.
Consuming a high carbohydrate standard American diet especially one that includes lots of sugar will decrease good cholesterol (HDL), increase arterial-wall-damaging LDL cholesterol particles, and over time causes systemic inflammation due to insulin resistance; also called metabolic syndrome.
Having metabolic syndrome/insulin resistance is just another way of describing type II diabetic dysfunction! Insulin resistance, hyperinsulinemia, metabolic disorder, pre-diabetes, and type II diabetes are ALL just different labels that describe the same metabolic health disaster waiting to happen because the biggest driver of heart disease is a diabetic physiology.
What's more disconcerting is that 65-75% of all U.S. adults over age 45 can be classified as insulin resistant, hyperinsulinemic, prediabetic, or diabetic, putting the majority of adults at risk for the development of CAD. [15] A sedentary lifestyle, smoking, and obesity will make inflammation & insulin resistance worse. Whether these environmental factors lead to CHD will also depend on your genetic resilience.
CHD expert Ivor Cummins points out a groundbreaking study found that insulin resistance is the most important single cause of coronary heart disease (CHD). [11] The same study found cholesterol levels to not even be a significant risk factor to predict heart disease, but that increased levels of insulin seen with insulin resistance/type 2 diabetes (are a 6.7x significant risk factor for CHD! This finding shifts the entire paradigm of CHD prevention away from cholesterol and toward a better understanding of insulin resistance and how it might be prevented or cured.
If insulin resistance, a metabolic disorder primarily influenced by nutrition is actually the largest risk factor predictor of heart disease, we should be putting our time and attention on the factors leading to insulin resistance, not cholesterol if we want to prevent heart disease in millions of Americans
This is why it is my opinion that prescribing statins as a preventative measure against the development of heart disease isn't evidence-based. It is also I believe that a low-carbohydrate approach to nutrition is a primary pillar of maximizing health & wellness in midlife; protecting your from chronic disease; including coronary heart disease. I have tons of resources for you on this topic. For more on how to start eating low-carb, go here.
genetic lipoprotein-a
You should be aware that there is a small population with a genuine genetic propensity toward CHD due to a genetic condition called Lipoprotein(a) or Lp(a). Twenty percent or one in five people have it, but most Lp(a) positive people don't know it.
A normal level of Lp(a) is less than 30 mg/dL or less than 75 nmols/L. Those with Lp(a) have high levels of Lp(a) greater than 50mg/dL from birth. These high levels are associated with an increased risk of heart attack, stroke, or narrowed arteries supplying blood to vital organs at an early age than is typical-younger than 55 in men and age 65 in women. A blood test can measure your Lp(a) level; however, it is not included in most standard cholesterol or lipid panels, you have to ask for it.
Thirty percent of people who have a family history of high cholesterol have high Lp(a). There is no one treatment that works for all patients. Register here to get the latest information about treatments for high Lp(a).
how you can determine your actual level of heart disease, and why no one tells you about it
Instead of trying to predict your risk for CHD using risk factors, be they significant indicators or not, why don't more doctors just have their patients get a calcium heart a scan called a CAC (also called a coronary calcium scan) which is a type of CT (computed tomography) scan that sees the disease process itself. More than that, a study has shown that CAC scores much more accurately predict not only your risk of death from heart disease, but it can much more accurately predict your risk for ALL causes of death than using risk factors such as cigarette smoking, cholesterol, diabetes, hypertension, or family history of coronary heart disease. [13]
It makes sense, right? Because a CAC scan actually SEES heart disease. Using risk factors is an indirect guess. Here's more about the CAC scan:
It takes about 10 minutes to complete the scan and it's completely painless; like an x-ray. The CAC scan takes an image of your coronary arteries that will show your levels of existing calcium deposits. These deposits are called calcifications. This is how heart disease gives you hardening of the arteries; because calcium deposits make the artery walls of the heart rigid and susceptible to a heart attack.
The cost is usually around $100 to $400. You can expect the scanning appointment to take a total of 20–40 minutes. You'll change into a gown first. Then electrode patches are attached to your chest so an electrocardiogram (ECG) machine can be attached. You are then taken to the scanner and will lie on the scanning table. The scanner has a round opening and the table will move you into the opening. The recorded electric pulses from your heart from the ECG tells the scanner exactly when to take the scans. You will be asked to hold your breath for 3-30 seconds so that the pictures of the heart can be taken without movement. The radiographer will check that the scan is a success, and then you can leave.
The radiologist will give you a score called an Agatston score based on the levels of calcium in your heart. The results of the scan make it possible to estimate the risk of a heart attack or stroke in the next 5–10 years. Here's what the scores mean:
A score of 0 is basically a warranty against heart disease.
1-10 score detects a small amount of calcium. You have less than a 10% chance of having heart disease. Your risk of a heart attack is low.
11-100 score means calcium is present and you have mild heart disease. Your chance of having a heart attack is moderate.
101-400 means a moderate amount of calcium is present. You have heart disease, and plaque may be blocking an artery. Your chance of having a heart attack is moderate to high.
Scores of 400+ mean a large amount of calcium is present and your chance of having a heart attack is high. The top end of scores can number in the thousands.
What is incredible is that most doctors don't even know about this technology, and most insurances will not pay for a CAC scan, which is an absolute tragedy. If I was advised by my doctor to go on statin therapy for the primary prevention of heart disease I would insist on getting a CAC scan first. This way you'll know if you have CHD. If you do, then you can make an informed decision about how to minimize your risk. The best thing about the accuracy of the CAC score is that the patient is empowered to take action and can intervene with lifestyle changes to stop the progression of the calcium buildup in the arterial walls.
If you ask for a CAC scan in this case and your doctor says that insurance won't pay for it, ask what the self pay price is and pay it out of your own pocket. you can even call around to different imaging centers to find the best self-pay price. If your doesn't want you to get one, my advice is to find a new doctor.
so what can you do to lower your risk of heart disease?
If preventative statin drug therapy is ineffective for lowering the risk of CHD for primary prevention, then the question becomes how do we effectively treat heart disease? As mentioned earlier, CHD is a multifactorial problem that should be addressed according to the preventative mechanisms that have the largest benefit. Here are a few:
#1 = low carbohydrate nutrition
As mentioned earlier, lowering insulin has the largest 6.7 significant statistical effects (more than any other factor) at lowering CHD risk. This means that the first thing you should do is switch to a low carbohydrate diet. I wrote an article to help you decide which low-carb approach might be best for you. Low carb nutrition reduces inflammation system-wide. This is the number one most effective lifestyle strategy you can employ to reduce inflammation in your body and reduce your risk of CHD.
do not consume high fructose/high fructose corn syrup
Fructose is the sugar found in fruit and because of its unique composition, it must be exclusively broken down by the liver. The brain, muscles and most other tissues cannot use fructose directly. Studies of high fructose consumption cause fat gain, an increase in serum triglycerides, and an increase in the thickness of the heart in animal studies. [16]
Because it can be marketed as an all-natural sweetener found in fruit that doesn't raise your blood, high fructose corn syrup was embraced as a healthier sweetener and added to almost every processed food by food manufacturers because it is cheap. however, excess fructose consumption becomes fat that is stored in the liver. This can lead to a condition called non-alcoholic fatty liver and it is fatty liver that develops the metabolic condition called insulin resistance, which leads to system-wide inflammation that causes CHD. If you want to avoid inflammation in the body and insulin resistance, do not consume fructose, excess fruit consumption, or high fructose corn syrup.
avoid all refined vegetable & seed oils
highly refined vegetable oils like sunflower, corn, soy, grapeseed, & canola oils are highly processed non-natural foods that cause a huge inflammatory response in the body and cause an excess of omega 6 to omega 3's in the body which leads to more inflammation.
Did you know that canola was originally scientifically engineered from genetically modified rapeseed plants? The canola industry was essentially underwritten by the Canadian government as a cheap fuel and industrial oil. Combining "Canada" + "ola," (oil) is how Canola oil got its name.
Like other vegetable oils, canola is highly refined and chemically processed product. Canola goes through a bleaching and degumming process which subjects the oil to oxygen and high temperatures, rendering it unstable and it goes rancid and smells bad. Because it smells bad, it is then deodorized using high temperatures &/or chemicals of questionable safety.
As if that wasn't enough, most consumers do not know that vegetable oils are also hydrogenized and therefore contains trans fatty acids because they are not listed on the label. Canola oil also contains Erucic acid that is harmful to infants who cannot break it down causing their growth to be stunted. I could go on even further, but I don't think I need to. If you are trying to eat food that helps you stay vital and healthy, and avoid CHD stay far away from all refined vegetable oils.
Side note: Olive oil is okay. It comes from a fruit, not a seed, and it is naturally extracted using a press. Extra virgin non-processed cold-pressed olive oil is best.
make sure you are getting enough magnesium
Magnesium is used by the body to control inflammation. Eating lots of processed foods and drinking alcohol will cause chronic inflammation which then will deplete your magnesium reserves. Most Americans are already depleted of magnesium. Our food has less because our farming soils are depleted of minerals. We take in less in our drinking water because we so often drink filtered water which removes the magnesium. For all these reasons there is an epidemic of magnesium deficiency in America. I recommend taking a magnesium supplement daily to help with inflammation and eating foods that are naturally high in magnesium like almonds, avocados, cashews, peanuts, spinach, & yogurt. Take 400 -800 mg of magnesium glycinate daily. I like this form because it is more absorbable than magnesium citrate and it will not give you diarrhea.
CLICK HERE TO BUY MAGNESIUM GLYCINATE
do not smoke
Do you really need an explanation about why smoking is bad for your arteries, heart, and health in general? Don't smoke.
get adequate sleep
We know that acute sleep deprivation leads to impaired glucose metabolism (the ability to handle carbohydrates effectively); which over time can lead to insulin resistance. Whether it is insulin resistance that affects sleep loss or sleep loss causing insulin resistance, we know that sleep deprivation causes an inflammatory response. This response can be seen after just one night of comprised sleep. Studies have suggested that women are more responsive to the inflammatory stimulation of sleep deprivation than men. Prioritize sleep to keep your inflammation down.
exercise
Regular exercise offers protection against CHD and insulin resistance because regular exercise induces anti-inflammatory responses in the body. During exercise, IL-6 (interleukin-6) is produced by muscle fibers which stimulate other anti-inflammatory cytokines. Exercise also suppresses other inflammatory factors, and increases burning of your own body fat for fuel. Regular exercise also offers protection against insulin resistance. Contracting muscle fibers during exercise stimulates Myokines which studies show may be involved in beneficial health effects against chronic diseases associated with low-grade inflammation such as diabetes and cardiovascular diseases. [16]
Dr. John Abramson, a health policy lecturer at Harvard University, estimates that a person without existing cardiovascular disease can get as much benefit from a brisk daily 10-minute walk as from a daily statin pill – and without the potential side effects. [4]
Not to mention exercise increases mood and feelings of well being. Exercise is a no brainer. I recommend exercising at least 40 minutes a day, 5-6 days a week.
take vitamin k2
The body relies on Vitamin K to deliver calcium to the bones. K can't be produced from your food without the action of good healthy gut bacteria, so you may be deficient if you have digestive problems like leaky gut, IBS or Chrone's, if your diet is poor or if you're gut flora has been compromised by antibiotics or chemotherapy.
Besides Vitamin K's bone-building benefits, K also removes calcium out of the blood which helps prevent dangerous calcium plaque deposits from forming in your arteries that can cause heart disease or a heart attack. Vitamin K is also anti-inflammatory which delivers benefits like lower blood pressure, and protects your brain against neurodegenerative diseases like Alzheimer's and Parkinson's disease. Because K helps get calcium where it belongs, it also reduces the amount of calcium plaque deposits that build up on your teeth!
If you're taking anticoagulant drugs, don't take vitamin K supplements or increase your dietary intake without consulting your doctor.
get adequate sunlight
Getting healthy sun exposure daily for about 10-20 minutes with your arms and legs exposed at the beginning or the end of the day when the sun's rays are not so intense is optimal to avoid burning. When the sunlight hits your skin it creates nitric oxide which in turn causes the dilatation of your blood vessels, which decreases blood pressure and promotes cardiovascular health. Getting adequate sunlight also increases your levels of vitamin D, which is critical for protecting you from disease, some types of cancer including breast cancer, depression, and helps support healthy thyroid function. morning sunlight also stimulates receptors in the back of your eyes that reset your circadian rhythm and sets your internal clock going so that 12-14 hours later your body will naturally secrete melatonin which will help you get good sleep.
practice intermittent fasting
Science shows that fasting extended periods of not eating lowers insulin, and when practiced regularly can be used to control weight and actually reverse insulin resistance. Intermittent fasting comes naturally easy if you are eating a low carbohydrate diet because your hunger hormone ghrelin is downregulated in the absence of carbohydrate consumption.
conclusion & summary action steps
If you are middle-aged you first want to determine your actual level of CHD by insisting on a CAC scan if you have risk factors like high cholesterol, a family history, or any metabolic syndrome like insulin resistance, prediabetes, or type II diabetes, or if your doctor wants to put you on statins for the prevention of heart disease.
Getting a CAC scan will at a minimum give you a baseline reading so that you can compare any progression of calcium buildup every 5-10 years or so.
If you get an initial CAC scan score that indicates you already have some CHD, you'll need to work with your doctor to figure out why. Analyzing blood tests like HBA1c can tell you what if the foods you've been eating are raising your blood sugars too high. Your triglyceride to HDL ratio, ferritin, homocysteine, and other markers can help give you clues about what may be causing high insulin &/or inflammation in your body. Work with your doctor closely to get to those root causes and use the evidence-based science mentioned above to be sure that statin therapy has been proven to work for your unique situation before you before you agree to take it.
In addition, you'll need to adopt the inflammation reducing activities mentioned to arrest the development of calcium buildup and CHD. As a middle-ager, adopting these inflammation reducing activities will maximize your health and minimize your risk for chronic disease progression no matter what.
If your CAC score indicates CHD you'll need to follow up every 2 years with CAC scans to be sure that the calcium buildup slows down. That's your goal. You don't HAVE to necessarily remove the calcium buildup in order to reduce your risk of CHD, although I'm sure any doctor would agree that it would be fantastic if you could.
I hope I've empowered you to know how to take control, talk to your doctor using scientific evidence-based conclusions, helped you separate the hype from the facts regarding the misguided practice of statin therapy for the primary prevention of heart disease, and given you concrete ways to manage your lifestyle, be proactive and take control of your health and effectively protect yourself from heart disease. The first sign of heart disease sadly is a first heart attack, 30% of which are fatal. It is my sincere hope that we can change the current model of the treatment of heart disease by insignificant risk factors like cholesterol to one in which we use CAC scans to first accurately diagnose the presence of heart disease before relying on statin prescription medication. Certainly, we as healthcare consumers can do a much better job of being our own health advocates, educating ourselves, and our doctors if necessary, and reduce the amount or CHD in America.
p.s. I am not a doctor. Please see the disclosure.
references
*Credit to Dr. Frank Lipman's daily dose blog for providing citations.
[1] https://jamanetwork.com/journals/jama/fullarticle/1104631
[2] https://archinte.jamanetwork.com/article.aspx?articleid=617275
[3] https://www.thelancet.com/journals/lancet/article/PIIS0140673607600841/abstract
[4] https://www.ncbi.nlm.nih.gov/pubmed/15059806
[5] http://ahrp.org/are-lipid-lowering-statins-guidelines-evidence-based-lancet/ Abramson J, Wright JM. Are lipid-lowering guidelines evidence-based? Lancet. 2007 Jan 20;369(9557):168-9
[6] http://www.bmj.com/content/347/bmj.f6123
[7] Barter P, Gotto AM, LaRosa JC, Maroni J, Szarek M, Grundy SM, Kastelein JJ, Bittner V, Fruchart JC; Treating to New Targets Investigators. HDL cholesterol, very low levels of LDL cholesterol, and cardiovascular events. N Engl J Med. 2007 Sep 27;357(13):1301-10.
[8] Ridker PM, Danielson E, Fonseca FA, Genest J, Gotto AM Jr, Kastelein JJ, Koenig W, Libby P, Lorenzatti AJ, MacFadyen JG, Nordestgaard BG, Shepherd J, Willerson JT, Glynn RJ; JUPITER Study Group. Rosuvastatin to prevent vascular events in men and women with elevated C-reactive protein. N Engl J Med. 2008 Nov 20;359(21):2195-207.
[9] Brown BG, Taylor AJ Does ENHANCE Diminish Confidence in Lowering LDL or in Ezetimibe? Engl J Med 358:1504, April 3, 2008 Editorial
[10] https://www.marketwatch.com/story/doctor-payments-increased-drug-prescribing-by-73-new-study-finds-2018-07-30
[11] http://www.mayoclinicproceedings.org/article/S0025-6196%2817%2930319-1/abstract
[12] https://medium.com/@drjasonfung/the-corruption-of-modern-academic-medicine-how-your-doctor-was-bought-fe8c250d7a46
[13] http://care.diabetesjournals.org/content/32/2/361
[14] http://circimaging.ahajournals.org/content/5/4/467.full.pdf+html
[15] https://www.cdc.gov/nchs/nhanes/index.htm
[16] https://www.ncbi.nlm.nih.gov/pubmed/17144883