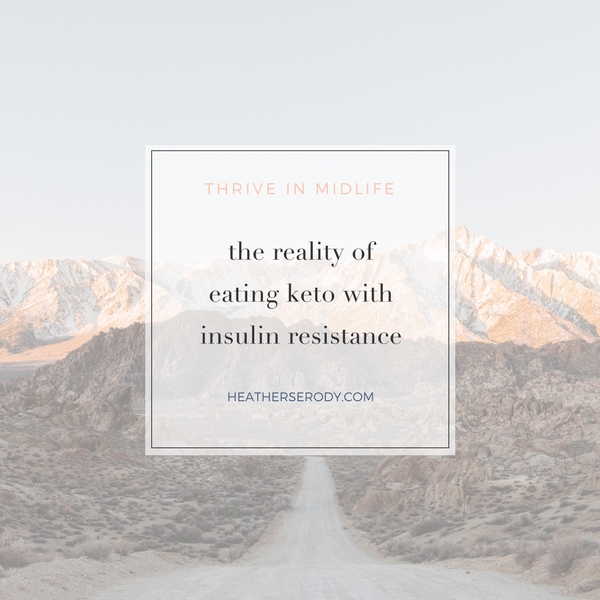 I want to talk to you about the reality of eating keto with insulin resistance (IR), how hard that might be, and how to to not give up.
how to know if you're insulin resistant
People with insulin resistance (IR) have cells that have trouble absorbing energy (glucose), which causes a buildup of sugar in the blood; which then causes weight gain and over time can lead to type 2 diabetes along with a host of other associated health problems over time. The symptoms below are all signs that you may have IR:
unexplained weight gain
inability to lose weight
weight gain in the midsection
fasting blood sugars >100
a waist >40 inches in men; or >35 inches in women
a family history of diabetes
experience with low blood sugar (hypoglycemia)
have a family history of heart disease or have it yourself
living with IR
Once you know you have IR, life gets initially gets easier. Knowing you have IR finally gives you a medically-based explanation as to why conventional solutions for 'healthy eating' and the 'eat less mover more' theory of weight loss just don't, and probably won't ever work for you. You understand that the way your body uses energy is deranged and that you need to eat differently (low-carb/keto) in order to keep your IR from getting worse & turning into type 2 diabetes and causing a cascade of other associated health problems.
losing weight is harder
Living with IR means that you just don't lose weight as easily as someone with insulin sensitivity; whether you eat keto or not. That's the reality of living with IR, and it sucks. Eating low-carb/high-fat (keto) is a tremendously powerful method for weight loss and healing in the body, but the reality is that it's efficacy for weight loss decreases in the presence of IR.
I knew this intellectually, but I still found myself feeling discouraged scrolling Instagram and seeing lots of dramatic keto weight loss stories; knowing that I wasn't seeing the same successes. I used to feel this same way before I knew I had IR when I'd eat so much healthier than my friends; and work out harder and more consistently and still not lose weight. Back then I just felt like something was wrong with ME. Now here I am a year later after dramatically changing my eating habits and lifestyle and from the outside, and it doesn't look like much has changed for me on the outside. This is the reality of eating keto if you have insulin resistance. The question is now what can you do about it so that you don't give up.
the problem
When your primary goal is weight loss when you have IR, you will have a hard time finding the success you are looking for. When you have IR, what you need are goals that help you find the long-term motivation to stick with a low carb lifestyle because it takes much longer to lose weight when you have IR; even when you eat keto.
You've got to change your definition of success.
Remember that your weight is not a single marker of health. That's especially true when you have IR. If you have IR, your primary measure of success should be to lower your blood sugar and insulin and arrest the development of IR into type 2 diabetes. You should be testing your blood sugar and working with your doctor to track your lab markers so that you can track how successfully you are controlling your IR, or even reversing it.
When you have IR, improving your health markers should be your primary goal, not weight loss. I know this is a bitter pill to swallow, but honestly, you know there is so much more to taking back your health than the number on the scale, so why are you elevating its importance as primary? If you do that you'll risk your ability to stick with this lifestyle for the long term.
The reality is that in people with IR, weight loss tends to be quite slow and is often only achieved by utilizing strategic exercise and fasting combined with a ketogenic diet. Yes, weight loss is harder for us, but on the other hand, we are the ones who end up feeling so much better in our bodies and minds when eating keto; so why not adopt a broader view of your health goals instead of just the number on the scale.
I dare you to throw the scale away and free your mind from this false measure of success. Doing so will absolutely set you free to focus on more important goals that mean something tangible and are attainable by eating keto.
what kind of example am I?
I only write about this because I, too have struggled with holding weight loss as a primary measure of success in my own keto journey. When I figured out I had IR a year ago, I jumped into the lifestyle wholeheartedly and gave it 100% effort thinking that if I just did keto right, I'd lose all this weight and finally be thin like I used to be back in my 20's.
One year later, I've lost 12 pounds and I still have a lot more than that to lose. If I judged my success with keto only in terms of weight loss, I'd have to conclude that I wasn't very successful at all. Furthermore, the truth is that the only way I've been able to lose those pounds is by doing long-term fasts of about 3-4 days. Eating keto has really only served to stop my weight gain.
I have asked myself is all of this effort worth it? Who am I to talk about the low carb lifestyle when I can't show a dramatic before and after photo? 
I thought about this for a long time, and the only conclusion that I could come to from my heart is that I know that I am not alone. I don't have to be the voice for dramatic weight loss stories on keto, I'm going to be the voice for middle-aged women like me who quietly put in the work to try to reverse IR and just want someone to encourage them to keep going and celebrate each small gain in the fight against IR.
you are not alone
The reality of eating keto with IR means that like me, you will probably feel alone and still struggling to lose weight.
I'm here to tell you that you are most definitely NOT alone and I want you to hang in there for the long term.  The reality of eating keto with IR means that you've got to think about your successes in terms of health markers first. Remember that eating low-carb/high-fat (keto) means that you are healing from the inside out in ways that cannot be seen outwardly, but that doesn't mean that you're efforts are in vain. You and your health are so much more than your relationship to gravity. 
I want us to celebrate every single day that we were able to stop the development of type 2 diabetes and that each yummy high fat meal is a wonderful opportunity to turn things around, even if outward results come slowly.
weight does not equal health
If I just took weight loss as evidence of success in my keto journey to heal my IR, then I would overlook several extremely successful health developments that HAVE happened in the past year while eating keto;
stopped gaining weight
fasting blood sugars have come down 20 points
I enjoy my food so much more now
I am rarely hungry; & never deprive myself
I had to decrease my thyroid medication because my thyroid hormones are now working better.
food cravings for carbs have virtually disappeared
I have freed myself from the tyranny feeling like I have to do chronic cardio
I can go long periods of time without eating between meals
my blood sugar is much more stable; I have no more energy crashes or urgent feelings of needing to eat
I no longer need to eat breakfast or feel as though I need to eat in order to work out
track success by other markers
If I judge my success on keto by these markers, I'd have to say that the past year has been a resounding success! Changing your mindset and markers for success will allow for a much more holistic view of how you're doing with your goal to get healthier. Remember that eating keto is a tool, and if you have IR, your keto tool will work differently than it does for others who are insulin sensitive. It will likely take longer to lose weight. Health is not defined by how much you weigh alone, but it is defined by lab markers, physical performance, stable blood sugar, and mental clarity among others.
Just because losing weight is harder eating keto with IR, doesn't mean you should give up, though. Never stop believing in your ability to make all your goals and dreams come true; including losing weight. But, try to set yourself up to celebrate ALL of your successes on your keto journey, not just the number on the scale. Try to enjoy the journey of living a lifestyle that has the potential to heal your body and mind, and every day the new opportunity that you have to bring you closer to your goals. Don't forget to love yourself. Love yourself hard and give yourself credit for all of the effort that you are putting into your quest to get healthy.