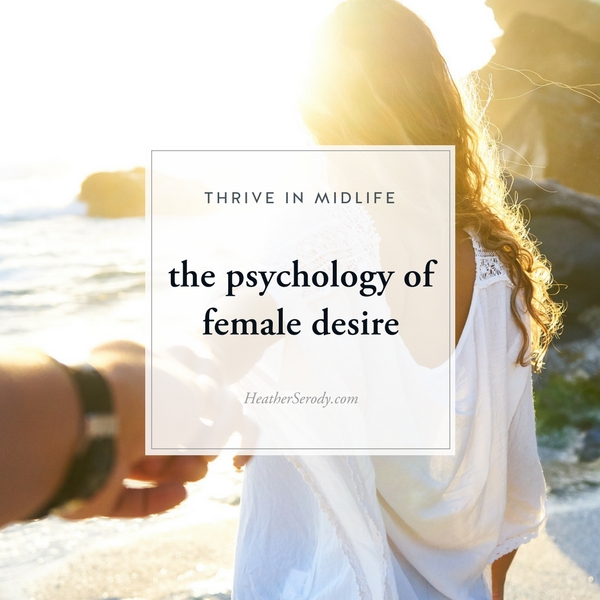 Let's talk about the psychology of female desire
I get emails from readers from time to time who tell me that what they are missing in midlife is sex. Sometimes there is still sex, but that spark of desire for their partner is gone. When I've talked to friends it has even come up that we don't turn ourselves on anymore. 🙁
Desire is alluring and abstract and difficult to unpack once it goes, and we wonder just how to get it back…
…and I think we can.  I believe it's helpful to stop blaming ourselves or our partners and invest some time and effort in understanding just what exactly is going on and then take action to get sexytime back into our lives.
the h word
The first component of replenishing your desire definitely has to do with hormones. After age 35 progesterone declines, leaving us estrogen dominant. This imbalance is further exacerbated about a decade later when estrogen too begins to decline, leaving us hormonally flatlined, dried up, hot, and certainly not in the mood.
My first piece of advice is to ask your doctor (preferably one that specializes in bioidentical natural hormone replacement therapy) to test your hormones to get you back in in a place of balance where desire can bloom. You can also pick up a natural progesterone cream over the counter and try some of that, too. 
Also, note that taking a zinc supplement can be a very effective way to help your body boost hormone levels naturally. for more on zinc visit this post.
how to stoke female desire 
But we know it's not just hormones. So what's the mental secret sauce to bring back sexual desire to our lives? We want to know so that we can take back control and feel that delicious energy move within us again. There is no reason why in midlife we have to be resigned to live without desire. Stoking desire in midlife is an important part of feeling alive, energized, sexual, and self-directed.
After all, can we imagine that we are thriving in midlife if we do not feel sexual desire anymore? 
Women often blame themselves or their partner for their lack of desire. But this is what I want you to reconsider today – the onus of control does not lie outside ourselves, but rather it begins within. Perhaps you and your partner haven't understood psychologically how desire works for women. Once you do, you can communicate this to your partner and try out some new dynamics in your relationship and see what blooms.
how to kill a woman's desire (listen up, men)
Sexual relationship & infidelity expert Ester Perel explains that the structure & dynamics of long-term committed relationships contribute heavily to squashing female desire for sex because of the dynamics at play for women:
lack of sexual freedom

feeling a sense of duty or expectation to serve another person in their life

sexual

 expectation by the partner contributes to a feeling of a lack of self-direction and choice by the woman 
how to stoke a woman's desire
being the object of her partner's desire
being seen for who she is and not what she has to give
being able to not worry or even be concerned with her partner's experience,
being able to be selfish & enjoy herself completely
being able to release her cares, concerns, and obligations and say 'my turn,' be selfish and concentrate on her own pleasure
RX for desire
Whereas men will say that nothing turns them on more than seeing their partner turned on. It's quite the opposite with women. Perel explain's that what turns women on is being singularly and intently desired by her partner without expectation of anything in return, and being able to release her sense of obligation to anyone but her own pleasure in a self-directed way. A woman's desire is stoked by an escapist attitude where she can turn inward, have a narcissistic experience – which is often very unlike her non-sexual life where obligations abound. Desire is stoked by being desired by her partner, which feeds her desire in return.
I don't think we should just accept a life without desire and chalk it up to the reality of getting older or being in a long-term relationship. Instead of looking at a lack of desire in midlife as yet another insult, I invite you to dare to push back by believing that desire can rise from within again with a mental shift, clear communication, and the desire to reclaim your birthright to healthy sexual desire.
Dare to talk to your partner about what turns you on and off and just see what happens. The next time he (or she) reaches out to let you know they are in the mood, instead of acknowledging all of the reasons why you don't feel the desire, try saying, 'you know, I appreciate that you are holding a space for me right now.' I obviously have no idea what works for you, but I do know that Perel encourages us to stay open and change it up.
More eye contact and less stroking our smartphones – lol.
I found Perel's psychology of desire to be familiar in that I had always known this on some level and I'm sure you do too. Of course, there is much more to Perel's psychology of female desire than I've outlined here. But I wanted to bring it up here because I feel that this conversation is something we need to hear, internalize, and then discuss – amongst ourselves, with our adult daughters, and our partners too. Desire and pleasure are our birthrights – whether straight, coupled, single or in long-term monogamous relationships. At this particular time, it seems that women are ready to reclaim desire, drop the facade, and own their truth about what turns them on.
As always, there will be much more about this topic to come. Leave me a comment and let me know if you'd like me to take a deeper dive into this topic, or your thoughts on other aspects of sexuality and relationships in midlife.