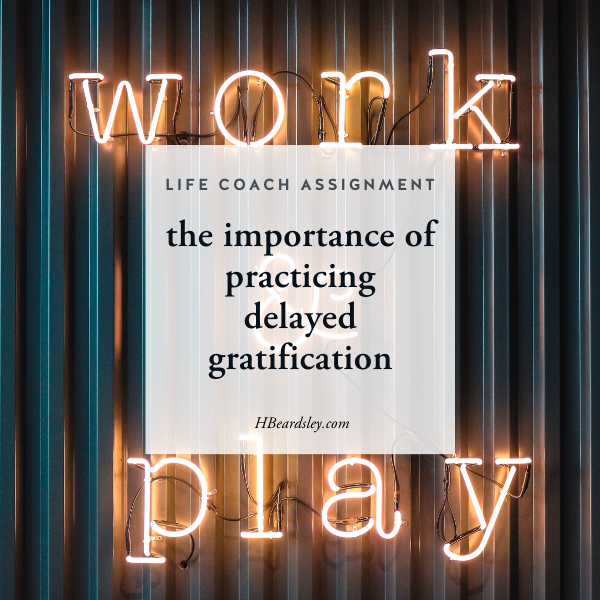 Today, I'm challenging you to incorporate practicing delayed gratification every day and make that practice a part of every area of your life and watch your world change for the better.
what is delayed gratification
Research shows that when you put in work toward a goal you are employing a learned skill called delaying gratification. If you want to be successful at something, you need the ability to be disciplined and take action instead of becoming distracted and indulging in what's easy.
In the famous Stanford Marshmallow Experiment, children who took the option of not eating a marshmallow right then in exchange for the promise of getting two marshmallows later demonstrated delaying gratification. Forty years after the experiment, researchers following up with those same children who participated in the experiment and found that the children who demonstrated delayed gratification were described as being more competent adults than the classmates who did not.
rewards & deservingness
We all know how much better rewards are when you've been thinking about them for a while! Think of the athlete who trains for a marathon because he has always wanted to consider himself an athlete, or the writer who quietly writes for years to realize her dream of becoming a published author. Their persistence in practicing delayed gratification to achieve long term goals requires both a belief that they can achieve the reward and that they deserve those rewards.
If you're not applying the practice of delaying gratification, have a look at your self-beliefs. Do you think of yourself as someone who has the skills and capabilities to accomplish your goals? How can you get that knowledge or skills?
What's interesting is that most people believe they are either self-confident or not; as if self-efficacy were a personality trait. But research tells us that this isn't true at all. Self-efficacy is developed by the very act of applying effort toward achieving a goal. There more you apply yourself the more capable you feel. So, the important thing to remember is to just apply yourself, even if you aren't sure of the outcome.
contingent rewards
Some of my clients have been successful by making a dessert reward contingent upon working out. They allow themselves a healthy dessert as long as they've done their daily workout. Contingent rewards are a form of delayed gratification that motivates them to work out consistently over the long term and keeps their food intake in check by consistently balancing calorie intake with energy output. It's a system that is inherently self-motivating and aligns their action with the high value they put on their fitness.
we are meant to challenge ourselves
I've been practicing yoga for almost 20 years and have noticed a pattern. You would think that naturally flexible people would account for of the people in a typical yoga class, right? After all, getting into tose yoga postures is way easier for someone who is naturally flexible, right? Wrong. It's the opposite. Here's why.
When naturally flexible people can get themselves into a tricky pose that's ordinarily difficult for most people to get into there's no satisfying reward. They aren't really celebrating because they don't have to work for it. They don't value it because they didn't have to work for it, show up at class, and grapple with tight hamstrings. They don't practice regularly because they don't have to; therefore I've noticed that the yogis who truly love the rewards of a yoga practice are those have work for their flexibility. This demonstrates the necessity of developing the skill of delayed gratification. Unearned rewards just don't feel as good as earned ones. We are MEANT to challenge ourselves to achieve by working on achievements that require genuine effort.
work vs. rewards
Like many teenagers, I found myself caught in a cycle of negativity in high school when I'd consistently go to bed too late. I'd wake up wrecked and exhausted, and run late to the bus or miss it altogether. On those mornings my self-confidence would suffer because I hadn't had time to do my hair or pick out the clothes I wanted to wear. I'd fall asleep in classes so I'd have to ask to borrow notes from friends, which didn't help me prepare for tests. No doubt it affected my grades. I began to self-identify as a late sleeper. Which is just false. I was sleeping late because I wasn't taking good care of myself. I was working endlessly to catch up with no conscious awareness of appropriate reward. I needed and deserved rest and I wasn't giving it myself.
As I look back, I marvel at how I still managed to do rather well in high school but I also wonder just how much more successful I'd have been if I had just prioritized the reward of sleep on my general well-being and success. To benefit from the practice of delayed gratification, the reward is just as important as the work.
delayed gratification self-assessment
In midlife, it can be particularly helpful to do a delayed gratification self-assessment. We tend to get so busy and bogged down with the daily routine that we don't see which areas of your life could benefit from a heavier application of delayed gratification so let's do a self-assessment. Grab a journal and make some notes on the following questions:
Which areas of your life do you feel stuck or unsatisfied with?
Brainstorm & identify some small efforts that you could bring to this area that would require you delaying some reward and in the process putting off doing what's easy?
What rewards would naturally follow those efforts if you were to make them?
Can you give yourself a reward that's contingent on your making effort toward this goal?
some tips to help you:
Start small.
Use positive self-talk. Tell yourself you're good at what you do, that what you're working toward is going to be amazing, and watch your self-confidence grow.
Focus on being consistent with the work you put in and don't focus so much on the results.
Self-identify as someone who does what they don't want to do every day and that you do those things before you do anything else.
You don't have to love the delaying gratification process to do the work necessary. Most disciplined people don't even think about liking or hating what they do; they just DO IT. Sometimes, you can learn to love the work after a while. Even if you don't; it's the Remember that the disciplined work habits of many accomplished people claim to 'love' doing didn't start that way. They learned to love the work because it earned them rewards and made them feel better for doing it.
your assignment
Your life coach assignment is to hardwire your brain to practice delaying gratification by setting up your daily actions to earn quality rewards and methodically work toward earning them daily. Make those rewards of high quality. Rewards that truly benefit your mind, body, relationships, finances, etc. Associating work with delayed gratification of quality rewards hardwires the brain to positively associate your daily effort with exciting and high-value rewards.
If you want to be successful at anything wirth having, you need the ability to be disciplined and take action instead of becoming distracted and doing what's easy.
Do you delay gratification? What do you do? Leave me a comment!