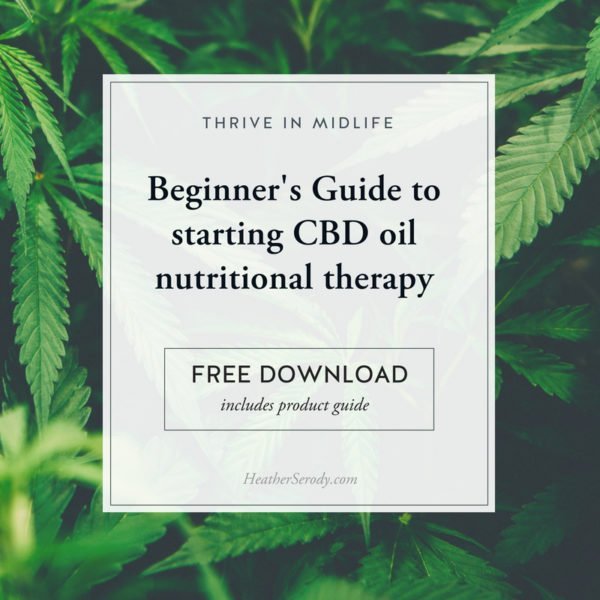 What do you know about CBD oil and the associated health benefits? This beginner's guide to CBD oil explains why CBD is the new 'it' natural wonder therapy because of its scientifically proven ability to deliver significant mental and physical benefits for improving symptoms from epilepsy, pain, fibromyalgia, sleep issues, anxiety, PTSD, auto-immune conditions, depression, acne, & inflammation and insomnia. It almost sounds too good to be true, but scientific studies abound with lots of evidence to support users claims. (Resource studies are listed at the end of this article.)
If you already know about CBD and want to get started taking it but you don't know which products are best or how much to start taking enter your email address below & I'll send you your FREE beginner's guide to taking CBD oil that also includes product recommendations.
I recommend Kannaway Full Spectrum Oil &/or capsules, click to purchase
My goal in writing this is to give you a solid background & basic understanding of what about CBD oil is, clear up any misconceptions you may have about CBD oil, help you understand how it works in the body & how it's being used so that you can determine if CBD oil is right for you. If it is, by the end of this article, you'll be able to make a confident and informed choice as to what Brand and type of CBD product to try that will work best for you personally.
CBD 101
CBD (also called cannabidiol) is one of more than 500 compounds found in cannabis plants. Like CBD, THC is also a cannabinoid compound derived from the cannabis plant, but THC it is the only cannabinoid compound that is psychotropic – meaning it is the compound responsible for getting you high.
This is why the interest in CBD is so high, (no pun intended) because with CBD you can get the benefits of cannabis compounds like THC without the high or the stigma of its use because it is federally illegal to use.
All marijuana plants are cannabis plants, but there are others, too like Hemp which are genetically different than marijuana cannabis and thus contain different amounts of plant compounds called cannabinoids like THC & CBD.
There are three main types of cannabis plants (plus thousands of hybrids):
cannabis sativa-increases mood, energy, focus, & appetite.
cannabis indica-relaxing, decreases pain, inflammation, & stress, increases mood & appetite.
cannabis ruderalis-does not contain much THC or CBD
legality-what you need to know
The 2014 U.S. federal Farm Bill law defines hemp as legal cannabis with no more than 0.3% THC in any part of the plant. If the THC level tops 0.3%, it's considered to be marijuana under federal law. This explains why it is legal to buy hemp-based clothing, paper, and food products in the U.S. That's' because they are all made from imported industrial hemp that contains less than .3% THC by law. Because there is so little THC in hemp products (including hemp extracted CBD oil) this explains in part why neither people nor dogs experience a high when they consume hemp/CBD-derived products.
Although it is legal to manufacture products containing CBD from naturally low-THC hemp here in the U.S., it is still illegal to grow hemp in most states in America, with small exceptions being made for pilot programs specified in the 2014 Farm Bill. Hemp cultivation in the U.S. is exploding in response to the skyrocketing demand for CBD oil. With more and more states launching pilot programs each year, there is still much legal grey area connected to commercial hemp production here in the U.S. and so there remains legal ambiguity regarding the transportation over state lines of CBD oil extracted from domestically grown hemp. There have been some CBD oil seizures in some states due to this ambiguity, however, the DEA has made statements alluding that they will not be spending federal resources prosecuting CBD oil users.
Only CBD derived from hemp that is imported into the U.S. can be legally distributed in all 50 states nationally. This remains true even though there are U.S. based hemp growers located primarily in Colorado & California who are selling it. Keep in mind that what goes on in practice does not always comply with what is legal [1]
domestic vs. imported CBD oil
Currently, there are 26 varieties of low-THC hemp that are legal to farm by the EU and legal to import into America as long as they contain less than 0.3% THC. Of the 30 countries worldwide that grow hemp, nearly ⅔ are in Europe, often on small family-owned farms and grown free of pesticides, herbicides, or fertilizers.
If you want to stay within the current federal law your best choice is hemp-extracted CBD imported from Europe that is legal to buy in all 50 U.S. states. However, there are more and more farms growing Since marijuana continues to be federally illegal to grow or sell in the U.S, my recommendation & discussion here is limited in scope to CBD oil manufactured from legally grown & imported hemp. CBD sourced from imported hemp is legal in all 50 U.S. states when sold as a dietary supplement. [2]
therapeutic effects of CBD/cannabis: what we know
While it's great to hear personal accounts of how CBD oil works, I believe it's best to first look definitively at what the science says to confidently back up the reported health benefits.
In January of 2017 a committee of experts assembled by the National Academies of Sciences, Engineering, and Medicine made the following scientifically-based conclusions about what evidence we have about the therapeutic effects of CBD (among other conclusions): [3]
There is conclusive evidence that cannabis/CBD is effective for chronic pain, nausea, and vomiting, & multiple sclerosis spasticity symptoms.
There is moderate evidence that cannabis/CBD is effective for improving sleep, reducing chronic pain, & multiple sclerosis.
There is limited evidence that cannabis/CBD is effective for increasing appetite and decreasing weight loss associated with HIV/AIDS, improving anxiety symptoms in individuals with social anxiety disorders, and improving symptoms of posttraumatic stress disorder.
If you couple the findings above with the anecdotal; it's hard to dismiss the promise of CBD oil therapy as a natural prescription for health & wellness and healing. In fact, a CBD mediation for epilepsy called Epidiolex was just approved by the FDA in the U.S. this year that dramatically reduces the instances and severity of epileptic seizures in anyone over 2 years of age. [4]
CBD's proven efficacy for controlling seizures and the mounting scientific evidence for other therapeutic uses (see well-conducted scientific double blind placebo study references listed below) are compelling reasons to consider whether using CBD might be right for you. I encourage you to read the studies for yourself if you have any of the health issues or complications for which CBD is being studied or if you are looking for a natural solution to amplify your sense of wellness.
why people use CBD
CBD is used for so many reasons it's impossible for me to list them all here. Here are just a few of the most common reasons CBD users give for why they take CBD oil:
improvement of chronic health issues (Cron's, IBS, leaky gut, psoriasis, insulin resistance)
reduction of autoimmune inflammation (RA, arthritis, IBD, Lupus, Hashi's, fibromyalgia, MS, psoriasis, eczema, & chronic infections)
improved sleep-falling asleep easier and staying asleep longer
improve brain function which can benefit those with ADD, ADHD, brain fog, migraine, epilepsy, anxiety, PTSD, & schizophrenia.
decreased pain (after surgery & from a serious illness)
increased success in quit smoking and cessation of other addictive behaviors
decreased chronic pain (fibromyalgia, cancer)
to manage and improve symptoms related to chronic illnesses (epilepsy, MS, type II diabetes, RA, arthritis)
prophylactically to maintain and promote a sense of general well-being
increased feelings of well being & happiness; elevates moo & decreases depression
increased ability to manage stress and a decrease in cortisol
decreased anxiety levels & increased ability to manage anxiety
improve symptoms of post-traumatic stress disorder (PTSD)
improved cellular health, increased cellular detoxification, & healing of cellular mitochondria
If you are considering trying CBD it's worth noting CBD oil is not habit-forming [5] and can be taken daily. It has no psychoactive properties, meaning that it will not get you high, and it will not impair your senses in any way.
I recommend Kannaway Full Spectrum Oil &/or capsules, click to purchase
how it works in the body
All mammals have an endocannabinoid system (ECS). You may not have heard about the ECS because it was only recently discovered in the 1980's. The ECS works much like other hormone signaling systems in the body, where our bodies produce chemicals called endocannabinoids in response to our daily life & environment. These endocannabinoids have several functions:
They remove oxygen free radicals which damage the cell wall which prevents cellular aging. [6]
Endocannabinoids also bind to receptors located throughout the body which acts as a communication & feedback loop that allows the body to physiologically respond, adapt, and maintain healthy functioning in different environments.
Many doctors now see the huge promise of using cannabinoids like CBD to interact with the ECS and other neurotransmitter receptors to signal the body to affect positive changes in virtually all physiological and cognitive processes including fertility, pregnancy, appetite, pain-sensation, mood, & memory. In addition, CBD has been shown to:
Remove the brain plaques that are a hallmark of Alzheimer's. [7]
Stimulate neurogenesis, the creation of new brain cells in adult mammals. [8]

Stimulate the CB2

cannabinoid receptor, which regulates immune function. [9]
Unlike the cannabinoid THC, CBD does not create a psychoactive effect because CBD compounds do not directly bind to the body's cannabinoid receptors, but rather they work indirectly to effect changes in the endocannabinoid system through other pathways. CBD also directly activates serotonin receptors, causing an anti-anxiety and fell-good effect which elevates mood. [10]
what to look for when choosing CBD
Look for CBD products with labels showing the quantity and ratio of

CBD

and

THC

per dose, a date of manufacture, and a batch number (for quality control).
Select CBD products with quality and natural ingredients. Transfats, chemical additives or preservatives, sugar, corn syrup,

GMO

s, or chemical sounding thinning agents are red flags.

Look for evidence of independent lab testing

for consistency and to verify your CBD potency and that it has been tested to be free of heavy metals, solvents, pesticides, mold, & bacteria.
Your CBD oil brand should clearly explain the exact processes they use to extract the CBD. Chemical extraction using neurotoxic solvents like butane and hexane may leave unsafe residues that can make you sick. Look for brands that use natural and gentler methods like carbon dioxide extraction.
I personally use & recommend Kannaway CBD products
In my beginner's guide download I offer a range of prices and a few specifically selected brands at different price points that I have personally researched and that meet my standards. However, I personally recommend and use Kannaway full spectrum oil & capsules.
Kannaway is a pioneer in the emerging CBD market not only in the United States, but also globally. Their products are all sources from imported European hemp that is triple tested all along the manufacturing line. some CBD brands may initially look much less expensive, but that is usually because their products are not every high in CBD per serving. Be sure to compare how much CBD you get per serving before you make a price comparison. Because Kannaway products give some of the highest amounts of CBD per ounce, you end up using less product and actually end up saving money as compared to using a cheaper product.
I love Kannaway products so much that I have partnered with them as a Brand Ambassador. To check out Kannaway products just click the link below.
I recommend Kannaway Full Spectrum Oil &/or capsules, click to purchase
Being able to talk to you about my experience with CBD and you find your personal CBD solution is something I am here to help you with. To book a FREE CBD phone consultation with me please use the scheduler below, or comment below & I'll do my best to point you in the right direction. If you would like to partner with Kannaway as a Brand Ambassador I can talk to you about that, too.
additional considerations
Based on my own research I have some recommendations to look for when considering which brands of CBD oil to choose. Look on the website in the 'about' or 'FAQ's' to confirm the following standards are in place:
non-GMO hemp plant stock
organically grown farming
if not certified organic, look for hemp that is grown without pesticides
independently 3rd party testing for safety, possible contamination (heavy metals), and to guarantee the amount of CBD contained in the final product.
CBD manufacturers that control their manufacturing line from planting, to harvesting, to manufacturing and distributing and don't just stick a private label on a product.
If you cannot find these elevated standards clearly posted on a CBD brand's website, I would assume that these standards are not in place, and I wouldn't recommend using that brand. I created a CBD oil beginner's Guide with product recommendations based on my own research. to get your free copy, enter your email address below. If you are already an email subscriber, you can find your download in resource library.
I recommend Kannaway Full Spectrum Oil &/or capsules, click to purchase
what to look for in your CBD oil formulation
Clinical research conducted by GWPharmaceuticals shows that CBD is most effective for pain relief when it has been manufactured using the whole plant, and the oil retains the active components of the plant called terpenes and trace legal amounts of THC. [11] The terpenes magnify the therapeutic benefits of the plant's individual components —so that the medicinal impact of the whole plant is greater than the sum of its parts. CBD can enhance THC's anti-inflammatory and painkilling properties, while CBD actually mitigates many of the undesirable effects of THC.
Studies have also shown that full spectrum CBD oil that contains terpene compounds from the plant itself is effective at much lower doses and has a wider therapeutic window than a CBD isolate (isolate is 'pure' cbd that has all traces of THC removed). [12]
Due to the entourage effect, my recommendation is to look for CBD whole plant formulations that include legal trace amounts of THC and terpenes for more effective therapeutic results. If you feel comfortable doing this, you also won't need to take as much CBD.
If you have professional &/or moral or ethical concerns about using CBD with any THC in it (even trace amounts that are legal) then you can choose what is called CBD isolate products that are processed to be pure, meaning all of the THC has been removed. You will still benefit from the CBD by itself, but you may have comparatively more to get the same effect if you used a full spectrum CBD.
different ways to take CBD
The best way to take CBD is the one that you find convenient, will give you the dose you are looking for, will last long enough to be practical, is convenient and easy to take, and provides a quality product for a reasonable price. There are about as many different CBD preparations as there are brands of cereal in your grocery store that it can get a little overwhelming to try to choose what is right for you. Most CBD users prefer to take non-inhalable products made with oil concentrates.
Below is a general overview of different ways to take CBD along with what they are best for:
CBD oil/spray (sublingual): You hold the oil under your tongue for 60 seconds before swallowing it. This is what's known as sublingual absorption.When a compound comes in contact with the thin capillary-laden tissue beneath the tongue, it will be absorbed directly into the bloodstream. Some oils with higher concentrations of CBD must be kept refrigerated. Different brands all vary in taste. Unflavored CBD oil tastes earthy &/or botantical. If you are particular about the way things taste, look for naturally flavored oils sweetened with stevia and natural preservatives; if any.
Most brands offer oils with different concentrations of CBD in them. See dosing below for general guidelines on recommended dosing. CBD taken orally can last for four hours or more, but the onset of effects takes 30-90 minutes.
CBD spray can come flavored and some are not. CBD sublingual sprays can be formulated with herbal formulations for different benefits such as energizing, or for relaxation for better sleep. Some also have supplements like calcium added for various reasons. Look for natural ingredients and don't use any formulations that are giving you benefits you aren't really looking for.
CBD oil capsules/oral: The convenience of an oil without having to taste it. However because it must be digested before it can be utilized by the body, it can take up to two hours to feel the effects.
CBD cartridges/vape: CBD oil in specific doses come preloaded into cartridges that when vaped, are heated at high temperature to vaporize the oil. You inhale this CBD vapor into your lungs where it is rapidly absorbed into your bloodstream. This is the most potent and quick way to absorb CBD into your body, but the effects last the shortest amount of time.
Vaping CBD is ideal if you are looking for quick results which take just a few minutes. Which makes vaping ideal for sudden onset of symptoms, as in the case of anxiety. But you obviously need to carry your vaping supplies with you all the time. Effects last up to a few hours.
**Beware of CBD vape oil products that include a propylene glycol which is anti-freeze. It is added as a thinning agent, which dilutes the oil that is heated so it will vaporize better. Propylene glycol produces formaldehyde when heated in the vape. Formaldehyde is a known cancer-causing compound, according to a 2015 report in the New England Journal of Medicine. Look for vape products that entail a safer method of extraction like supercritical CO2.
Look for cartridges that contain only natural, cannabis-derived terpenes, and cannabinoids.
CBD ointment/salve: A cream or ointment that contains CBD. Used for skin conditions, muscle aches, tendon or ligament soreness, or used on the forehead for headaches. Ideal for spot treating areas.
I recommend Kannaway Full Spectrum Oil &/or capsules, click to purchase
guidelines for dosing
The most important thing to know about dosing is that there is no 'one size fits all recommendation' for how much is best to take. Optimal CBD dosing depends on the person and condition being treated. Those who take it often say that it affects people differently. It can make some people relaxed, while with others, it can give them energy. Many users believe that is because each person's endocannabinoid system, when stimulated by taking CBD, will have different repair or optimization priorities depending on the individual state of relative health or illness.
Here are general recommendations:
Begin with a small dose of oil or spray where you can control the dose.
Start with 5 milligrams of full spectrum CBD. Sublingual (oral/under the tongue) is the most potent way to take it.
As little as 2.5 mg can have a therapeutic effect. Remember that this amount will not get you high, but it is ideal because of the entourage effect (explained above) and this combination will multiply the effectiveness of the CBD dose, allowing you take lass.
If you are unwilling to take any THC, due to moral or professional reasons then opt for a CBD isolate; which has all of the THC completely removed. Another new alternative is to take a CBD oil extracted from the Humulus/hops plant which is not a cannabis plant at all and is completely legal, yet contains CBD.
Take more frequent smaller doses over the course of the day rather than one big dose.
Use the same dose and ratio for 2-3 days and observe the effects and journal how you feel to keep a good record of what works for you. Adjust the ratio or amount accordingly.
Increase the dose in small increments, noting any desired effects.
Don't overdo it. Small doses of CBD tend to stimulate; larger doses sedate. You will know when you've had too much because you won't feel well.

CBD

has no known adverse side effects, but it's important to remember that an excessive amount of

CBD

is often less effective therapeutically than a moderate dose.
A commonly recommended dosage (after slowly increasing your dose) is 25-50 mg per day. However, some CBD users report using much higher doses and feeling great, as well as reports of therapeutic effectiveness at just 5 g/day. Dosing is individual.
If you are looking for high therapeutic doses of CBD for severe health conditions, talk to your doctor.
As mentioned earlier, studies have shown that full-spectrum

CBD

-oil (with a small amount of

THC

) is effective at much lower doses and has a much wider therapeutic window than pure C

BD isolate.
drug interactions
CBD can interact with many common prescription drugs. We know that at sufficient dosages, CBD can change how your body metabolizes painkillers, statins, blood thinners, and insulin. THC enhances the painkilling effects of opiates, while CBD can also reduce withdrawal symptoms, and dependence/addition to certain medications.
CBD-drug interactions can be dangerous, but they can also help mitigate side effects while synergistically improving a patient's quality of life. So there isn't a clear simple directive on this issue. If you take prescription medication then CBD industry experts recommend monitoring changes in blood levels with your doctor and, if need be, adjust your dosage of both CBD & your medication.
The higher the CBD dose, the more likely problematic interactions are with prescription medications, so keep that in mind. Do not be afraid to talk to your doctor about CBD. My primary care doctor actually recommends CBD to his patients and told me that 100% of his lupus patients have reported improved sleep and decreased pain within just two days of taking CBD oil. Your doctor is probably more open and knowledgeable about the benefits of CBD and how to manage your care if take Rx medications than you might think. If they are not, it might be time to find a new doctor.
I recommend Kannaway Full Spectrum Oil &/or capsules, click to purchase
CBD for pets
Because dogs and cats also have an endocannabinoid system to regulate their health, CBD products are used to treat a host of pet health issues:
seizures
inflammation (chronic health conditions, skin problems)
anxiety (fireworks, storms, plane travel, separation anxiety)
pain (cancer, end of life care)
improving joint mobility and flexibility
Although pet-based CBD products have also not been officially approved by regulators, CBD pet products made from imported hemp are legal to use and are being used with reported great success. Dosing is based on mg of CBD in an individual product rather than standard quantities because different products have very different concentrations of oil present.
It is suggested to start at the lower end of the dose range and stay there for several days noting any changes and observing your pet's behavior closely. Use that information and work up slowly if no effect is seen after a good 1-2 weeks of use.
Pet dosing guidelines will be specified on the product packaging.
brands I recommend
To learn exactly how to get started taking CBD oil as a beginner including exactly how much to take. Includes my top recommended CBD oil products cheatsheet. It's free for subscibers just enter your email addrress below.
I recommend Kannaway Full Spectrum Oil &/or capsules, click to purchase
I hope that I've been able to answer all of your questions about CBD oil! Let me know if you have any other questions by leaving a comment below, or to consult with me personally about a CBD nutritional therapy that's right for you, or to learn more about getting become a Kannaway Brand Ambassador yourself, just schedule a phone consultation with me using the scheduler below. I look forward to chatting with you.
research resources
research reviews:
to slow Alzheimer's disease progression:
Autism:
Epilepsy:
to treat Parkinson's:
anti-inflammatory affects:
for pain:
to help with diabetes:
to treat addiction:
smoking cessation:
to treat cancer:
to treat anxiety:
to improve cellular health:
increased mood:
sleep: