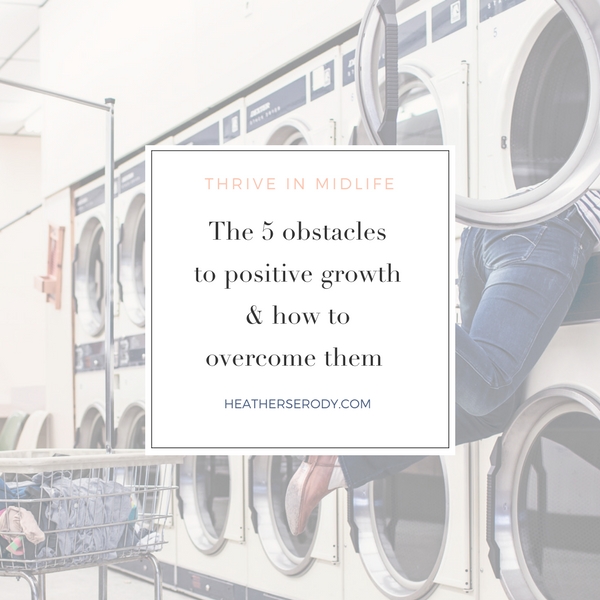 The 5 obstacles of positive growth are part of Buddhist teachings that specifically describe the five biggest obstacles to meditation. In my experience, they can be applied more broadly to show up as any kind of obstacle to positive growth in your life. Do you recognize any of them in your own life?
Torpor or sloth: a sluggishness or laziness takes over and stalls your energy and overcomes your best efforts.
Agitation or vritti: thoughts of the mind that disturb peaceful consciousness.
Craving: wanting that which you don't have.
Aversion or ill-will toward others or self: pushing away life as it is.
Doubt: questioning one's capabilities, one's path, or one's method to achieve positive growth.
how they showed up for me
Here are a few examples of how the enemies have shown up for me most recently in my yoga teacher training:
Despite my long years of experience in both yoga and meditation my mind never ceases to insert self-defeating thoughts about whether or not I'll be any good at teaching yoga (#2 agitation).
I feel compelled to write out all of my yoga pose cues out on paper like a script before I practice teaching. I want to hold my script it in hand to read from because somehow my mind doubts that I will be able to recall the proper cues as I go (#5 doubt).
I often choose to lie on the couch and watch TV instead of getting on my mat for home practice (#1 sloth).
Sometimes I look around at the twenty-somethings in my class and my mind tells me that my 45-year-old body isn't representative of what a yoga teacher's body should look like (#2 #3 #4 #5 – agitation, craving, aversion, doubt).
born of fear
Yeah, I hate to admit that I have thoughts like that. They suck. They sap my energy and sabotage my self-esteem. More than that they conspire to keep me stuck and mot moving forward with my desire to be the best yoga teacher I can be.
When my mind is shouting at me like a monkey, sloth wants me to stay on the couch, I resist my body just as I am, or doubt my path or even my own abilities I recognize first and foremost that the 5 obstacles to positive growth are all the children born of FEAR.
Writer Elizabeth Gilbert in her book Big Magic, recognized fear as an integral part of her own creative progress as a writer. Instead of fighting with fear or trying to rid herself of it, she instead uses this wonderful car metaphor to explain how she deals with her fear, where she sees herself driving the car of her creative life as a writer. Next to her in the front seat sits creativity, who she needs to help her navigate where she needs to go. In the back seat, safely buckled in; sits fear. Fear sits close enough that she can hear what fear has to say. This way she can manage its directives and apply solutions to keep fear from growing or even hijacking the car. I love how Gilbert acknowledges fear as an inextricable yet hostile partner that comes along on any journey toward positive life growth.
The 5 obstacles of positive growth are all the children born of FEAR.
So the first thing to do when you feel stuck is realizing that you've given one or more of the five obstacles the wheel and they are driving your car off the road you've chosen. The next thing to do is to take the wheel back. But how? It's great that The Buddhist tradition also prescribes specific remedies to overcome the five obstacles.

overcoming obstacles
Torpor or sloth can be countered by applying a precise mental energy called vitakka. Rousing renewed energy and enthusiasm toward one's goal is a form of applying vitakka. One way to do this is to try approaching your goal with a sense of wonder. Try to see life with a beginner's mind can generate inertia into enthusiasm. Deliberately trying to cultivate a sense of delight in your endeavors by training your perception to see the beautiful in the ordinary can also generate a renewed sense of interest allowing fresh energy to replace torpor and sluggishness.
Agitation of the mind can be assuaged by taking the time to investigate what the nature of your restless thoughts are about. Sometimes they are pressing concerns that rightfully need to be addressed before you can proceed with your quest for positive self-growth. Your basic needs for food, shelter, and security must be in place before making progress toward higher levels of self-growth. Once those are in place the mind should begin to quiet. Turning to a regular meditation practice can further still an agitated and anxious mind.
Meeting the rattling thoughts of the mind in a quiet environment with non-judgement is the magic to decreasing their energy and repetition. Over time and with regular practice agitated thoughts decrease, which then allows intuition, insight, and the voice of the true self to be heard and guide you on your path. A feeling of happiness called sukha follows from the cultivation of a quiet mind. It is a long journey that must be walked daily to feel the benefits of a calm mind.
Craving is mitigated by contemplating the impermanence of sensory desires. No sooner do we have what we wanted does it vanish to be replaced by yet another desire. Happiness and unhappiness follow these ups and downs of craving leaving us mired in the vicious cycle. Not only that, but cravings of mind for certain food, drink, lust, beauty, comfort, vanity, sound, touch, etc. hijack your mind's attention constantly and continually. After all, we are sensory beings, so this is normal. But a life spent satisfying the whims of sensory attachments can easily leave other important longer term goals neglected.
The remedy to control craving is to develop the skill of single-pointed focus called ekaggatā. The ability to control and manage sensory desires lies in your ability to tap into your inherent ability to mentally unify yourself with the object of your attention, where you and your object become one. This immersive action closes out the other doorways of sensory input. We've all experienced ekaggatā – when you are so engrossed in an activity that time passes without your conscious awareness, and you have no idea what's been going on around you. In ekggatā, the energy of focusing and the bodily energy are operating in harmony, not against each other.
Aversion when directed at the self, denies one the freedom and happiness of a peaceful heart. When directed toward others it has the effect of distracting your attention from your own personal growth. The antidote to ill-will or aversion is cultivating a practice of loving-kindness (called Metta) toward the object of your aversion. This includes forgiving faults in others by recognizing them in yourself, connecting with a feeling of unity toward others by remembering that we are all connected energetically, and putting aside feelings of aversion to instead focus on feelings of compassion and empathy. When practicing lovingkindness a specific feeling of joy (called pīti) emerges which replaces aversion.
Doubt is overcome by the practice of vicāra, which is a continuing inquiry and application of educated discernment toward your doubts. Doubts only linger if there is uncertainty; so the only way to dispel doubt is to question your uncertainties, test your fears, and see whether they are true. This requires a courageous heart. Actively seeking out tools, education, skills, knowledge or enlisting people to help you overcome your doubts can help you and boost your confidence.
Remembering that we all deal with the five children of fear in our lives makes me feel less alone. Knowing that there are centuries-old and proven remedies to work on in my efforts at positive self-growth is a great relief, too. Which remedies sound like they could work best for you?