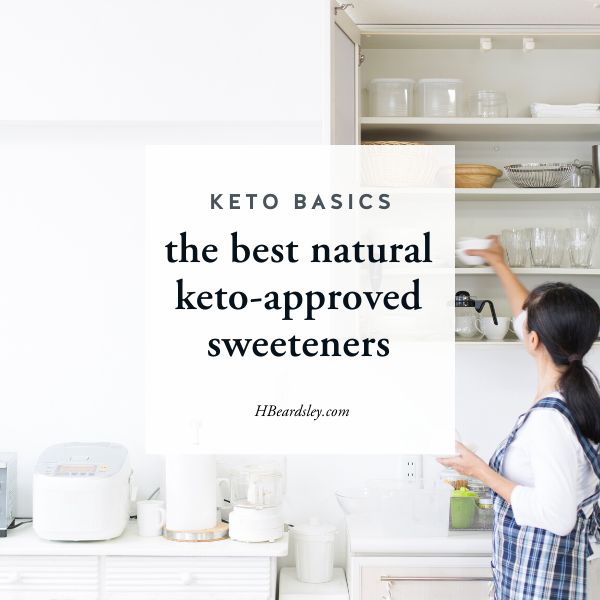 Because I have insulin resistance (a metabolic disorder that causes me to have chronically high fasting blood sugars and insulin) I now only eat foods low in carbohydrates that minimize my body's blood sugar and insulin response. This is why I avoid even natural sweeteners like cane sugar, maple syrup, honey, coconut sugar, and agave which, although 'natural,' spike my blood sugar and insulin and can make my insulin resistance worse.
Thankfully, there are a number of natural sweeteners that do not affect blood sugar & insulin (or have a minimal impact) that allow me to enjoy sweet treats while also helping my body to heal my insulin resistance. In the eight months I've been eating low carb and using low carb sweeteners, I have reduced my average fasting blood sugars from 135-145 to about 110. Using these natural keto-approved sweeteners has been a big part of that success.
Click the hyperlinks to shop as you read or scroll down for all of the recommended items in one place.
the best natural keto-approved sweeteners
1. Stevia
Stevia comes from the leaf of the Stevia plant, so it's as natural as it gets! It's available in powdered or liquid form. Studies have shown that stevia not only does not raise blood sugar but that it can minimize spikes in blood glucose and insulin levels after eating. Some people complain that Stevia has a bad aftertaste, but I find that that varies by manufacturer, so if you don't like a certain brand of Stevia, I encourage you to try another one!
Because Stevia is many times more naturally sweet than table sugar know that any type of powdered Stevia that is formulated to measure 'cup for cup like sugar' means that it has artificial fillers like maltodextrin (which spikes blood sugar) or even regular table sugar added to it which pretty much defeats the purpose of using Stevia in the first place.
I Recommend:
2. Erythritol
Erythritol is one of many types of sugar alcohol. Sugar alcohols provide about a half to one-third fewer calories than regular sugar. Sugar alcohols are converted to glucose more slowly, require little or no insulin to be metabolized and don't cause sudden increases in blood sugar.
Erythritol is the darling of all sugar alcohols because it commonly found in fruits like pears, grapes, melons, mushrooms, soy sauce, and cheese so our bodies recognize it. Studies on Erythritol in humans show that it does NOT cause digestive distress (1) like other sugar alcohols can, and has been proven to be very safe for human consumption. Double-blind, randomized control trial studies confirm that irrespective of sweetness level, the consumption of erythritol does not significantly raise blood glucose or insulin levels after eating.(2) Erythritol is not metabolized after it's absorbed, so the vast majority (about 90 percent) is excreted in the urine.
Beware that most available Erythritol is made using corn sourced from China. Because corn is one of the most genetically modified foods, I only buy Erythritol that is made from cane fermentation here in the U.S. I feel better about the accountability of American food manufacturing rather than that happening overseas, but that's me. I just encourage you to read labels, go to manufacturer's website and find out specifically how their product is made and decide for yourself if you're good with it.
Also note that Erythritol can have what's called a 'cooling effect' aftertaste, similar to cooling feeling after eating mint. One way to counter this is to combine erythritol with powdered stevia, which you can do yourself to save money. The erythritol will counter the slightly bitter aftertaste of the stevia and the stevia will decrease the cooling effect of the erythritol, resulting in a combination that's the best of both options.
I Recommend:
Swerve Confectioner's Sweetener is a zero-calorie, non-glycemic natural sweetener that does not affect blood glucose or insulin levels. It's my number one go-to sweetener for baking and cooking. Swerve is a blend of Erythritol and

Oligosaccharides, which

are sweet tasting non-digestible carbohydrates from fruits and starchy root vegetables. Oligosaccharides are prebiotic fibers that are indigestible but can help stimulate beneficial bacteria in your gut. Swerve measures out cup for cup the same as table sugar and it browns in baking just like table sugar. Swerve only uses ingredients sourced in the United States & Europe and is a small independently-owned U.S. based company. I only use the confectioners type of Swerve because the granular type recrystallizes at cooler temperatures. If you are baking with Swerve it has 51 calories per cup and lists 5g carbs per teaspoon, but again, because the body doesn't metabolize these carbs, you don't need to count them.
3. Monk fruit:
Monk fruit is also called Luo Han Guo and is a fruit native to China. The sweetness of Monk Fruit is due to its antioxidant compounds called mogrosides which can vary in their level of sweetness. Mogrosides are metabolized differently by the body than natural sugars. That's why, despite their very sweet taste, these fruits contain no calories and have no effect on blood sugar.
You should determine whether it is right for you by testing your blood sugar 30 minutes after ingesting monk fruit to determine whether it is right for you. Remember that the best way you can become your own best health advocate is to experiment and test how certain foods react to your own body.
I Recommend:
Lakanto Monkfruit Sweetener is a mix of monk fruit extract and erythritol with no fiber, no maltodextrin, and no artificial flavoring or sweeteners. It can be used 1:1 to replace sugar in recipes. Comes in Classic, Golden, and Powdered–Golden Lakanto is a brown sugar substitute, Classic White is a white sugar substitute, and Classic Powder is a powdered sugar substitute.
Sweeteners to avoid
Quick explanations for those who want more information about why I don't use other types of sweeteners.
Other Sugar Alcohols
Other sugar alcohols like sorbitol, lactitol, maltitol, mannitol, and xylitol can be chemically manufactured and sometimes uses hydrogenation which is a completely unnatural way to manufacture food for human consumption. In addition to being artificially created, these sugar alcohols come with nasty side effects like bloating and gastrointestinal distress because they are not absorbed as quickly as Erythritol and tend to react badly in the intestine. Please also note that xylitol is toxic to dogs because they do not metabolize it the way humans do. (4) Do not ever give your dog or cat anything sweetened with xylitol. I avoid these types of sugar alcohols for all these reasons.
Artificial Sweeteners
I think we all know that there are artificial sweeteners like Aspartame (Equal, NutraSweet), Saccharin (Sweet 'N Low, Sweet Twin), Xylitol, Sorbitol, & Sucralose (Splenda) that don't affect blood sugar BUT they have terrible side effects and can actually make insulin resistance, blood sugar disorders, and other metabolic conditions worse.(5) I avoid artificial sweeteners at all costs and have had to change my brand of chewing gum, toothpaste, and sports drinks that my kids drink in order to avoid them – which reminds me to write a post about that, too.
I avoid artificial sweeteners at all costs and have had to change my brand of chewing gum, toothpaste, and sports drinks that my kids drink to avoid them.
SaveSave
SaveSave
SaveSave
SaveSave
SaveSave
SaveSave
SaveSave
SaveSave