Labor Day parties are so predictable – the poor host sweating over the hot grill, the soggy salads, the cold hamburgers. I think a Labor Day party should involve a relatively labor-free effort from the host, don't you agree? I'm all about it, so I've devised a super-simple Spanish tapas-inspired menu for your pool party to feed 4-8 people with very little fuss, and no 'day-of' cooking is required; either. I've got everything totally covered for you from:
The Menu
A cute graphic to use as your invite in your email or text
A fun retro BBQ playlist that's ready to go; just hit play.
menu
This End-of-summer Tapas party menu requires assembling a platter of ready-to-serve nibbles that you can pick up right from the deli, along with fresh bread. You'll cook garlicky shrimp and roasted tomatoes the day before and serve those at room temperature. After your guests arrive you'll pop a few boxes of frozen garlic butter steamed clams in the microwave and serve those hot. Throw some berries into pre-made sangria and chill for a few hours and you'll be able to lounge around the pool in your fabulous mumu and even swim with your Amigas.
LVP Pink Sangria or make your own. (1 bottle per 2 people) Another option is Crispin Hard Cider – great for daytime drinking. Ask friends to bring what they like to drink if they won't drink sangria.
Tapas Platter: all from the deli – just assemble on a platter (Whole Foods has all of these delicious things): Marcona almonds, chorizo, roasted peppers, caper berries, serrano ham, manchego, Spanish olives, olive oil tortas crackers. (all from the deli)
Garlic Shrimp: make the night before (super quick) – recipe below
Famous Roasted Thyme Tomatoes (1-minute prep; make the day before)
Steamed Clams &/or Mussels (available frozen at Trader Joe's and Publix)
Fresh Bread
invitations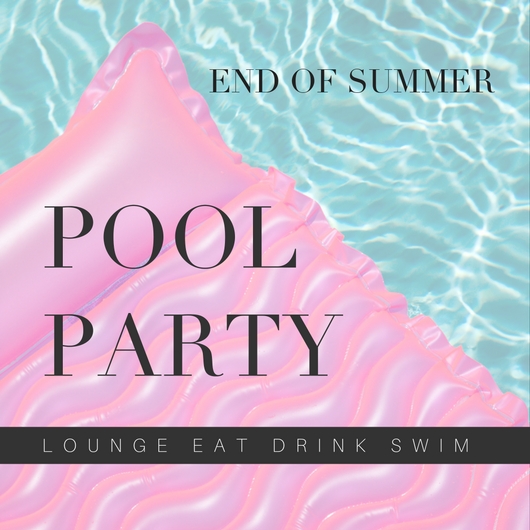 Save the image above or download the PDF by clicking here. Then just text it or email to your guests and add the date and time of your party.
DAY BEFORE
Download your shopping list HERE. Once downloaded, you can print it. Note that you'll need to pick up fresh bread the day of your party to make sure it's perfectly fresh & crusty.
Make the Spicy Shrimp (Gambas al Ajillo)
1 bag of uncooked frozen large shrimp, shelled
1/4 cup olive oil
1 tsp. chopped garlic
1/2 teaspoon coarse salt
1/2 teaspoon crushed red-pepper flakes
1 lemon, cut into wedges, for serving
DIRECTIONS: An hour before cooking take shrimp out of the freezer and defrost. Preheat large fry pan to medium/high. Add oil, toss garlic, shrimp, salt & hot pepper and cook until opaque and firm to the touch, about 3 minutes. Remove from pan and allow to cool. Store in fridge until an hour before the party.
DIRECTIONS: Toss a pint of cherry tomatoes (serves 4) in an oven proof dish with some extra virgin olive oil and with chopped fresh thyme (or dried works just as well) and salt and pepper and roast at 375º F for +/- 30 minutes.
DAY OF
Assemble tapas platter. Refrigerate until 1 hour before party.
Pour Sangria into a large pitcher and add fruit. Reserve extra fruit for extra pitchers. Chill at least 2 hours in the refrigerator.
Set up the table. Set out small plates and bowls for self-service along with napkins, lemon wedges, spoons for shellfish, butter, and stemware on a tray for sangria.
One hour before: Cut up bread and place in a bread basket lined with a pretty linen napkin & cover with a damp paper towel to keep soft. Remove shrimp, tapas platter, & tomatoes from the refrigerator, transfer to serving platter and bowl & set on a serving table to come to room temperature. Set out a large serving bowl and serving spoon for clams so it's ready.
PARTY TIME:
Put on music. Try my Spotify Mad Men Hot Barbecue Playlist for some cool retro tunes just hit the play button in the player below:
Pour the sangria and let the festivities begin. After everyone has arrived pop the clams into the microwave and serve in a giant bowl with lots of cut up lemon wedges.
SHOP THE STORY
SaveSave
SaveSave
SaveSave