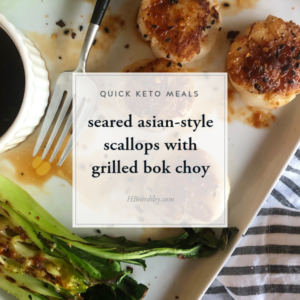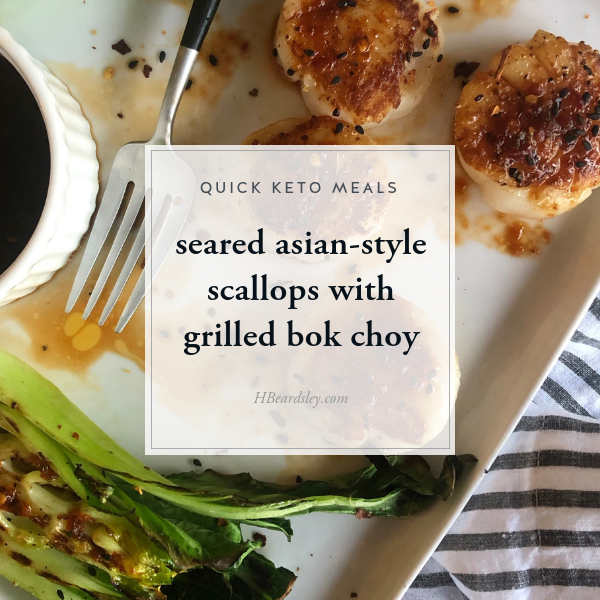 seared asian-style scallops with grilled bok choy
Yield 2 meals
The trick to a good sear on these scallops is to gradually sear them in a cast iron pan over medium heat which imparts a crisp surface. Tamari, toasted sesame oil, and garlic ginger sauce/sriracha combine with a touch of keto-friendly sweetness to pack a flavor punch in the sauce, which is meant to be drizzled over both the scallops and grilled bok choy. 
Ingredients
12 large sea scallops
2 large baby bok choy heads, or 1 large; sliced lengthwise, rinsed and dried
avocado oil
dried red chili flakes (optional)
black sesame seeds (optional)
for the sauce
3 TBS gluten-free organic tamari sauce
1 TBS chili garlic sauce or sriracha
2 tsp red boat fish sauce
1 TBS rice wine vinegar
1 TBS toasted sesame oil 
1 tsp stevia glycerite 
Instructions
Make the sauce by adding all of the sauce ingredients to a medium sized bowl and whisk them together. Taste for your desired amount of sweetness and spice and adjust as desired.
Light the grill and season your bok choy lightly with salt and pepper. Clean your grill grates well and lightly oil so the bok choy does not stick. Set aside. 
Heat a cast-iron skillet large enough to hold the scallops without crowding to medium-high heat. Add a few drops of avocado oil to the pan; just enough to thinly cover. When the oil is just about smoking, turn the heat down to medium and then add the scallops in one layer and let them cook for 5 minutes. Check the scallops as they cook, you want the surface to brown gradually. They are ready to flip when the underside is crisped and caramelized deep brown.
Turn off the heat and flip scallops. Leave them in the pan until firm to the touch.
While the scallops are cooking, grill the bok choy over medium to medium/low flame until the leaves have wilted and the underside has some grill marks. Plate immediately. 
Plate scallops browned side up alongside the bok choy and serve with the sauce.
Garnish with extra dried chili flakes and black sesame seeds if desired. 
Courses dinner
Cuisine Asian
Recipe by Heather Beardsley midlife transformational health coach at https://hbeardsley.com/seared-asian-style-scallops-with-grilled-bok-choy/