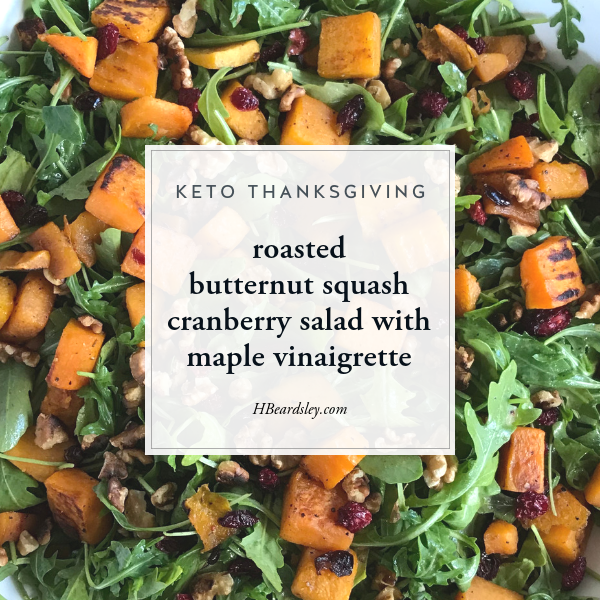 Marshmallow-topped butternut squash was my favorite Thanksgiving side dish back in my former 'crab-ohydrate' eating days. I don't miss those sugar crashes after eating it though, which is why I no longer even want to eat sides like those anymore. But I do still crave the taste of lightly sweetened butternut squash on Thanksgiving. This recipe is my low carb adaptation of Ina Garten's butternut squash salad recipe.
My adaptation uses stevia sweetened cranberries (super easy to make yourself), substitutes low carb maple extract instead of maple syrup, and uses stevia simple syrup to sweeten things up without adding any extra carbs. The toasted walnuts bring a nice crunchy texture to this roasted butternut squash cranberry salad. The maple vinaigrette brings everything together with a slightly sweet tang. With just 8 total carbohydrates & 2 g fiber per serving, this salad is a great way to work a little bit of your favorite naturally sweet fall flavors into your low-carb Thanksgiving game. Or, feel free to add some protein and call it a meal any time of year.
special ingredients
You'll need some special low carb ingredients to make this salad low carb, so be sure to order/purchase them well ahead of making your salad.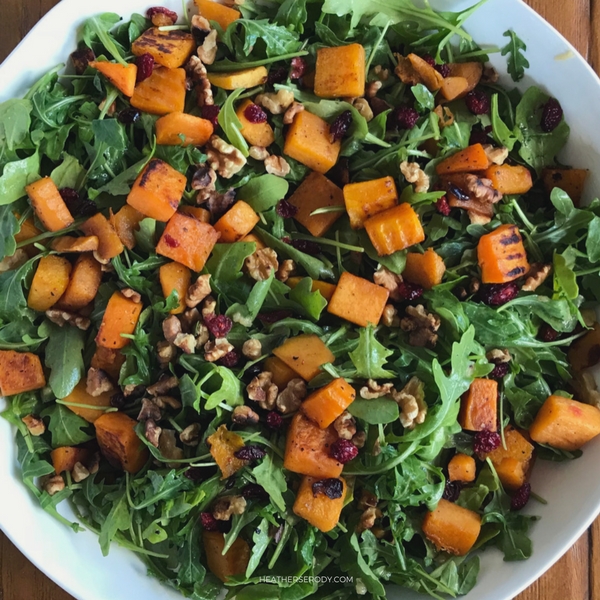 holiday prep tips
Reconstitute & sweeten your cranberries up to 1 week ahead of time. Store drained cranberries covered in the refrigerator.
You can prepare the dressing up to 3 days ahead.
Roast the squash up to 2 days ahead, cover and refrigerate until ready to use. Allow squash to come to room temperature before adding to salad.
Toast walnuts and assemble the salad right before serving.
macro comparison
Ina Garten's roasted butternut squash salad with cider vinaigrette: 551 calories, 43 g fat, 37 g carbohydrate, 11 g protein, 5 g fiber
My roasted butternut cranberry salad with maple vinaigrette: 180 calories, 17 g fat, 8 g carbohydrate, 2 g protein, 2 g fiber