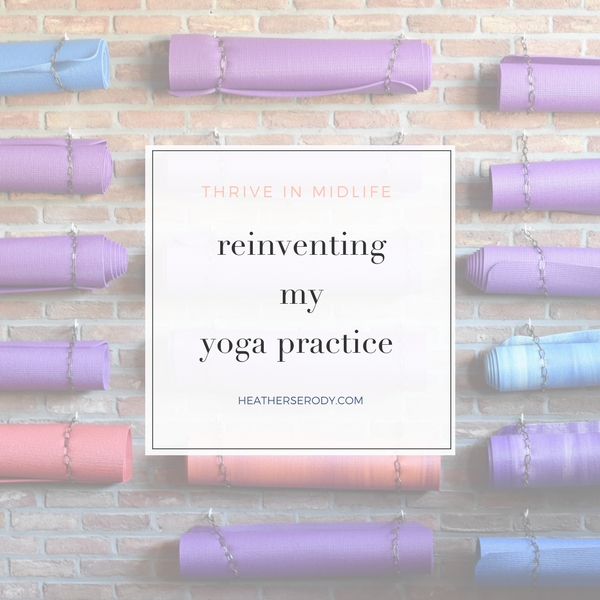 reinventing my yoga practice
My yoga practice was born of a desire for peace and calm in my life. You see, my beautiful little boy was born with a large birthmark on his head. So, from the moment I took him in with my eyes, I began worrying – about this birthmark, about whether everything was going to be ok. I was out of my head with worry for years. There were endless doctor visits, surgeries, pain, skin-expanders, and stitches. The only relief I felt from that kind of piercing worry was when I was practicing yoga.
I practiced for over 10 years faithfully two or three times a week because it helped me. I found that when I was trying to get my leg behind my head or hold myself into a handstand, I forgot about all of my worry and stress. Focused practice dissipated all of that negative energy and replaced that with a calm (ok, tired) energy that helped me change my vibration into someone who was handling it. Over time, yoga and stress-relief became inextricably linked together in my mind, and this dynamic worked beautifully for many years.
when things change
My son is just fine now. There was no fanfare after the last stitch came out, it just ended quietly and left me with a life that I found I could now shift into fourth gear. Now when I came to my mat, the clear purpose that had always been there, was gone. I wasn't needing yoga to give me so much anymore. In the absence of needing relief, my yoga payoffs weren't as obvious. I began to wonder if this was really now just about reaching pinnacle poses and that felt less important- less of an important reason to spend such time and energy and money.
Was it time to move on, or was it possible to reinvent my yoga practice?
About a year and a half ago, I stopped going for a few months. I call it my yoga sabbatical. I wanted to see what would happen without my yoga classes. I never stopped thinking about my practice and how I missed it. I knew that I didn't ever want those stressful days back when I needed yoga, but at the same time, I had to figure out a compelling reason to keep going.
This is not unlike the runner who begins to run in order to lose weight. After a long time running the weight comes off. She has to decide now if she wants to run for the sheer joy of doing it.
My yoga sabbatical revealed that the relief I thought I was getting to cope with my previously insanely stressful life can also be used for other purposes; dedicating my practice to something greater than myself, to test my own limits, to challenge myself, to stick a handstand, to cultivate a sense of equanimity on my mat, or just to see if I sustain a single-pointed focus and transcend my human experience.
What I learned is that our reasons why we come to yoga can and will change over time. Yoga can meet you for whatever purpose, need, or intention you might have. Yoga links you up with whatever you bring to your mat and has innumerable gifts to bestow if you are open to reinventing your practice.
I'm back to my mat again. I've decided to try a new kind of relationship to yoga, and we're taking it slow.
SaveSave