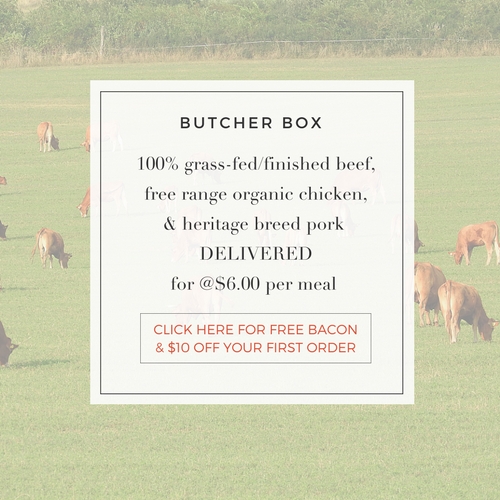 I like to share with my readers exceptional companies whose products I use and find really helpful for my low-carb and primal lifestyle. I've been relying on ButcherBox to deliver me monthly deliveries of 100% grass-fed beef, organic chicken, and heritage breed pork for the past 6 months. It's now something that I've come to rely on for my low-carb & primal lifestyle and I don't know what I'd without it. Bottom Line? Be sure to scroll down for a limited offer for free bacon & $10 off your first order!
why I love it
I love that I have a consistent source of the highest quality meat I can find. There is a huge difference between ordinary meat from feedlots that are fed grain and antibiotics and 100% grass-fed meat raised in open pastures.
97% of the meat available in grocery stores comes from poor quality factory farmed meat. Before I had my subscription to ButcherBox maybe 1/3 of my family's meals contained organic and pastured meats, but now that I have ButcherBox it's about 80%+ which is huge. Ordering from ButcherBox was a way that I could make the commitment to stop eating factory farmed meat.
I love that I don't have to go to the expensive grocery store and have to make that hard choice to choose overpriced organic meat anymore.
I love the peace of mind that comes with knowing that the ButcherBox farmers adhere to highest standards of animal welfare, and I also feel great supporting those small farmers directly by my subscription.
Each month you'll get a different box and variety and be able to try new cuts of meat. Recipe cards are included in every box to help make prepping your meals easy. you can customize, too.
ButcherBox bacon is uncured, sugar- and nitrate-free, paleo friendly and non-GMO verified. It's legit the best bacon ever! I customized my order to get 2 packages of bacon in every monthly delivery.
economical
Because they cut out the middleman, ButcherBox can keep their prices economical. For $129/month, you get 8 -11 pounds meat which is enough for 20-28 individual meals at around 6oz. per meal. Delivery is offered monthly, but you can change the frequency – once a month or every other month, and you can cancel at any time with no penalty.
Your delivery comes packed in a padded refrigerated reusable grocery bag and packed in dry ice in a cooler. Even in the hottest summer months in south Florida, my delivery has always come frozen.
limited time offer
ButcherBox wants to give all Thrive In Midlife readers free uncured, pastured, and sugar-free bacon and $10 off your first order when you subscribe to their monthly service. Of course, you can cancel anytime if you don't want to continue getting it, and shipping is always free. This deal expires on September 28th, so don't wait to order!
click here to get free bacon & $10 off your first order
p.s. ButcherBox was named The Best Food Box of 2016 by Men's Health and has been featured on the Today Show, in New York Times, Inc. Magazine, Fast Company, and Food & Wine.
p.p.s Curious how your delivery arrives? Watch an unboxing here.
SaveSave
SaveSave
SaveSave
SaveSave
SaveSave
SaveSave
SaveSave