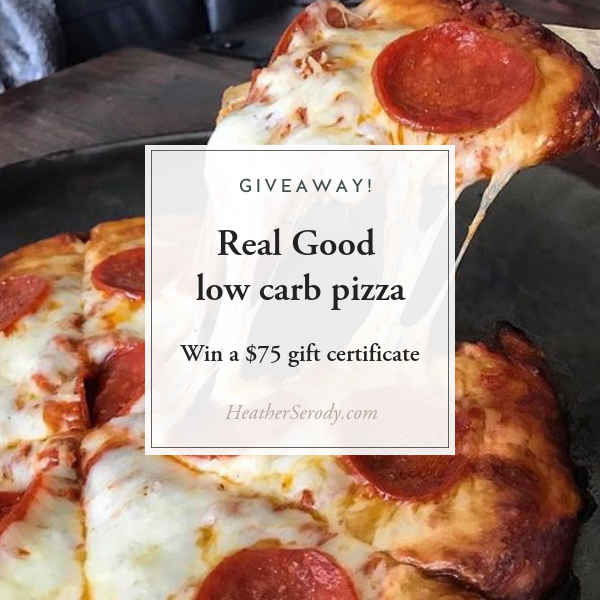 Just because you eat low carb does not mean you have to feel deprived of your favorite foods! I just love pizza, and always have, which is why I always have a cartonful of Real Good Pizzas in my freezer for Friday night pizza night.
Real Good Pizzas are chicken and cheese crust pizzas that are very low carb and made with only wholesome ingredients. They make small pizzas, larger pizzas, cauliflower crust pizzas, beef enchiladas, and now…pizza snacks! The folks at Real Good Pizza Company do a wonderful job taking care of their customers and have an incredible customer service team. Real Good quick ships all of their products frozen in dry ice.
Real Good Pizza Co. is generously donating a $75.00 gift certificate to ONE lucky Thrive In Midlife reader!
2 steps to enter
1. Follow @ThriveInMidlife and @RealGoodFoods on Instagram
&/OR
…if you do not have an Instagram account alternately you must like AND follow both Thrive in Midlife and Real Good Foods on Facebook.
2. Leave a comment on Facebook &/or Instagram AND TAG A FRIEND about why you love Real Good Pizzas or want to try them!
**To get an extra bonus entry and increase your odds of winning, follow both accounts on Instagram AND Facebook!
get 10% off with code 'thrive'
click here to order
I'm hooking you up with 10% off your first order from Real Good Foods! Just use coupon code thrive at checkout to get 10% off. Real Good Pizzas are super popular with the low carb community and sometimes their stock is sold out. If this happens, just contact their customer service and they will get you taken care of asap.
Winner will be chosen on Sunday, September 23rd, 2018 at 5 pm. Good Luck!