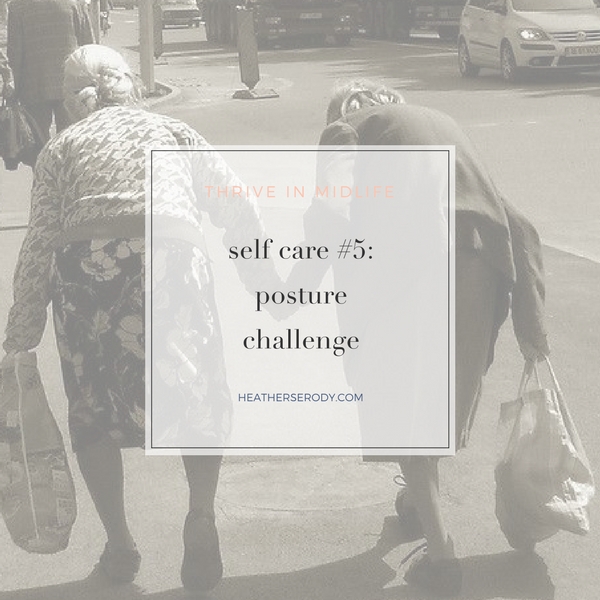 how's your posture?
My massage therapist recruited me to participate in a posture challenge which is one month of sustained effort to make my posture better. For me, this means pulling my shoulders back. Due to overly tight chest muscles and a torn rotator cuff, my shoulders have become rounded forward over time causing havoc with my neck. I'm determined to try to correct the misalignment before I'm hunched forward permanently and I'm challenging you to do the same.
Changing any habit requires at least a 21-day commitment. Using the four steps outlined below, get yourself into good postural position and try to sustain it for a minute. Aim to increase your time at each go; working your way up to five minutes each time or more. Also; practice every time you think about it. With persistence, you'll get yourself into the hard-won, enviable, and oh-so-rare category of someone who has good posture.
why bother?
Good posture makes you look thinner, allows your body to perform better, and wards off the ravages of age and gravity. It will reward you with gains in height, an air of grace and refinement, and the demeanor of someone who owns the space they occupy. Good posture is contagious; walk into a room with good posture and everyone else straightens up, too. Good posture is positive body language! Good posture is FREE to everyone and has incredible anti-aging effects. I don't care how thin you are, how unwrinkled your skin is, or what kind of money you spent on your clothes; if your posture is bad you and I both know you just don't look young or even well.
practice these four steps
1. Stand with your feet directly underneath your hip bones.
Easy enough. You should not be able to see much more than your toes.
2. Tuck the tailbone
This is a small movement with huge benefits. Tuck your tailbone slightly down and under; enough that you feel your pubic bone in the front of your body rise up, creating a lengthening in the torso and a slight engagement with your core muscles. (See pelvic tilt graphic below.)
Tucking the tailbone banishes the trademark sign of bad posture; the dreaded 'belly pooch.' Go do this secret ninja move in the mirror and tell me if it doesn't make you look 5 pounds thinner. Aligning the pelvis like this also opens up the pelvis openings allowing nerves and blood flow to function effortlessly.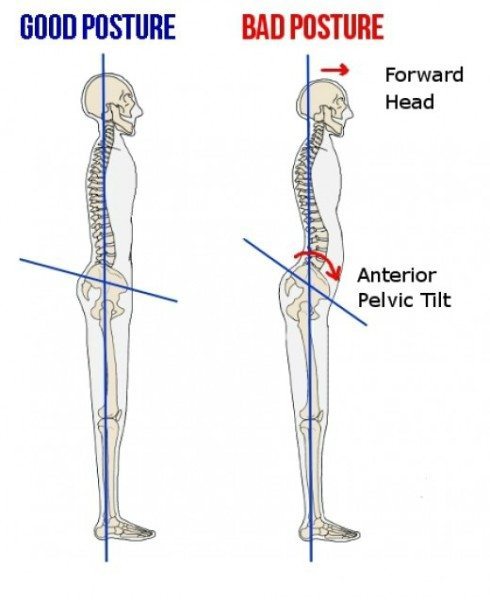 3. Externally rotate the arms; pinkies near your mid-thigh.
Bring your hands together outstretched in front of you. Now spread them apart in an arching motion finishing with your pinky fingers landing approximately where the seam of your pant would be mid-thigh. In this slightly exaggerated position, notice that the shoulders have to open and broaden, allowing the shoulder blades to settle down the back; increasing the space between earlobe and shoulder.
4. Pull your hyoid back.
Say what?
Okay stay with me here: take your neck with one hand as if you were going to choke yourself. You just instinctively grabbed the top of your neck just under the tongue, right? That's approximately where your hyoid bone lies; just floating there in mid-neck.
To get the head into the proper postural alignment, the hyoid needs to be pulled toward the back body. The importance of this posterior hyoid move cannot be understated if you think of all the time we spend craning our necks down to look at the computer or our smartphones. Pulling the hyoid back aligns the cervical spine; increases the cervical curve, and allow all of those nerves and blood to flow more easily and those chronically stressed neck muscles to relax.
Your body will at this point be sending you strong messages that this so-called good posture is not comfortable and it actually doesn't feel very good! Good. That means you're probably doing it right, because you've been standing wrong for so long it is logical to expect that changing things will at first feel very uncomfortable. THIS WON'T LAST. Persist!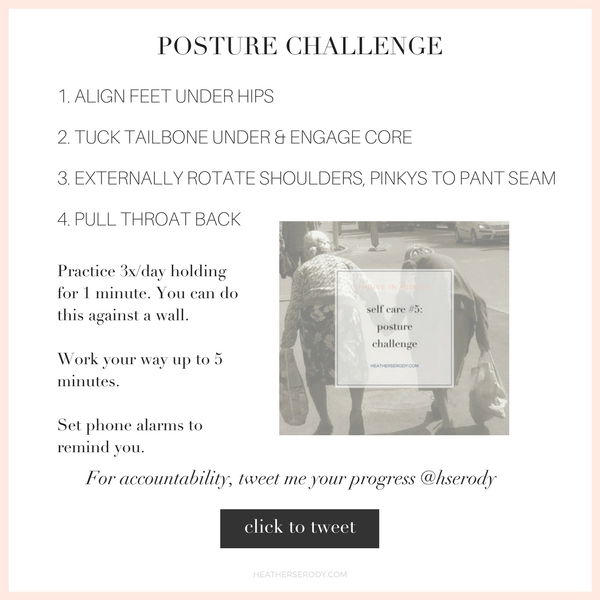 click here to download this graphic
p.s. BOTH my massage therapist and my physical therapist implore all their clients to NOT look down while on your smartphone. There is a worldwide EPIDEMIC of TEXT NECK syndrome which does serious damage to your neck alignment from all of the hours we are constantly spending looking down on our phones. Save your spine and raise up your phone to your eye level and keep your hyoid back!
*posture graphic via Somastruct.