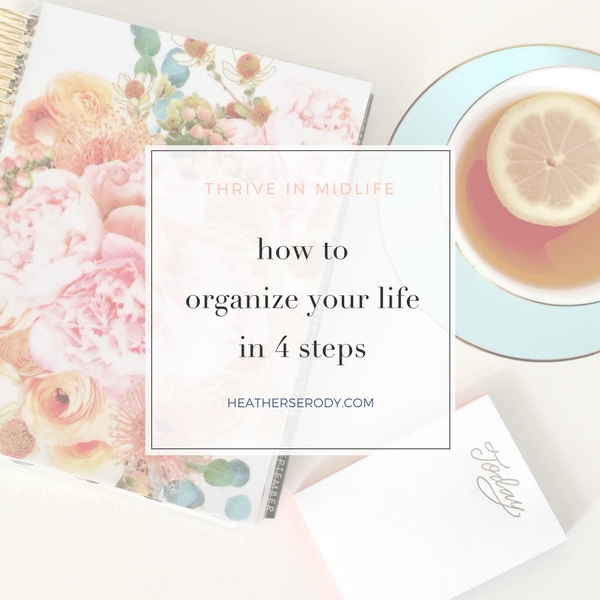 how to organize your life in 4 steps
Wasn't it fun to make all of those plans for a great New Year? Creating a vision board or a written Life Plan are great, but you still have to deal with the day to day stuff, too. Today, the boys went back to school after sixteen days of winter break. That, and several rotating house guests and a general 'let things go,' attitude from yours truly have left my house and office a total mess.
When this happens, I revive my system to get organized. I learned it from David Allen. His method gave me a comprehensive system to use over and over to keep my life organized. If you'd like the abbreviated version for this week; I recommend just four steps. You can implement these in just one day.
Step 1: INBOX EVERYTHING
Physically put everything that needs attention or needs to be put away in an actual box, bin, or basket.
If you can touch it, and it needs your attention, put it in! This includes things that just need to be put away. It's really that simple. Pick up your basket and quickly go through your home and put everything that needs attention in.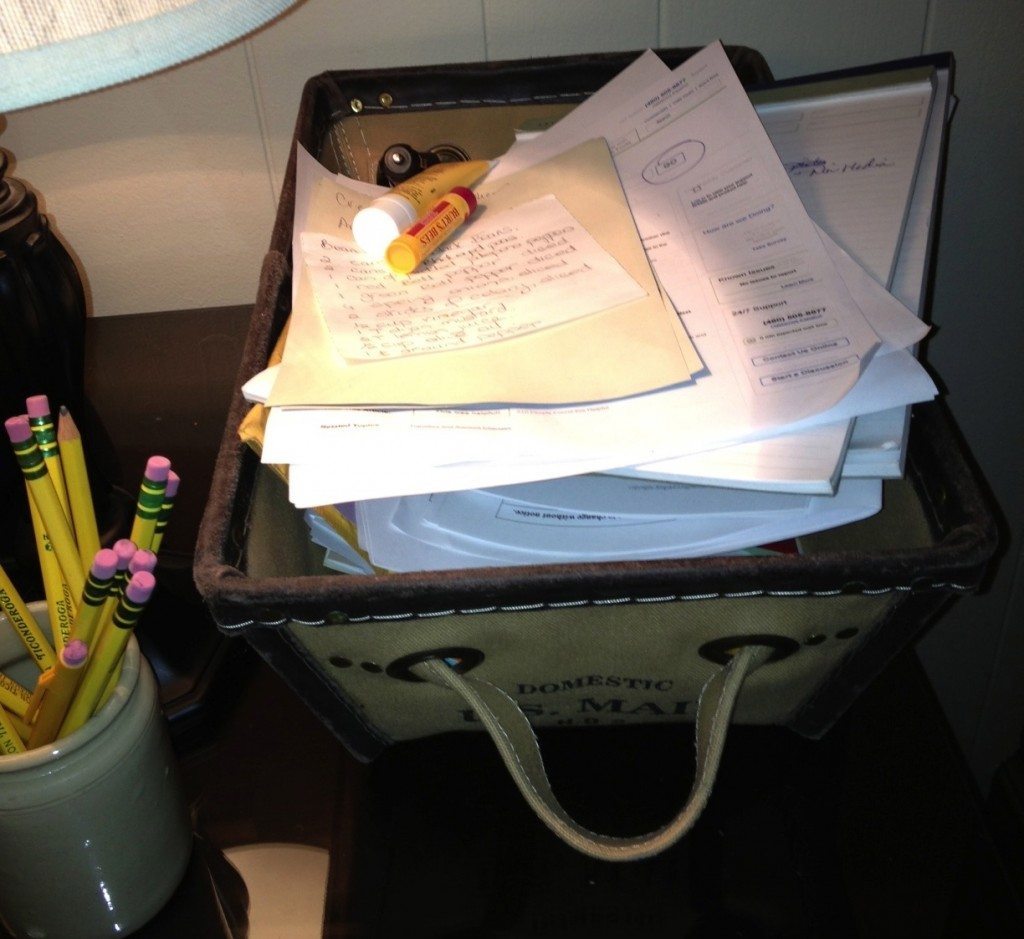 This is how my inbox looks today after I corralled everything. Inboxing everything is preferable because:
You are creating one space for everything that needs attention to be processed.
It's the quickest way to tidy up without getting losing focus by distractions
I recommend buying a dedicated inbox basket that you always use for this task. Use a bin or a big laundry basket if you've got stuff everywhere. Try here and here if you're looking for ideas.
Step 2: SET UP AND USE THE REMINDERS APP TO INBOX EVERYTHING ELSE
The Reminders App on your iPhone or iPad allows you to to create lists that serve as virtual inboxes for all the intangible stuff floating around in your brain – things like,
call Mom
make tax appointment, and
pick up dry cleaning.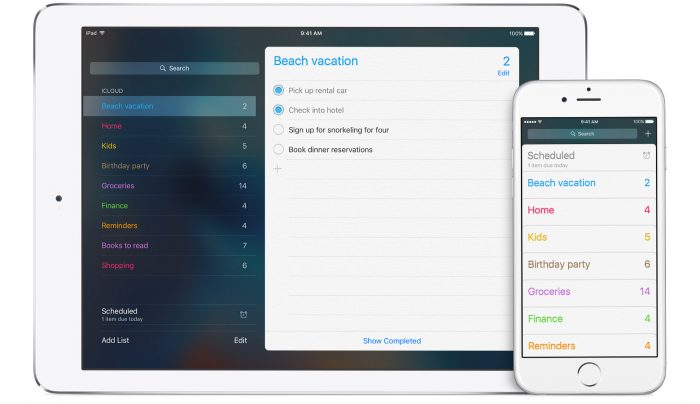 All mental tasks rattling around in your head take up memory bandwidth; of which you have a finite amount. The less mental bandwidth you have to operate with, the less productive you become. Using Reminders Lists allows you to download all of that mental clutter from your brain which frees up your brain power for more energy, mental space, and creativity.
Place all those mental tasks in an appropriate list on the app and check your reminders daily.
The reminders app is very intuitive to use. It also has some cool features you might not realize; like reminding you when you depart or arrive at a specific place. This has plenty of useful applications if you're forgetful like me. I set a reminder alarm to sound 'Sherwood Forest' every time I arrived at my house for a while just to see what it was like to be greeted by a medieval trumpet fanfare, but I digress. Here are some of the lists I created:
To Do list
Groceries
At Home
Errands
Home Depot
TV Netflix & Movies to watch
Now when I'm at Home Depot I can just check my ongoing list. When I need a new book, I just check my list for what I'd like to read next. As you click (check) things off your list, them off they go away automatically into the "Completed" list. This is very satisfying.
The Reminders App comes pre-installed on all iPhones & iPads. If you're using an Android phone check out the 'Remember The Milk' App but can't vouch for it.
Step 3: PROCESS YOUR PHYSICAL INBOX AND ADD TO YOUR REMINDERS LISTS
Processing means:
Making decisions about things.
Scheduling on your calendar.
Making phone calls.
Putting things away.
Looking things up on the internet.
Talking to others about projects.
Writing checks.
Say you come across a receipt that reminds you that you've been needing to schedule a follow-up appointment with your doctor. If making the appointment with your doctor is possible at the moment (the office is open) and you estimate that it will take less than 2 minutes to complete, then make the appointment right then and add it to your calendar or planner. If you can't accomplish the task needed in less than 2 minutes, then put it on your to-do list in Reminders, file the receipt and move on to the next thing.
Repeat until there is nothing left in your inbox.
Place the inbox in a conspicuous place, then process it on a regular basis.
STEP 4: SET UP A PENDING FOLDER
When you process items in your inbox, you will find certain things need to be put in a holding area, because you need to wait for something else to happen first. For instance, you have a doctor's bill, but you need to wait for the insurance to review the claim before paying this bill. Don't leave this bill in your inbox, because you've already processed it. Instead, create a Pending Folder.
I use a Pendaflex projects organizer. It has ten spots for pending papers while they wait for some something else to happen. The organizer has elastic cords that keep papers from falling out. I've been using mine for years. Right now I have my kid's school photos in there because I'm waiting to purchase the right frames to put them in.
The key to this step is to review your pending folder once a week to follow-up on these items, or if they have resolved; remove them from the folder and trash them or file them; which brings me to the final step.
keep it going
After you've tidied up, set up your reminders lists, and put things In your pending folder, you need to give your system regular time and attention to keep your system working and stay organized. If you want to learn more about David Allen's Getting Things Done Method®, I suggest you:
read the book, or
listen to this awesome podcast by Beyond The To-Do List, or
watch this TEDx talk video about the Art of Stress-free Productivity given by Allen himself.
SaveSave
SaveSave