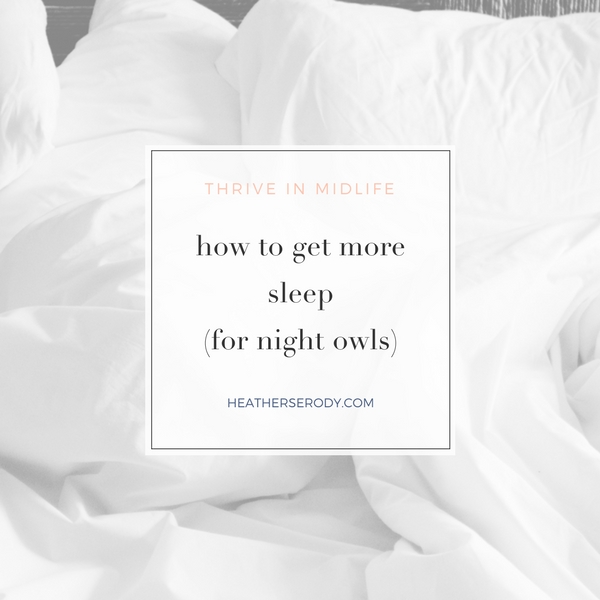 how to get more sleep
I have always had a hard time letting the day go. I envy my husband who seems to do it effortlessly; night after night getting 8 solid hours, falling asleep in 2 minutes flat. It's always been a struggle for me; both to discipline myself to get to bed on time and fall asleep without trouble. After my horrific experience with premature hot flashes, I was so used to not being able to sleep that I realized that I had gotten into a rut of very poor sleep habits. After I got better I figured our how to get more sleep.
This is a post for those like me who are special needs cases when it comes to sleep. Even though I know how getting too little sleep ages me and saps my patience, energy & productivity, I need more than just the desire to get more sleep. I need a solid plan in place every night to get more sleep. I have some tips and tricks for those night owls like me.
sleep math
Calculate backward from the time you must get up in the morning 7.5 hours or 450 minutes. This number is right for most of us because we know that the average sleep cycle is approximately 90 minutes long and the average person has 5 sleep cycles per night equaling  approximately 7.5 hours.*
If you need more or less to feel rested, adjust accordingly.
set reminders
If you're anything like me; you need to budget some time to both fall asleep and get all of those various pre-bedtime rituals done. I need about 10- 15 minutes from lights out to sleep. So, first subtract that time you need to fall asleep and you have your LIGHTS OUT TIME.
I set a REMINDER on my iphone to indicate every pre-workday evening (Sunday-Thursday for me) that this time is LIGHTS OUT. I like that it's a subtle noise; not a jarring alarm.
Just tell Siri to remind you and she'll do it. If you want to set your reminder manually on your iPhone, go to reminders, then click the clock icon at the top, tap next to the circle underneath SCHEDULED and configure the details of your reminder. To set the sound of your reminder, go into settings – sounds – reminder alerts and choose the sound you want – important because the default reminder sound is pretty jarring. I use 'ripples.'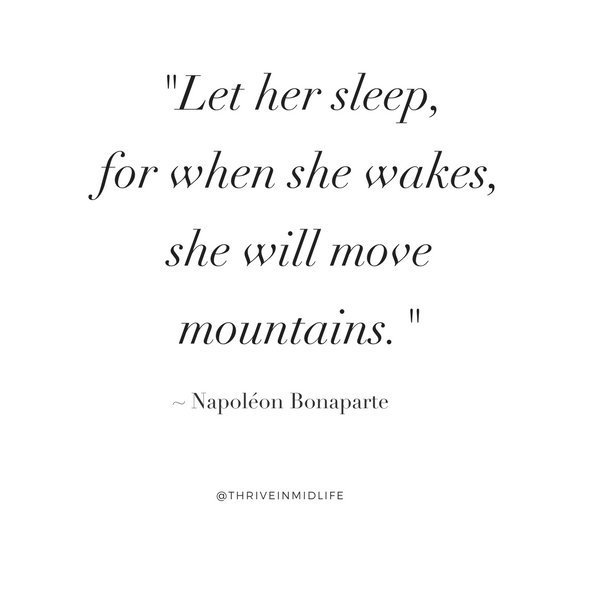 set another one
For me, though, one reminder for LIGHTS OUT isn't going to get me into bed on time – because I like to read for 30 minutes to get me sleepy while sipping on my favorite nighttime tea before going to bed. Reading, making tea, taking off my makeup, chatting with The Captain, and tidying up the house are all pre-bedtime rituals that ideally need to happen before I read, too. So reading is 30 minutes and the rest can happen in 15. Here's how I calculated backward to arrive at my set time to start getting ready for bed: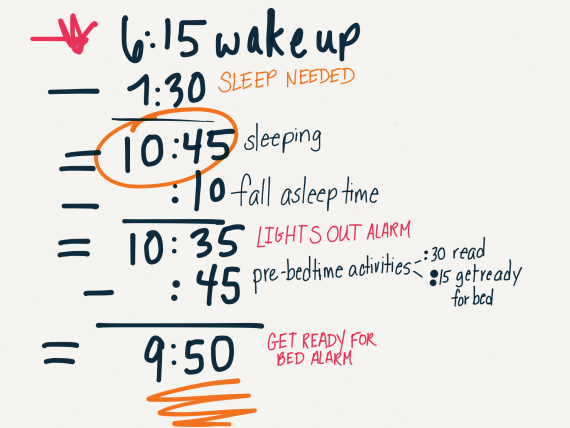 The time you wind up at is the magical time that I set my first reminder on my iphone to GET READY FOR BED.
Besides the reminders, I've found that it helps to always have a good book to ready at my bedside. When my reminder goes off and I feel that I don't want to stop what I'm doing to get to bed, it also helps to visualize myself well-rested in the morning, reading my New York Times, drinking my Nespresso on my porch instead of groggy, puffy, and late to take my little guy to school. Usually, my desire for morning coffee and an unrushed morning are enough to convince me to move toward the bedroom at the appointed time. All of this sustained logical focus on getting to bed earlier has had the effect of weakening the resolve of my inner vampire. Once in while I'll stay up and ignore my reminder alarms, but they're happening less and less often, and that's a huge stride toward better self-care in 2015.
Okay, I'm a bit embarrassed to admit how I have to hold my own hand and set alarms and do all these little things in order to just go to bed. But, I accept that this is my 'thing' that I need some added structure with. I've been experimenting with this method since the New Year and it's been largely successful. What do you do? I'd love to know. Share with a comment or tweet me @hserody.
SaveSave
SaveSave