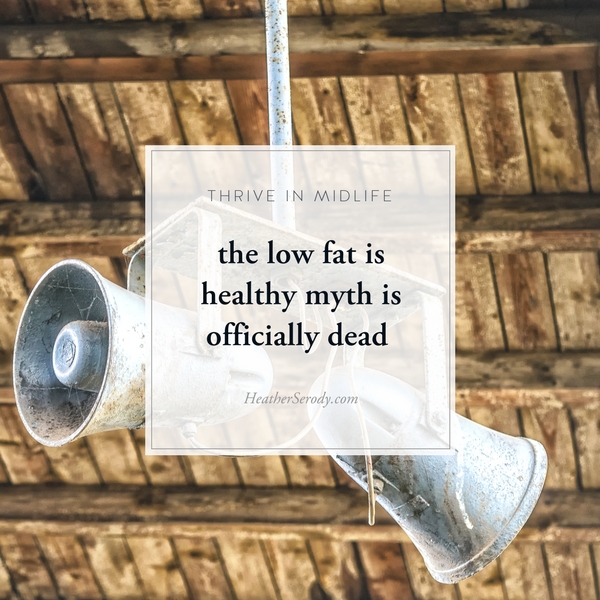 …look at another Instagram post of someone proudly displaying a minuscule amount of fat-free and carb-y food as a testament to 'eating healthy' and losing weight. Worse are those 'confessional' posts in which she feels terrible for being so hungry as a result of calorie restriction that she 'ate all the things' and then publicly self-shames because I want to shout through the interwebs it's not your fault! Ding-dong low-fat is officially dead as a paradigm of weight loss and a model of health. It's a total lie.
…and the calories in calories out weight loss paradigm does not take into consideration the primary effect of hormonal regulation over weight loss and gain.
So, I'ma 'bout to be the change I wish to see in the healthy eating world and debunk seven insidious, persistent, and lingering myths about eating, getting, and staying healthy.
1. The low-fat movement is officially dead
I confess I did this for years and never questioned the logic or even success rate of this entrenched and ultimately doomed philosophy of health and weight. You can get away with this exhausting and flawed outlook when you are younger because the body still responds like a champ, despite under-eating and overexercising. In midlife though; you can hit the wall like I did and realize that none of this madness works and that you've damaged your metabolic machinery as a result. Thankfully, there is now science out that proves the fallacy of the eat less/move more theory and quite a few other entrenched myths. As you embrace your desire to thrive in midlife, I encourage you to educate yourself on these new science-backed concepts that are revolutionizing what it means to eat healthy, stay healthy, and age healthy.
2. Saturated fat does NOT give you heart disease
…it's been proven in large-scale clinical trials, so much so that the American Heart Association has quietly removed all previous advice to avoid all fat from their guidelines without any sort of campaign notifying the public of this reversal, yet they still advise against scientific clinical trials to the contrary that saturated fat contributes to Heart disease. The low-fat diet myth is dead. Go read Big Fat Surprise by Nina Teicholz for the story behind the great American hoax against fat.
3. Under-eating wrecks your metabolism
The inconvenient truth about 'eat less move more' theory of weight loss is that doing so lowers your metabolism – sometimes irreversibly. Which is why ALL the biggest loser contestants have regained weight (& why there's no reunion show) and why all restrictive calorie diets have a 98% failure rate. If we know this then WHY do we still persist??
the inconvenient truth about calorie restriction to lose weight
If you are not restricting your carbohydrate intake then your body relies on using blood sugar as its fuel source. Unfortunately, if you are eating lots of carbohydrates this fuel source is extremely limited – you can store only about 2500 calories of blood sugar in your muscles, blood and liver before you are totally out of gas.
If you chronically restrict calories in this sugar burning state your body responds by decreasing its energy expenditure (lowering your metabolism) in order to preserve its fuel (fat) reserves. your body would be able to switch over to burning its fat reserves ONLY IF you stop eating carbohydrates. Remember that the only job your body has is to keep you alive. It's not going to allow you to just dip into fat reserves that it prefers to keep around for famine emergencies – or the zombie apocalypse if you are still feeling it quick cheap energy in the form of carbohydrates. It would rather downshift your metabolism instead. It really doesn't care about how you start to feel tired, lethargic, and hungry all the time as a result. Although you might lose a few pounds initially by restricting calories, eventually you'll plateau because your body's burn rate has lowered itself to match or even undershoot your new restricted calorie intake.
The fallacy of the calorie deprivation model has been proven in scientific studies, most notably in the famous Women's Health Initiative where subjects restricted calories from fat for 8 years and their weight stayed the same as compared to women who didn't.* Caloric Reduction as a primary (long-term) weight loss strategy has a known 99% failure rate**
Insulin controls whether we store or burn fuel. If insulin is elevated, you will not be able to lose weight. If insulin is low, it signals the body to burn fat for fuel. Chronically elevated insulin can be made worse by thyroid imbalance, too. As we age the body becomes ever so slowly more and more resistant to elevated insulin, usually due to a lifetime of eating insulin elevating foods like sugar and refined carbs (which are often part of traditionally 'healthy' and even 'vegan' foods). This is why so many of us feel as though no matter what we do we can't lose weight like we used to. (About 25% of us are genetically immune to insulin resistance – you know those who eat like shit and stay skinny forever. We tend to look at them and just think that there's something wrong with us. There isn't.)
Billions and billions of corporate dollars are invested into the 'eat less move more' conspiracy where they take your money and then blame you for not working hard enough or depriving yourself enough. It's insanity. You don't have to kill yourself to lose weight, you just have to lower your insulin. Look into a paleo, primal, or ketogenic way of eating to control your insulin and unlock your fat for fuel. You DO NOT have to be hungry to lose weight. For more read The Obesity Code by Dr. Jason Fung,.
…especially not saturated fat, which is the most stable fat of all, and the one that is most preferred for fuel by the body and least-prone to oxidation which causes all kinds of health problems. This theory that fat is bad was the biggest marketing scams of the 20th century, disseminated by greedy corporate interests and is responsible for the millions who are fat, sick, and nearly or already dead in America. Again, READ the book Big Fat Surprise by Nina Teicholz to get the facts.
If that isn't enough to make you want to make up with fat, it's THE ABSENCE DIETARY CARBOHYDRATE also true that reduces insulin levels the most. So, if you are trying to control your weight, eat LESS THAN 25 TOTAL grams of carbohydrate per day. Because you're eating enough fat and protein you'll feel satiated. That's how you become a fat burning machine.
6. T
ype 2 diabetes is a reversible disease
Injecting insulin into type 2 diabetics who are already producing WAY TOO much insulin in order to control excess blood sugar/insulin is absolute insanity, makes them sicker, and the progression down this route is a horrible fate & absolutely unacceptable standard of care. Read Dr. Fung's new book he co-wrote with Jimmy Moore – The Complete Guide To Fasting & listen to the Fasting Talk podcast with Jimmy Moore, Megan Ramos, & Dr. Fung.
7. Alzheimer's disease can be avoided
The science is there. The books are there. The studies are there for the reading. These are things that are in your control. I think it's high-time we started educating ourselves and investing in our health by thinking outside the mainstream, acknowledge what isn't working, abandon shoddy health programs based on bad science, and stop looking to our doctors to fix us and start fixing ourselves.
ready to begin?
I have created two comprehensive paid keto programs for those readers who just want to get started and not waste time making mistakes or trying to learn all the parts of keto yourself. The first program is a 7 Day Keto Jumpstart program. This program is great for the keto beginner or keto-curious who want to tip their toes into the keto lifestyle and see how they respond to the low-carb lifestyle for a week. The second program is a comprehensive 30 Day Keto Transformation Program. This program gives you everything you need to learn keto for life and tweak it according to your goals and your lifestyle.
free stuff
When you sign up for my email list, you get instant access to the subscriber Resource Library which holds all of the free guide, checklists, cheatsheets, and PDF's that I create for my awesome community. These include guides on how to calculate your macros, digital fasting and meal planners, simple keto meal ideas for breakfast & dinner, The Guide to Thrive, and much more!
sign me up
coaching
Schedule a coaching session with me if you are looking for one on one support.
SaveSave