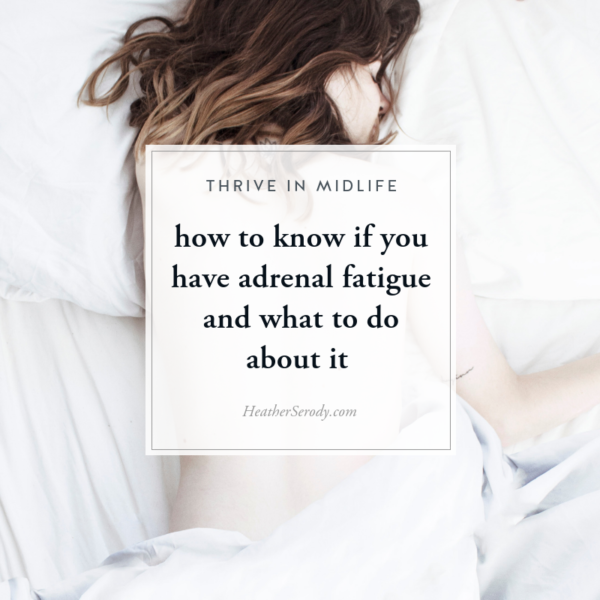 How do you know you have adrenal fatigue? I mean, aren't we all tired? In my experience, it's really easy to shrug off the signs of adrenal fatigue and just push through, but that can make things much, much worse over time and can start to negatively affect your entire hormonal system. That's what happened to me, and it brought me to my knees. I implore you to educate yourself about he signs and symptoms and do what you can to be proactive to begin the healing and make the lifestyle changes that adrenal fatigue (AF) requires in order to resolve. Adrenal fatigue is a loud and clear message from your body that things are not well.
my story
I went to see my doctor recently because every afternoon at 3 pm my eyelids felt like they were made of lead and I felt bone tired no matter how much sleep I got the night before. I was sent home from the doctor's office with a 24-hour adrenal salivary stress test which checks cortisol levels. The result? Adrenal fatigue – for the second time – my cortisol was flatlined. Ugh.
Cortisol along with adrenaline are just two of the important hormones created in the adrenal glands, and are responsible for your feelings of energy and that ability to 'get up and go.' Low cortisol levels explain why it's been so hard for me to feel awake in the morning, the intense fatigue I feel toward the late afternoon, an extremely light to non-existent period, my hair shedding more than normal, and an inability to handle stress like I used to be able to.
This condition is called adrenal fatigue. And as I said before, this isn't my first time at the rodeo with adrenal fatigue. I figured I have experiential wisdom to share that could be helpful and save you time, money, and confusion about what to do and how to feel like yourself again as quickly as possible. This condition is vastly under-diagnosed and most people who suffer from the symptoms don't understand what's going on, so they reach for solutions that often make things worse; like coffee or sugar. It's scary because if left to worsen, this condition can lead much more serious problems, especially in midlife.
Causes of Adrenal Fatigue
Poorly functioning thyroid
Your thyroid is the master metabolism regulator and controls the operation of every bodily system and cell in your body. When your thyroid begins to function suboptimally, all systems are negatively affected; including your adrenal glands. The adrenals will 'step in' and overcompensate for a slow thyroid by pumping out excess cortisol and adrenaline to keep you running. Over time though, this can wear out the adrenals and they begin to malfunction. Traditional Western trained doctors have a long history of not properly diagnosing subclinical thyroid function from lab results, so it's very common to go undiagnosed with both low functioning thyroid AND/OR adrenal dysfunction for YEARS. And that pisses me off because we are talking about quality of life issues. Which is why it's so important to understand adrenal dysfunction, so stay with me here, okay, sweetness? I know you're tired and this is an epic post, but by the time we finish here you will know how to recognize symptoms of adrenal fatigue (AF), be able to diagnose a possible problem, and know what kind of test you need to confirm it for sure.
Chronic stress
Our 21st-century lifestyle causes adrenal dysfunction. Hectic family schedules, meeting deadlines, stressful relationships, money problems, relationship stresses, being a caretaker, or even fostering a lifestyle that revolves around a hectic pace of life which can be addicting and exciting at first are all circumstances that the body responds to by triggering the adrenal glands to produce more cortisol and adrenaline to cope with those stresses to go faster, push for longer, do it quicker, and do more.
The beginning stage adrenal fatigue
You can see how this constant triggering of the adrenals over time results in overworked and underperforming adrenal gland function. I was at this stage for years. I depended on my coffee to get me going in the morning and again later in the day to keep me going. After my kids were born I became chronically sleep deprived and pushed myself to learn to live with it. certain days I'd fine, others I'd bone tired, and still others I'd feel wired.
Does this beginning stage sound familiar to you, too? It's at this stage where you ideally need to start making permanent lifestyle changes to avoid the more serious implications of adrenal fatigue. Eating better, getting more sleep, quitting coffee, and making real changes to minimize chronic stress can really help.
Not an easy fix
Adrenal fatigue is one of those conditions that doesn't have an insurance code classification as a disease that traditional doctors can be reimbursed by insurance for treating. However, a severe form of the condition – called Addison's disease – IS recognized and reimbursed. It makes no sense for the medical establishment to confirm a condition and yet deny a subclinical form of the same condition. It's yet another frustrating example of how our medical system treats disease instead of fostering optimum wellness.
Because of this, your traditional doctor may not be as open to diagnosing adrenal fatigue or exploring finding solutions for you if you feel symptoms. My advice is to keep researching and reach out to your doctor anyway. If you don't get anywhere then ask people you know who are into naturopathic and integrative medicine who they use, or find yourself a naturopathic physician who is willing and able to help you. Resources are further down.
"Integrative Medicine is healing-oriented medicine that takes account of the whole person –body, mind, and spirit– including all aspects of lifestyle. It emphasizes the therapeutic relationship and makes use of all appropriate therapies, both conventional and alternative."
the adrenals 101
The adrenal glands sit on top of each kidney and function as part of your hormonal system. The adrenals have several functions:
Production of DHEA and other sex hormones.
Production of cortisol that is responsible for regulating blood pressure, keeping inflammation under control, regulating our sleep cycle, and helping us generate energy; which is vitally important.
Regulation of fluid and mineral excretion.
Production of stress hormone neurotransmitters (like adrenaline) in response to stress. These neurotransmitters suppress functioning of non-essential systems like digestion and immune function in order to divert resources to the brain for alertness and the muscles in order to facilitate a quick getaway from that stress.
how stress impacts the primal body
Think about your paleolithic distant relatives. If they weren't actively working to hunt or feed themselves then they were probably lolling on a nice sunny hillside napping all day and grooming their cousins. They woke with the sun and slept with the darkness. Your 21st-century body doesn't know the difference between your project deadline or being hunted by a saber-toothed tiger. If it feels stress it will ask your adrenals to put out a stress response every single time for your entire lifetime. Think about that.
progression
If the conditions continue the adrenals can begin working erratically and release cortisol later in the evening instead of first thing in the morning like they are supposed to; which means you wake up exhausted but sometimes feel a burst of energy &/or feel wide awake or unable to sleep late in the evening, making your condition even worse.
If you're at the progressed stage and then experience a major life event like a death in your family, relationship stress or divorce, a sick parent, or another health issue on top of that 'tired and wired' lifestyle then the already poor performing adrenals can become unable to function and you can start to feel more serious effects.
how to know if you have adrenal fatigue & how to fix it:
Finding clear answers can be problematic because often both thyroid and adrenal dysfunction are present at the same time. I suggest you go through these three steps in order to discover whether you have adrenal fatigue and how to diagnose and treat this condition. In the case that you have both issues, it is always recommended that you work on healing your adrenals first before trying to optimize your thyroid function.
1. The first thing you should do is determine whether or not you have symptoms of adrenal fatigue:
fatigue unrelieved by sleep
depression
malaise
low sex drive
cravings for salty foods
low blood pressure
shaky feeling
sensitive to light and loud noises (eg: television)
extreme reaction sudden loud noises
joint pain
inability to handle cope effectively with stressful situations
weight gain/weight loss
hair loss
getting sick all of the time
loss of color in your lips
verticle wrinkles in your fingertips
frequent urination
2. Compare prone & standing blood pressure readings:
Get yourself a blood pressure monitor. You can pick up a good one from Amazon for about $45. Bring a pen and paper and your blood pressure monitor and lie down and be still for about 5 minutes. I do a quick 5-minute meditation while I'm waiting. Then take your blood pressure. Then right afterward, stand up and with your elbow raised to 90º take your blood pressure reading again. Compare the two readings. A lower blood pressure after standing indicates adrenal impairment. The more the standing BP is lower than the lying down reading, the more severe the adrenal fatigue. If your adrenals are healthy then your BP will be higher after standing in order to pump your blood against gravity and get the blood into your brain. This is also why individuals with adrenal fatigue often feel dizzy after standing.
3. Order a 4-point Adrenal Stress Profile Test:
If your standing blood pressure is consistently lower than your prone blood pressure over the course of a week or so, then go see your doctor and have him/her order a 4-point adrenal stress test. This test will determine your levels of cortisol that are secreted by your adrenal glands at four points throughout the day. Healthy cortisol production follows a very particular and predictable pattern, so any unhealthy patterns will be easy to see.
This test will reveal what type of adrenal dysfunction you may have and those results can inform a successful healing protocol, so YES – it IS 100% worth it to get this test. If you do not correct adrenal fatigue, then sooner or later you WILL face additional problems and sometimes compounded problems in the future. If your doctor won't order it for you, then you can order one yourself. I order mine from Life Extension – there is a center right here in Fort Lauderdale, but you can also order it through the mail. It cost me $175.00. You'll get a box with instructions to take home along with 4 vials to fill with saliva at exact points throughout the day. You'll freeze the vials as you fill them and then ship them off with cold pack first thing the next morning. you can go over results with your doctor and determine whether supplements and lifestyle change are enough of
If your doctor won't order the Adrenal Stress test for you, then you can order one yourself. I ordered mine from Life Extension. There is a Life Extension Nutrition Center with blood lab services center right here in Fort Lauderdale. If you're not local you can also order it through the mail. It cost me $175.00. You'll get a box with instructions to take home along with 4 vials to fill with saliva at exact points throughout the day. You'll freeze the vials as you fill them and then ship them off with cold pack first thing the next morning. you can go over results with your doctor and determine whether supplements and lifestyle change are enough to heal your adrenals or whether prescription Hydrocortisone supplements might be needed.

my adrenal burnout
My big scare happened in 2011. We had sold our house, I had gone back to work, and were living in a temporary rental home until our new house was ready. We had moved once and were about to move again. It was an intensely stressful few months that came at the end of 5+ years of stressful parenting, health issues with my child, and a traveling husband.
But I took my big thermos of strong coffee into work every morning and just kept chugging along; jumping over crisis after crisis that inevitably comes up with purchasing a short sale home. Then a close family member had a horrific health scare and my beloved German Shepherd died and Thanksgiving happened at my house all in the same week. I remember feeling wooden through that week; having to intently focus on each task so that I could get through my day. The next week at work while I was helping a customer I felt my face start burning up. The burning quickly spread down my spine until every pore was gushing sweat in a desperate attempt to cool my body down. I excused myself and went into the bathroom to try to pull myself together.
That was my first hot flash at age 41. It got worse from there. They came without warning and were especially awful at night when every hour or so I'd wake up from the internal fire, soak the sheets, and then shiver uncontrollably. Sleep was impossible. I remember thinking that I was caught in a special kind of hell on Earth. I stopped getting my period, and eventually, my internal thermostat broke. I would go from hot flash to shivering. I remember a dinner out with girlfriends where I kept having to take my jacket on and off and feeling so self-conscious that I left early. All the while my monkey mind kept screeching at me what's wrong with you? This isn't normal to go into menopause at age 41!! At a football game that week everything culminated and I felt like I was going to shatter into pieces. I had never felt so removed from my loved ones and worried about my health. I thought maybe this is what a nervous breakdown feels like? My body was broken and I was desperate for answers.
I read books, did research, and asked my friends if they knew of a naturopathic doctor. Thankfully I found a doctor who helped me to understand the stress/low energy & adrenal connection. By that late stage of adrenal fatigue, I had gone into a stress-induced premature perimenopause. Adrenal function is intimately related to other hormones in the body so when one is 'off' it can affect all of the other hormones. I'm not saying this is normal or typical, but it was my experience. With bioidentical hormone replacement therapy, supplementation, and significant lifestyle changes I was able to stabilize my hormones and recover my adrenals. My hair stopped falling out and got my period back. But I knew I wasn't out of the woods. I would have to be vigilant and do everything I could to never go back to that kind of stress again.
I made real changes to my lifestyle and outlook. I changed the way that I eat and I've now been practicing yoga regularly for almost 15 years. Recovery happened very slowly over a number of years for me and I do have occasional relapses when life gets the best of me, but at least I course correct early now before I fall apart.
what to do about AF
Discuss your options with your doctor. If you are also hypothyroid my advice is to correct your adrenal function first. If you try to increase thyroid medication while you have compromised adrenal function, you can over-stress the already weakened adrenals and cause a whole host of counterintuitive HYPER-thyroid symptoms that, take it from me are seriously unpleasant – heart palpitations, inability to sleep, excessive body heat/sweating among others. Please see the thyroid series for more information on this.
finding a doctor
If you live in Broward or Palm Bach county in South Florida I highly recommend asking friends who they use. Otherwise, try the doctor search databases below to find a doctor.
doctor interventions for more serious AF
Your doctor may put you on some sort of hormone replacement (like hydrocortisone) and test your thyroid function depending on the severity and progression of your adrenal fatigue and your other lab results and symptoms.
diet
I'll state the obvious here and say that if you think you've got adrenal fatigue then you need to eat a healthy diet. Eating food dense in nutrients will help fortify your entire body and help you feel more energetic. Staying away from foods that don't agree with you will save the body from the extra effort required to digest those foods so that it can recover and heal. There are three foods in particular that can help a body recover when stressed from adrenal fatigue:
1. kombucha is a probiotic flavored tea that provides good bacteria that will fortify suppressed immune systems, improve your digestion, and assists in nutrient absorption. For me it tastes like a sweet natural-tasting soda. you can find it in the refrigerated section of natural markets. The carbonation bubbles in Kombucha are very small and delicate; almost like a champagne. I love Health-Ade brand and especially their pink lady apple flavor.
2. Bone broth is extremely nourishing for adrenal fatigue because it has a high mineral content from all of those bones! Adrenal fatigue causes you to lose vast amounts of minerals so this is a fortifying option. And, no, regular chicken or beef broth is not the same thing at as bone broth, so substituting won't do your adrenals much good. Look for the highest quality broth you can find made from GRASS FED animals. In addition, most bone broth devotees claim that it gives you a huge boost of energy! Bone broth also provides gelatin that heals a range of digestive ailments; glucosamine to support healthy joints and keeps arthritis under control, collagen to supports healthy hair, skin, and nail growth.
3. Seaweed contains much-needed minerals and iodine that are often depleted with adrenal fatigue.
4. Celtic Sea Salt is often recommended for adrenal fatigue sufferers because when the adrenals are stressed they have a hard time holding onto necessary sodium. It's full of trace minerals and isn't processed like table salt. I add a tiny pinch to my water and more to my food when my adrenals are fatigued.
lifestyle changes
Get adequate sleep. Manage your time. It's not hard. Your body recovers and equalizes your hormones in deep sleep. If you're not sleeping enough you aren;t getting that deep REM sleep and your adrenals can't recover, end of story.
Don't stress yourself. So much of what we tell ourselves we have to do is utter and total bullshit. Tune into your money mind that shouts orders to you and separate facts from the story you tell yourself about that fact. Getting yourself worked up about a traffic jam is optional. You can make your life so much easier by dropping the struggle, dropping the stressful ticker tape in your mind, and just breathe.
Get off caffeine; at least for a few weeks or months to give your body a chance to heal. Caffeine always makes stressed adrenals worse. My first job was at Dunkin' Donuts. I loved coffee like it was my best friend. We had 30-year (!!!) relationship. I never thought that quitting was something that I could do but I did it by substituting chicory dandelion herbal coffee and continued that for 6 months! Getting off coffee helped me realize how much caffeine was masking my natural body signals that I was tired and I needed TO REST or GO TO SLEEP. Adequate rest and sleep are absolutely crucial to recovery.
If I did it, sure as shit you can, too.
Supplements & Vitamins:
Take an adrenal cortex supplement, which is bovine adrenal glandular that only contains the cortex without adding any additional adrenaline that is contained in the rest of the gland. If you have adrenal fatigue, you don't want any additional adrenaline making you feel shaky. I use Thorne Adrenal Cortex supplements which are highly recommended from patient experience websites. I personally use them and and can attest to their efficacy.
I used to recommend lots of individual supplements that help the adrenals but Gaia Herbs has filled that need. They've formulated a couple of products that come all-in-one and make life a lot simpler. I use them. For a beginning adrenal fatigue diagnosis, pick up Gaia Adrenal Health Jump Start Supplement for the first 8 weeks, then switch over to the Daily Support.
B-vitamins assist in cell metabolism and help generate energy helping you feel more energetic and reducing fatigue. I take an effective B-complex formula that supports cell metabolism challenges due to stress.
Stressed adrenal glands NEED LOTS of vitamin C. When I'm fatigued I'll take 1,000 mg of buffered vitamin C 3x/day. Your adrenals need vitamin C to produce necessary cortisol; so it's essential to supplement vitamin C to recover your adrenal glands.
Magnesium maintains energy flow in the body and allows muscles to relax. I use it specifically to relax achy and tense muscles and I take it before bedtime to help me relax into sleep on the regular. If my adrenals are fatigued, I'll take it twice a day. It also helps regulate a healthy blood pressure. I take magnesium glycinate capsules (won't affect your bowls) and also like Natural Calm in water before bed to help me sleep.
shop the story
I sincerely hope that you find some answers from your doctor and some direction to go in from my own personal experience with adrenal fatigue. I want you to know that it is possible to heal your adrenals, just take it step by step and work with your doctor. Please see the disclaimer! Even though it takes a lot of time, resources, and effort to heal yourself, please know that those investments will help you to live a more vibrant and less-stressed life in midlife.