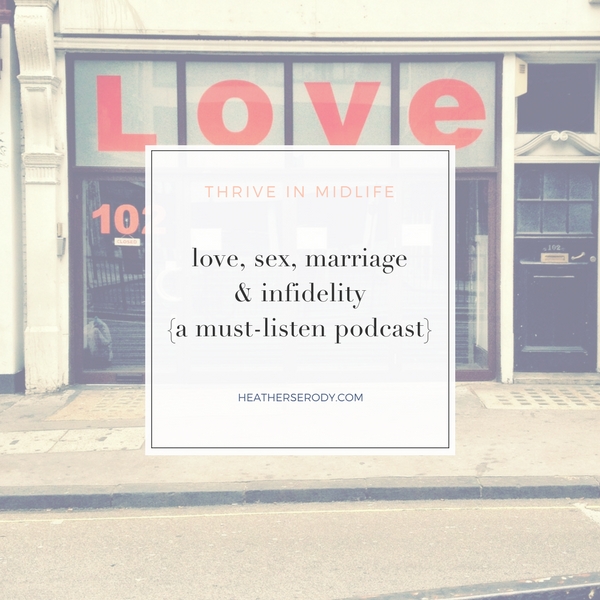 I listened to a podcast this morning that blew my mind.
Cheryl Strayed (author of Wild) and Steve Almond host the Dear Sugar Podcast. They answer letters from the lovesick, hurting, and heartbroken. It's just really intelligent & fascinating conversation. Lately, I've been listening to Dear Sugar every week while my little guy plays golf. I had skipped over this particular episode about infidelity because who wants to hear about that?? I don't need to listen to all that pain and anguish. If I pretend it doesn't exist then it will never affect my life, right? (insert sarcasm font) But I'm SO glad that I did.
love sex marriage and infidelity
Episode 27 of Dear Sugar Radio explored the subject of love, sex, marriage, and infidelity with relationship and infidelity expert Esther Perel, who proposes a new mental framework in which to think about infidelity that can be very healing to the millions of loving couples who can't find a way through the mess of it. It is the most fascinating and enlightening discussion on love, sex, marriage, and infidelity that I have ever heard.
Really.
Even if you haven't personally been touched by infidelity; I'll bet it's touched your family or someone near and dear to you, not to mention it's a subject that's worth thinking about intelligently. It made me think about my own approach to true intimacy, what responsibilities I bear in that regard, and it also threw some light on the oftentimes heavy expectations that I have for my marriage.
Pour yourself a cup of tea, or put your walking shoes on and HAVE A LISTEN – just hit the play button below. It just might change the way that you think about your relationship. Let me know what you think.