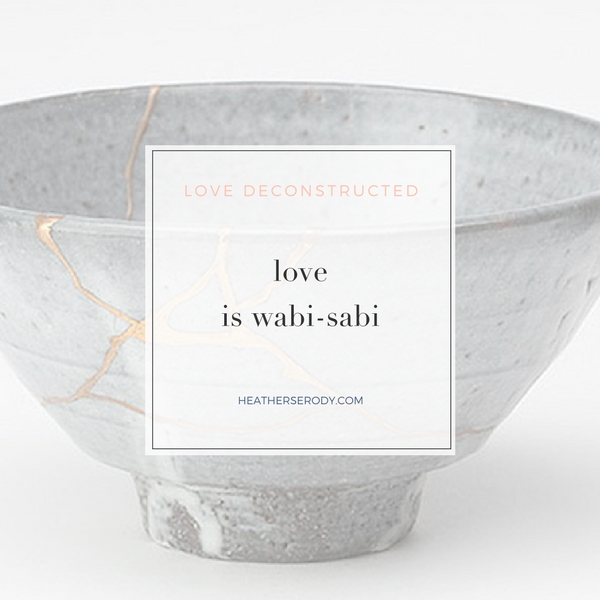 Remember when you fell in love? I'd describe it as a 'beginners mindset' love. It's really lovely; remember? I've been with Captain for 21 years; we have two kids, and he travels six months out of the year, so for me, resurrecting the beginner love mindset is a necessary practice in my marriage. My method is to DECONSTRUCT the components of love into small bites and focus on those regularly. Deconstructing the elements of love and giving them attention and renewed priority has the power to reconnect you with your inner love-muffin. Let's have some fun with this over the next few days…and see what happens.
love is wabi-sabi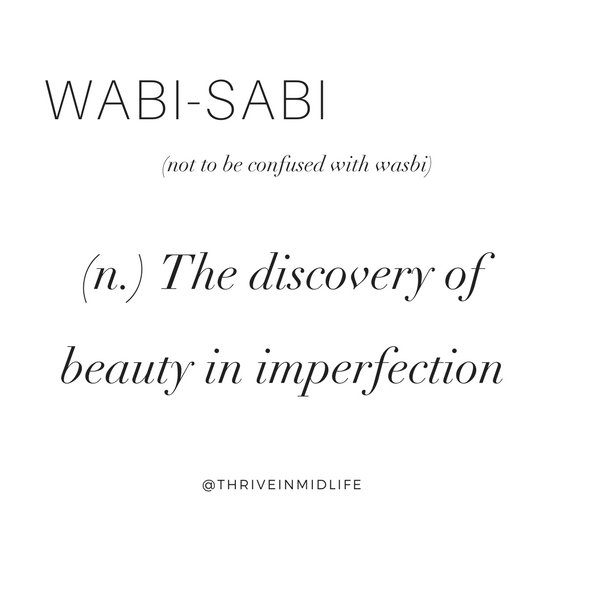 How would the love in your life change if you embraced the beauty of imperfection in your own relationship? Wabi-sabi is a philosophy that accepts and honors unconventional elements simply because they are part of the imperfect human condition. Some of these elements are listed below along with how those can be translated into relationship elements that we often push away or devalue, which block acceptance of ourselves and our partner's imperfections.
asymmetry (when things go off balance)
roughness (impatience)
irregularity (inconsistency)
simplicity (the simple things)
economy (not making things harder than they have to be)
austerity (getting rid of the extraneous)
modesty (making it less about yourself)
intimacy (willingness to be vulnerable)
…and an appreciation of the creative integrity of natural objects and processes.
I'm suggesting that instead of resisting those uncomfortable and imperfect elements in our relationships, that we instead elevate them, honor them, and accept them fully. A practice called Kintsugi "golden repair" came out of the philosophy of Wabi-sabi. In Kintsugi broken pottery is put back together seams of gold. This practice celebrates the flaw by emphasizing its fractures and breaks instead of hiding or disguising them. Kintsugi makes the repaired piece even more beautiful than the original, revitalizing it with new life.
What if every time we screwed up in love, made a mistake, or went through heartbreak, we could honor those experiences by lining the cracks of our back together with a beautiful plaster of honor and acceptance instead of just feeling bad and hiding our struggles away?
Wabi-sabi personified:
Want more love, deconstructed? Day 1 / 2 / 4 / 5 / 6 /7
image sources: 1| 2 | 3 | 4 | 5 | 6 | 7 | 8
SaveSave
SaveSave