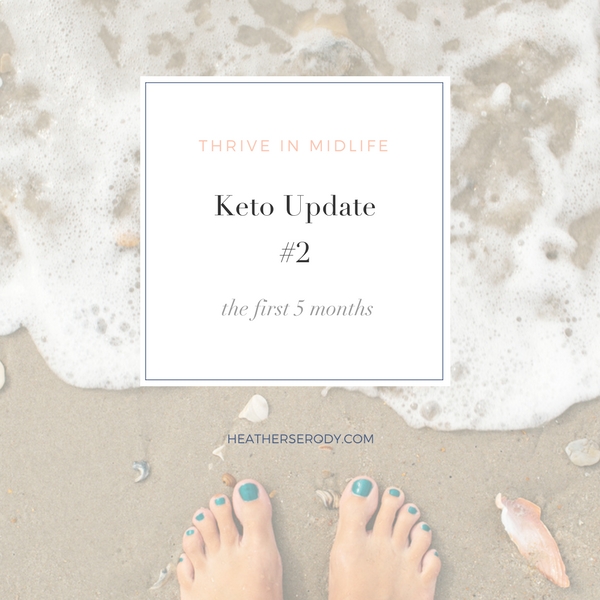 After 5 full months of eating ketogenic, reading everything I can get my hands on, and listening to countless keto & fasting podcasts, it's time to evaluate whether it's working and whether this 'crazy' keto way of eating (woe) will help me heal my insulin resistance, elevated blood sugar, and to help me lose weight, & avoid type 2 diabetes and Alzheimer's disease (which runs in my family) for the long term.
positive results 5 months in
stopped weight gain
increased my energy level
fall asleep faster and stay asleep longer
increased mental clarity
no longer trip over my words (especially when stressed)
have better word recall
better memory recall
no longer chronically restricting calories
eating to satiety
reduced cravings for carbs
ability to intermittently fast for up to 24 hours without difficulty or hunger
increased ability to stay in ketosis ( > .5 ml/dc via blood testing)
lost several inches from midsection, thighs, and arms
lost 9 lbs with 3 longer term fasts of @ 70 hours each
you can do all the right things and still have blood sugar problems
That I could even have elevated blood sugar was, and in some ways still is – difficult for me to accept. I am someone who has avoided junk, processed foods, chemicals, msg, hydrogenated oils, and sugar for over 10 years! Of course, my unexplained weight gain was a loud and clear signal that blood sugar & therefore insulin was a problem in spite of doing everything 'right,' but my brain felt very justified in thinking that because I was already eating 'healthy' that I couldn't possibly have the beginning of blood sugar issues. Now that my brain fog and intermittent fuzzy memory recall have abated I know beyond a doubt that this way of eating is healing my brain, my hormones, and my confidence in my ability to thrive again. I feel very humbled and thankful that I listened to my intuition and took a chance on this crazy 'diet.'
Five months into keto I believe that I have course-corrected myself upstream of some very serious health concerns that would have continued to develop in the future.
slow and steady is still progress
By lowering my insulin levels by eating keto over the last 5 months, I have given my body a chance to begin to heal my metabolic damage and insulin resistance. Please know that if you are like me, that your results will likely be slow too. There are lots of stories in the keto community from people who have gone keto and dropped 20 or more pounds in one month. That's actually a pretty typical experience for folks who don't have metabolic healing to do. If you're eating keto yet not seeing the scale move please know that your body will focus on healing internally before it will allow you to effectively burn fat. It could also be that you are not restricting carbohydrates as much as you need to. See the post how to lose weight on keto for more on this. Try to focus on the benefits that you do feel and see and try to be patient with your progress.
challenges that remain
Now that I am tracking and testing my blood glucose and ketones, I know that I have a very sensitive stress response which affects my blood sugar. Seemingly innocent life stressors like an argument; high-intensity cardio, too many nuts, and some dairy products all kick me out of ketosis (fat-burning mode) and cause my body to create excess blood sugar. When this happens of course insulin also rises, just as it would do if I was eating carbs.
What can I say, I'm a delicate flower. 🙂
This just means that I have to be more careful than most. Therefore the most important goal for me is to lower my elevated glucose and insulin response in order to avoid cellular damage that can have serious effects over the long term. That is my biggest challenge and one that I'm mostly focused on over weight loss.
That challenge, combined with my lingering desire to overeat Trader Joe's sunflower butter and my refusal to track my food macros means that I am probably still overeating carbs and that's why I'm still not losing weight while eating keto.
womp-womp
my body today
Rather than focus on my lingering metabolic challenges, I like to remind myself of my progress. for instance, in February I was able to lose almost 10 pounds by doing 3 longer terms fasts. After each longer term fast, I saw an increased ability to stay in ketosis (fat burning) and saw greatly reduced blood glucose throughout the day. Those results weren't permanent but it's better than it was back in October.
My healing is a slow process, but it is working-I've just got to keep eating keto and continuing to lower my insulin and try to minimize the things that trigger increases in blood sugar/insulin.
Every day that I can lower my insulin makes a difference, but I'll the first to admit that it feels like battling an invisible force. I can test my blood sugar and insulin like crazy but this imbalance is intangible. I can't see it. I can only see its effects in how I feel.
When your goal is to correct the internal body machinery it's hard to stay focused and be patient while waiting for the unseen to get better.
After all, I can starve myself on a low-calorie diet and overexercise and probably lose some of this weight, but it won't fix the underlying problem long term. Been there done that and no thank you! Doing the low-calorie overexercising thing will most certainly damage my metabolism even further and make my blood sugar issues worse.
For Ketonians like me whose progress is slow and mostly invisible, we have to internalize an unshakeable faith in the science and a commitment beyond what we can see with our eyes to see this through. It's probably the biggest personal challenge I've ever faced.
But, I know I can do hard things. And so can you.
the next challenge
After 5 months of healing through keto, I now feel as though my body is ready to try a slightly different (more strict) approach to keto. Maria Emmerich is a highly regarded keto expert who has been eating keto for over 10 years. She wrote a book called the 30 Day Ketogenic Cleanse, Reset Your Metabolism with 160 Tasty Whole-Food Recipes & Meal Plans. It's just what I'm looking for – a relatively quick and fairly strict meal-based plan to help me take off these final pounds.
In this 'cleanse' Maria prescribes keeping total carbs under 30 grams (preferably under 20), & calories between 1000-1400 daily, and she removes all dairy and nuts for the cleanse. The idea is that once you're fat adapted the body should easily be able to pull the additional calories from my fat reserves and this is how the fat loss happens. Her science is solid and although this is not something I think I'll do long term, I'm committed to pushing myself to see the results that still elude me.
So far I'm on day 3 and feeling very energetic. I'm staying in ketosis and eating some really yummy food. Connect with me on Instagram to see the daily check-ins. Otherwise I'll post again next month and let you know how I did. No pressure, right? 🙂
p.s. Did you grab the Keto Planner worksheet I created to track your meals and workouts? It's free, so go get it here, sweetness.