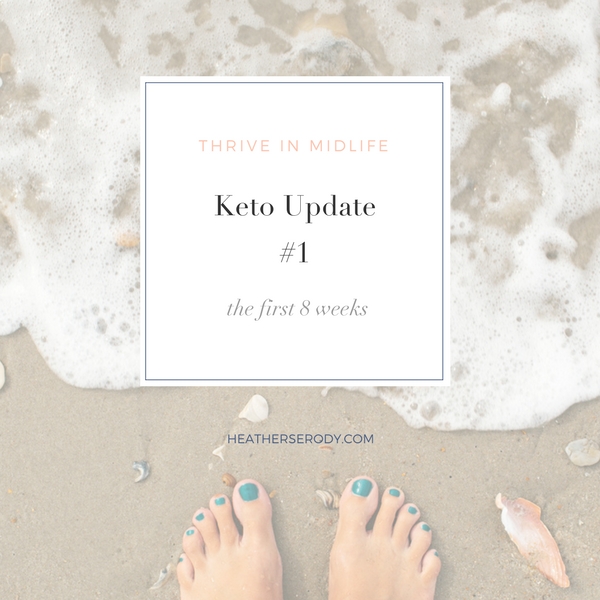 It's been about 8 weeks and I know that many of you are interested to know what my experiment with a Ketogenic way of eating (WOE) has been like so far. There is a lot to cover, so let's jump right in. But first, in case you haven't been following along should understand the backstory about why knew I needed to change my eating habits even though I was eating an extremely healthy diet. You might also want to know what eating ketogenic does in the body and how to begin. My research proved to me that a ketogenic way of eating (WOE) would help me with issues that I've begun to struggle with this year at age 46 – unexplained weight gain, inability to lose weight, loss of energy, fuzzy thinking, and inconsistent sleep. I dove into eating keto in late October 2016 and the amount I have learned since then has been tremendous. Here are a few highlights about how the first 8 weeks have been for me.
the first 4 weeks
As explained in my previous post about what keto is and how to get started, I bought the book Keto Clarity and began restricting my carbohydrate intake. My energy was really low so I stopped doing my ashtanga yoga for the next 30 days. Ashtanga is extremely intense and I just didn't feel as energetic and strong as I normally do. Thankfully, since I did my homework, I knew to not push myself and stress my body out. I did continue my daily hour-long walks and those felt good. As of week 8, I'm back at my regular yoga and feeling strong again.
I also had maybe two to three instances of feeling downright shitty, (keto flu) but I knew that this was because you need to be vigilant about hydration and take electrolyte supplements in order to support a fat burning body, especially during the transition stage and I wasn't always doing that. I learned that I always need to have a large water, salted with gray sea salt and lemon juice at my side, and I've doubled my water intake since going keto.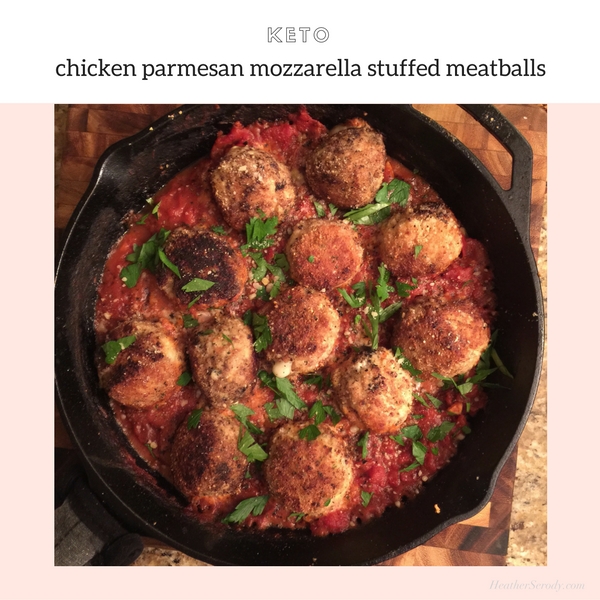 hunger
About four days into keto WOE, I experienced this strange new way that my body is now processing fullness and hunger. I no longer have to eat every 3-4 hours, and my former intense hunger and the constant need to snack have vanished. When I get hungry now it is a distant and much softer call for refueling, instead of an urgent and shaky feeling. I can't tell you the freedom I feel now that I don't have to throw trail mix or an energy bar into my bag when I leave the house.
Now that I'm eating keto foods, I also feel much more full when I eat without feeling stuffed. Fat gives the body a particular feeling of satiety that is satisfying without being uncomfortable. The result is that I've relaxed about food. I forget to eat sometimes, which is amazing.That's because I no longer eat foods that give my brain a quick spike of blood sugar and thus feel addictive to me. There is so much freedom in breaking that addiction. At the end of 8 weeks, I longer crave sweet foods. This makes me think of the vision board I put together last year, at the top of it was 'freedom' – I wanted to feel more free in my life and body. At the time I put that word on my board, I was picturing myself about 20 pounds lighter. Today I can say that I've managed to manifest my desire for more freedom independently of my desire to lose fat. There are many ways to unchain yourself from things that keep you feeling stuck.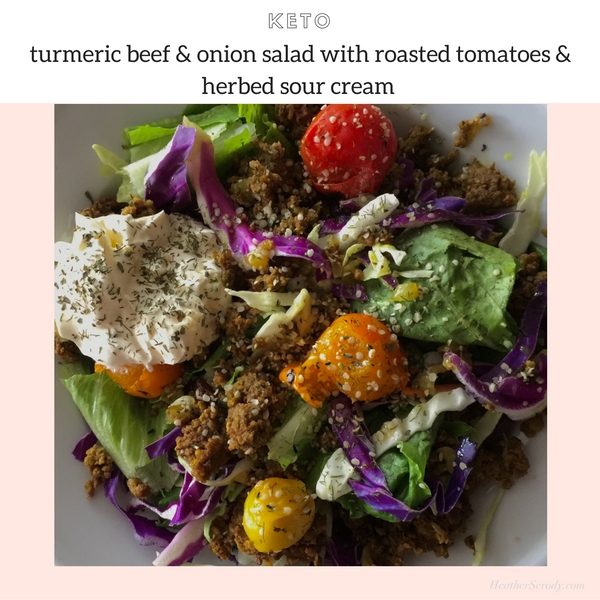 counting & tracking
I hate to admit this, but I have had so many years of dieting and counting calories that I'm now someone who strongly resists weighing myself or tracking my food anymore. It makes me crazy and triggers a feeling of defeat – not a place I want to revisit. After about a year of just eating keto without tracking though, I knew that my weight loss gals had fallen short even though I had accomplished many other health-related gains like reducing my fasting blood sugar more than 30 points on average.
I've come back around to embracing tracking my macros in My Fitness Pal. Carbohydrates and protein are constants and you just vary the amount of fat to accomplish loss or gains. You can see what yours are with this keto calculator. Since I wanted to be able to report back to you results in terms of fat loss, weight loss, or losses in my measurements, I reluctantly decided to measure and weigh myself.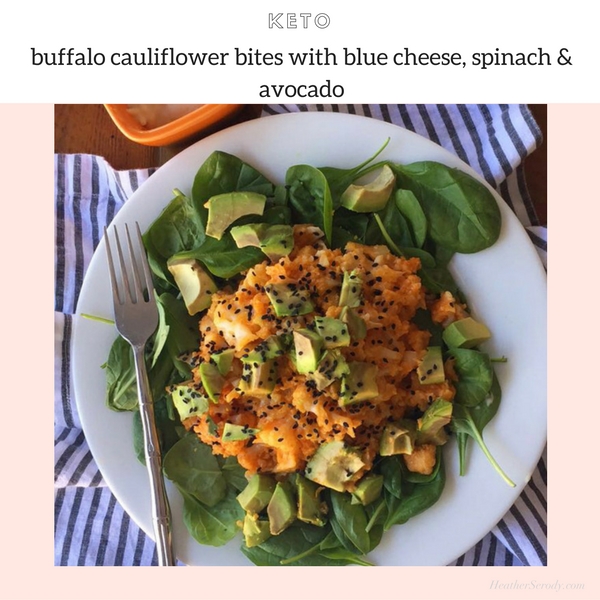 slow changes
In the first three weeks, I lost about 5 inches from various places and 4 pounds, which is great! But after that my progress in terms of loss has stalled. I found the weighing and measuring triggering and those old feelings of defeat started to keep back into my thoughts despite all of the other positive changes happening. That's when I stopped tracking because I was feeling crazy about trying to achieve something that I wasn't sure I wanted this new lifestyle to even be about.
I belong to a few private keto facebook groups and often see dramatic changes in weight on this protocol, so it was hard to not feel discouraged. I dug further and discovered that despite many dramatic transformation stories and those awesome before and after photos you see so often, a quiet majority of Ketonians report very slow and steady changes in weight/fat loss, and more often larger and more significant changes are found in lab markers for cholesterol, blood pressure, fasting glucose, and cognitive function. In fact, keto expert Maria Emmerich reports that it took her 8 years to lose 60 pounds eating keto. Could she have done it faster if she tracked macros? Yes, but she just preferred to have food freedom and take the non-tracking route. Deciding whether or not to track is a personal decision that only you can make.
In light of this and knowing that keto is absolutely not a diet to be used for quick results. Rather, it is a lifestyle that can heal your brain, your metabolism, and your hormones. That can take time. I decided that I'm going to commit to foreseeable future to eating keto and not be at war with myself. I've made my peace with it. Going forward I'll be measuring my progress based on how I feel inside my body and how my clothes feel and that is good enough for me.
As frustrating as my lack of measurable results have been over the last 8 weeks, I cannot deny that there are so many other positive changes that HAVE happened in my first 8 weeks, that I have to admit that even if I never lost another inch, I will continue with a whole-foods keto way of eating because I believe it will keep me healthy and younger from the inside out for life. I'm relaxing into that new reality and trusting that my body probably has a lot of healing to do before it's ready to let go of some extra fat. I'll be patient and keep going in this regard.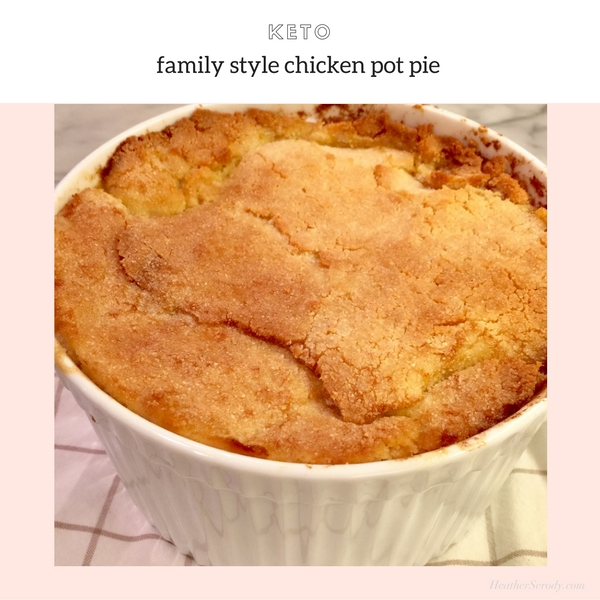 sleep & cognitive function
The second week of keto was all about how the miracle of deep and restful sleep returned to my life after years of chronic sleep deprivation. I always suspected that not being able to fall asleep easily, stay asleep, or sleep long enough was affecting my ability to feel 'sharp' and accounted for my 'mommy brain' – feeling like my thoughts were scattered and how I often stumbled over word recall or to just get out what I was trying to say quickly, especially when I was feeling stressed. At one point I actually wondered if there was something wrong with me I was sleeping so much. Not only that but I had this new phenomenon of actually feeling intensely tired when it was time to go to bed!
My Fitbit tracks my sleep duration and also tells me how many times I've been awake and how many times I've been restless during the night. Before Keto, I struggled to try to average at least 7 hours. Since Keto, I have a 97-99% sleep efficiency. I can fall asleep within 7 minutes, (sometimes under 5) and sleep 8 hours without a problem. The exception is if I drink alcohol. I didn't drink at all during my first 3 weeks on Keto. As soon as I reintroduced wine I noticed that it would instantly affect my ability to sleep. I am more restless and don't sleep as long if I have it. This was true of my sleep quality before keto, too but the difference now that I'm eating keto is that when I don't drink my body chemistry is hard-wired to get deep and restful sleep. This is a huge benefit of keto WOE and one that I didn't even anticipate. There is so much research and hard science that backs up the long-term anti-aging and health benefits of restful sleep that I have to conclude that increased ability to get restorative sleep on Keto feels life-changing.
the food
The food has been so tasty. I'm in love again with bacon and cheese and avocado and homemade non-dairy mayo. But I'm not going hog wild on dairy, either. I'm still getting in green things and figuring out what fats feel best to fuel my body with. I am eating the highest quality organic grass fed and pastured meats that I can find. I am just starting to post a few of my favorite recipes here on the blog – keto coffee and beef zucchini noodles are the ones I turn to most often. When I go out I love a bunless burger with bacon and cheese. My go-to snacks are celery and blue cheese dressing, macadamia nuts, or a spoonful of sunflower seed butter. I'll be posting many, many more recipes here in 2017, so stay tuned.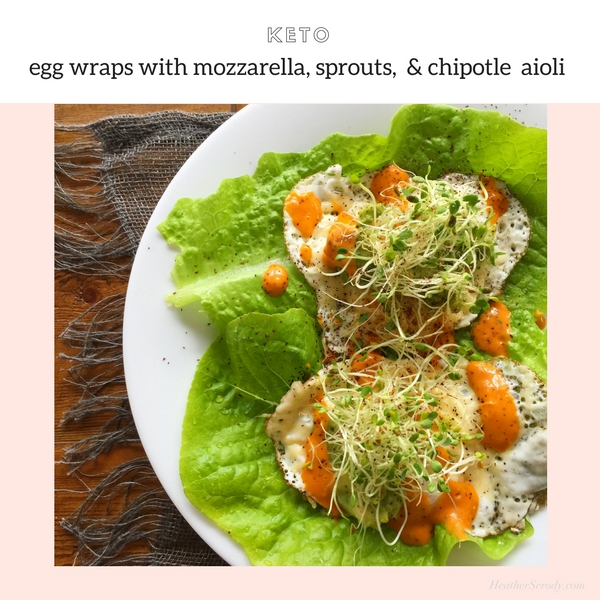 freedom from food addiction
One of the best things to happen has been this freedom from the constant need to eat because I feel weak or starving. Obviously, I was having blood sugar issues and I've had the humble and hopeful realization that I may have caught a very large future problem early. In that regard alone I consider my keto experiment to be a success. My ability to do intermittent fasting is a sign that my leptin can now work properly in my brain, that elevated glucose is no longer blocking its ability to tell my brain that I'm full.
Because of this new reality, about 80% of the time I'm only having a keto coffee for breakfast, and don't feel hungry in the morning. I usually start to feel hungry around 1 pm for lunch and feel hungry for dinner around 7-8 pm. Eating twice a day instead of three times means less meal prep, less shopping, less cooking, fewer dishes, less money spent on groceries and MORE TIME for me to do all the things that I want to do – another unexpected benefit – yeah! So, intermittent fasting is happening quite regularly with me, and my energy is constant and my mood is stable. If you told me at the beginning of this keto experiment that I would be able to go from 8 pm until 2 pm the next day without eating or feeling tired, cranky, weak, and hungry I would not believed you, which is why I want to tell you that it not only possible for me, but it is effortless, too.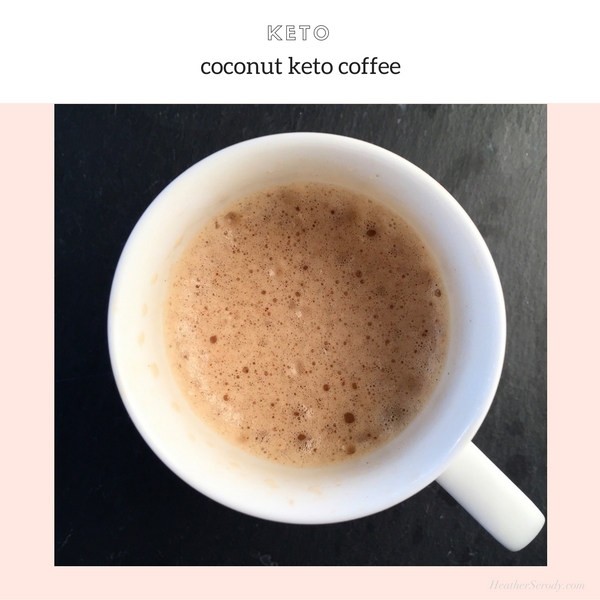 trust & healing
If I wake up and I feel like eating though, I eat breakfast. I make these keto biscuits (recipe coming soon) and put an egg and some cheese on top – it's so yummy. Other times I have sautéed kale, eggs, and sliced avocado. It's so nice to be able to listen to my body – like really listen. I eat when I'm hungry. I eat with gusto and stop when I'm full. It feels like my stomach, hormones, and brain are all working together again. I brokering a new and more trusting relationship with my body. I know I'm giving my body the time and correct fuel it needs to heal itself and thrive. As the steward of this one body that I have; this feels like the right thing to do. However, if you feel you need to eat for your own unique chemistry and long-term health is what I encourage you to do.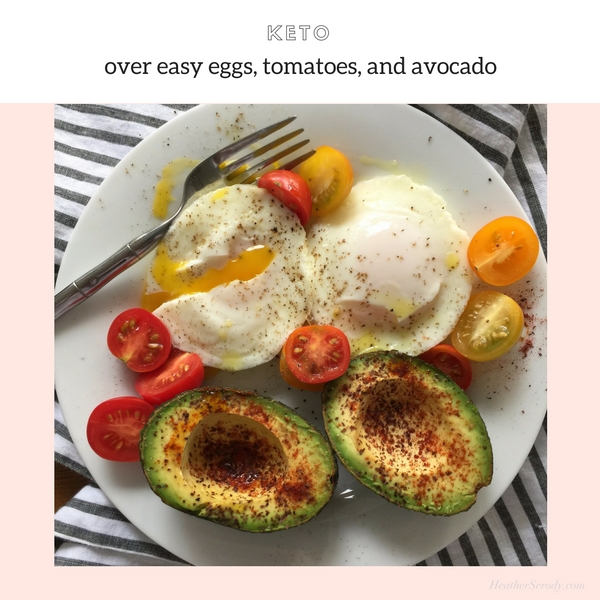 cravings
The biggest concern I had about keto WOE is all of the yummy things that I had to give up. It takes some time and effort to discover keto-approved fixes that can address a sweet tooth or the desire for something crunchy. I definitely had those cravings in the first month, but now at week 8 something different is happening. When I crave something now it's protein & fat-based. I still have a few sugary temptations around my house for my kids. I just prefer to have a spoonful of sunflower seed butter. (Trader Joe's is the best.) I was also able to make it through Halloween without eating a single piece of candy. I just didn't want it. If you can consider that your cravings for sugar are part of an addictive cycle then you can logically see how breaking that cycle will free you from those cravings and the detrimental effects that they cause on your chemistry.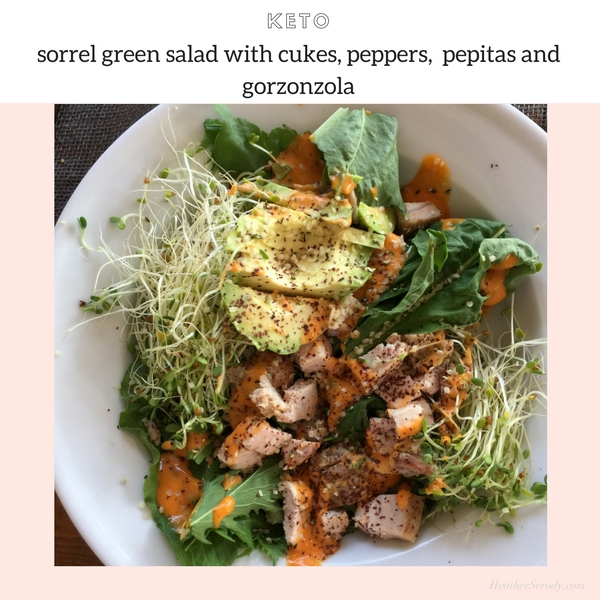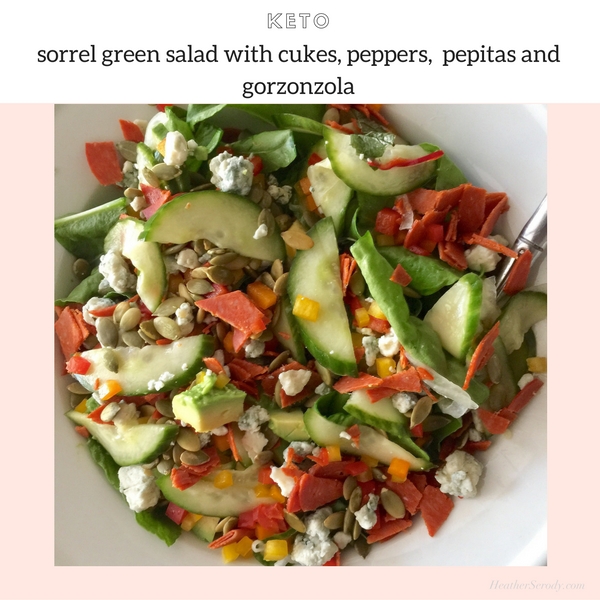 whew! you made it to the end
That was a lot of information! There is still more to say, and I'll continue to post my progress and experience going through all of 2107. Most of all, I want my experience here not to be a siren call to follow what I'm doing per se, but instead to keep pushing to find answers that feel right for you. I know that there are many ways to fuel ourselves and thrive in midlife. Midlife brings so many changes that it's easy to feel like throwing up our hands and just settle for a way of eating and life that keeps us limited and frustrated. It's not easy to keep trying new things, but it is worth it. I want to encourage you to stay open, keep trying, and experimenting with new things to help you thrive.
SaveSave