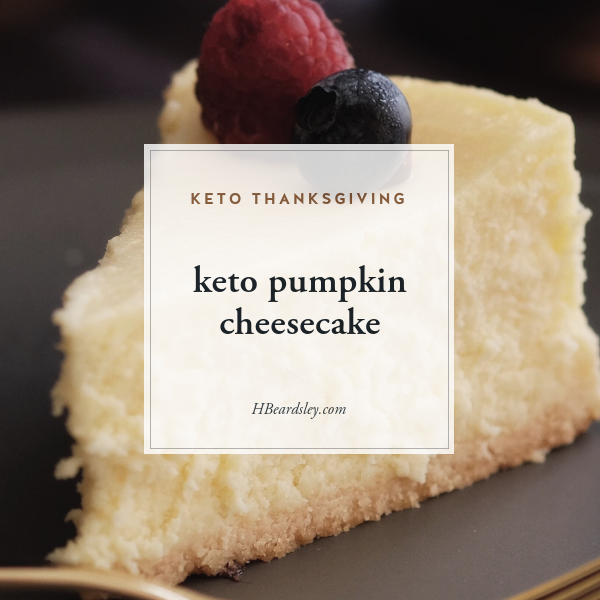 The last time I made pumpkin pie, I noticed that very little got eaten. I asked why and it seems that most people like the taste of pumpkin, but they don't like the texture of a traditional pumpkin pie. So, why not combine the taste of pumpkin into a traditional cheesecake? This cheesecake gives you the density, texture, and tang of traditional cheesecake, but with a subtle pumpkin flavor that you crave on Thanksgiving.
Like any cheesecake, this is a calorie-dense decadent dessert, so I advise to slice your cheesecake into 12 slices. The best news is that there are only 7 total carbs per slice! A traditional pumpkin cheesecake has 45 grams of carbs per slice, which means making your cheesecake low carb this year you save yourself 38 grams of carbs AND you get to enjoy a super yummy Thanksgiving dessert.
rules for cheesecake success
Before you jump into making this recipe there are a few guidelines that you must adhere to when making any type of cheesecake:
Make sure that all of your filling ingredients are room temperature, or it will be impossible to mix properly.
Always set a dish of hot water on the bottom rack & set the cheesecake on a sheet pan above to bake. Otherwise, the top of your cheesecake will crack and that's just a sad sight.
Make your cheesecake

an absolute minimum

of 24 hours prior to eating. Cheesecakes demand 5 hours to make, bake & completely cool, plus an overnight to chill in the refrigerator. But don't let that scare you, it really is easy to make!
special ingredients & things you'll need
macro comparison
1/12 slice of my keto pumpkin cheesecake: 457 calories, 42 g fat, 7 g carbohydrate, 10 grams protein, 2 grams fiber
1/12 slice of Paula Deen's pumpkin cheesecake: 480 calories, 31 g fat, 45 g carbohydrate, 6 g protein, 2 g fiber
SaveSave
SaveSave
SaveSave
SaveSave